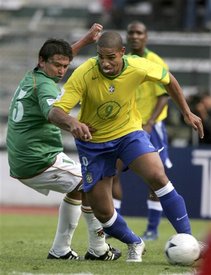 BERLIN (AP) — Brazil is so loaded with talent that it could probably field the best two teams in the World Cup.
Lucky for host Germany, the upstart U.S. and a handful of other upset hopefuls, the rules for soccer's big party — the world's most popular sporting event — only allow one team per country.
So when the tournament begins June 9, Brazil will have to make do with one squad.
And what a squad it is.
Brazil's bench will be as formidable as some other entire teams, and that collection of riches makes the five-time champs a strong favorite to samba away with yet another trophy. An almost unfathomable sixth title — and third in four World Cups — would be twice as many as anyone else.
The other contenders? Starting with Europe — Germany the home crowd favorite, England, the Netherlands, Italy, Sweden and the Czech Republic are all possibilities. Perhaps France, Spain and Portugal will overcome their inconsistencies and challenge for the trophy.
But there are contenders from the Western Hemisphere: Argentina, Mexico and, yes, the United States.
The Americans are ranked fifth in the world, and if they escape a strong Group E that also has No. 2 Czech Republic and No. 13 Italy, they would carry a wave of confidence the rest of the way.
There is also South Korea, which made a stunning run to fourth place as one of the hosts in 2002. They're more sure of themselves this time around, and play in a less-than-formidable Group G (France, Switzerland and Togo).
Generally, though, most non-European teams are long shots. That includes four newcomers from Africa: Ghana, Togo, Ivory Coast and Angola. Trinidad and Tobago is also making its first trip to the World Cup.
TOWN HALL May 2 – Confronting the COVID Economy: Women Fight Back