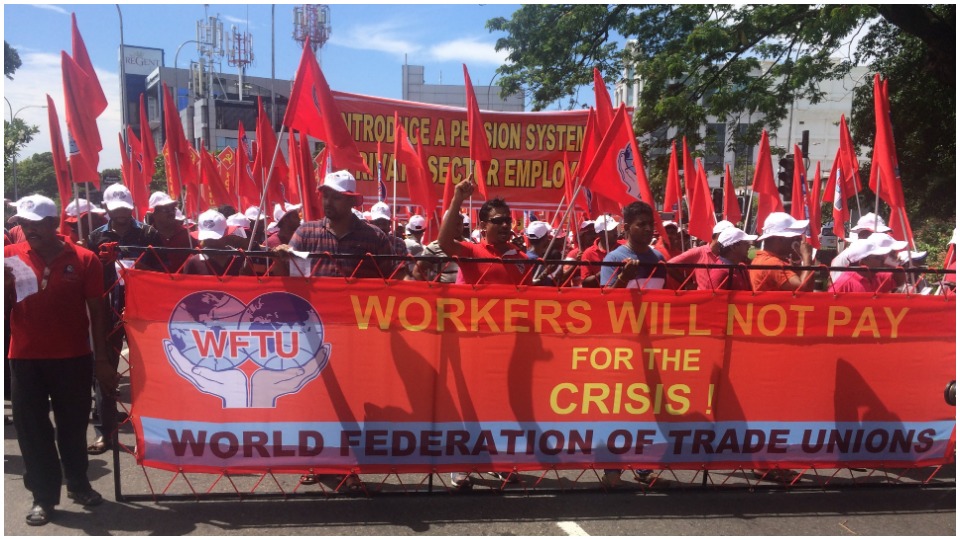 Two more big union federations, the Athens-based World Federation of Trade Unions and the Canadian Labour Congress, have joined the chorus of international union protests of the coup which ousted pro-worker Bolivian President Evo Morales.
Their statements join those from AFL-CIO President Richard Trumka, National Nurses United, the Brazilian nurses' union, and the Trade Union Confederation of the Americas, who spoke out against the coup the week before.
The army overthrew Morales, the first indigenous person ever elected to lead the South American nation, out of office in early November, just after he had won another four-year term. First, the Organization of American States, which often acts at the behest of the U.S. and sometimes for multinational exploiters, said widespread fraud marked the balloting.
Thousands of Bolivians, organized by the right, poured into the streets, the army stepped in, and Morales resigned and gained asylum in Mexico. Top leaders of his government also quit. The remaining "rump" of the Bolivian Congress elected a conservative senator as interim president.
The World Federation of Trade Unions (WFTU), which came to prominence as an organization of progressive and leftist unions battling imperialism and colonialism after World War II—but which was later battered by the Cold War—issued a detailed statement. Its member unions hail from 130 nations.
"We denounce, in the eyes of the world working class, the dirty role of the USA and the Organization of American States (OAS) as well as the reactionary forces of Bolivia that have organized the fascist coup," the federation statement read in part.
"That coup against the people of Bolivia confirms imperialism acts ruthlessly. In Bolivia, almost the same methods are implemented again as in Chile, during the coup d'état of the dictator (Augusto) Pinochet, when Salvador Allende stayed there and fought the putschists, becoming a heroic symbol."
While WFTU did not say so, Allende, the first elected Socialist president of Chile, was overthrown in a CIA-sponsored coup. He died during the fighting, in murky circumstances.
"We express our internationalist solidarity to the working class, the indigenous, peasants, and the people of Bolivia that resist against the coup and the puppets of the imperialists," WFTU added. "We say out loud that murders, kidnappings, and arsons against those that defend the right of peoples to decide democratically and freely about their present and future must stop now."
The Canadian Labour Congress' denunciation of the coup took the form of co-signing the Trade Union of the Americas statement. "The CLC supports the TUCA position condemning the coup in Bolivia and expressing solidarity with the Bolivian peoples, trade unions, and social organizations," the Canadian federation said. TUCA, which has more than 150 union members internationally, previously denounced threats against Morales during a meeting weeks before.