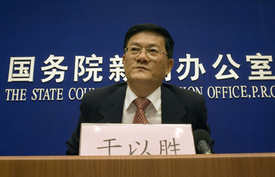 Britain: Union revolt erupts at Labor Party meet
Delegates at Britain's Labor Party Conference overwhelmingly passed a motion Sept. 27 challenging a National Health Service contract with the giant German delivery company DHL that takes effect this week. Dave Prentis, general secretary of Unison, Britain's large public service union, condemned the Labor government's sell-off of logistical services: "Leave the privatization and failing markets to the Tories. … This is their agenda, not ours." Unison members simultaneously were carrying out a 24-hour strike against the NHS, the second in recent days. Prentis was chiding Labor ministers for a "dangerous change of direction" and "market madness," according to the Independent, when his microphone was turned off and the proceedings disrupted.
In addition, shop stewards associated with the GMB union voted Sept. 25 to hold a strike vote among 5,000 DHL drivers in response to the company's wage offer and plans to replace 3,000 of them with contract workers.
China: Communist Party sacks top leader
Shanghai Mayor Chen Liangyu, a top Communist Party of China leader, was suspended from all his posts pending an investigation into an alleged social security scandal. Chen, along with other Shanghai officials, is implicated in a scheme to siphon off money from Shanghai's social security fund into shaky real estate ventures and road projects.
According to a preliminary investigation, Chen was also involved in other violations, such as helping to further the economic interests for illegal entrepreneurs and family members through his official posts, People's Daily reported.
The CPC has unfolded an anti-corruption campaign among its leaders in order to promote clean and transparent government. At a CPC meeting in February, Chinese Premier Wen Jiabao said corruption has been rampant in some industries and sectors, and "has become a major polluter of economic and social life."
When the story first broke on Xinhuanet, thousands left comments along the lines of "heartening," "surprising," and "This is what the CPC should be doing."
"It's big news," said 72-year-old retired worker Zhou Junying in Beijing. "We just hate the corrupt officials. Many people I know are living on a minimum pension of a few hundred yuan."
"My instant reaction at the news was whether housing prices would slow down," said 28-year-old Yao Lan, an employee in a joint venture in Shanghai. "Just look at the unreasonable housing prices of Shanghai. The officials including Chen should be held accountable for this."
Iraq: Death and chaos, according to UN
The number of Iraqi civilians killed between April 2003 through August 2006 is nearly 50,000, according to a recent UN report. (In 2004, the British medical journal The Lancet reported 100,000 deaths from violence since the U.S. invasion.) U.S. military actions, notably the assaults on Najaf, Kufa, Baghdad and Fallujah, caused most of the 27,096 deaths in 2004 and 2005. But since the bombing of the Shia Great Mosque of Samara in February of 2006, sectarian violence has claimed most of the 21,000 lives lost this year. Under the U.S.-led occupation, sectarian death squads have made their appearance and torture is widespread. UN official Manfrek Nowak said, "The torture situation is now out of control in Iraq. A lot of people are saying that it's worse than during the time of Saddam Hussein."
South Africa: 'Respect yourself,' Archbishop Tutu says
Anglican Archbishop Emeritus Desmond Tutu criticized the current state of affairs in post-apartheid South Africa. In his Steve Biko Memorial lecture at University of Cape Town, Sept. 27, Tutu stressed that the work of Black consciousness — started by anti-apartheid leader Steven Biko — is not finished. "Fundamentally we do not respect one another," Tutu said. "Perhaps we did not realize just how much apartheid damaged us, so that we seem to have lost our sense of right and wrong," he said, commenting on the growing crime rates. Tutu also warned against ethnic strife, holding up Rwanda, Burundi, Kenya, the Democratic Republic of Congo, and Bosnia as cautionary examples.
Steve Biko, killed by apartheid police on Sept. 12, 1977, was the leader of South Africa's Black Consciousness movement. Biko, according to Tutu, believed that we are "collaborators in our own oppression and subjugation."
Tutu said that disobedience to apartheid-era laws did make sense, but the obligation now, he said, is to respect the law. "We should be proud of our freedom won at such great cost."
Not one to hold back the punches, Tutu criticized the lack of courtesy in society in general and in municipal and government offices in particular. He likened contemporary office holders to apartheid-era officials, saying that many are "rude, inefficient and thoroughly unpleasant."
Tutu ended his address on a note of hope, complimenting South Africans on their capacity to forgive: "We are indeed a scintillating success waiting to happen."
World Notes are compiled by W.T. Whitney Jr. (atwhit@megalink.net).