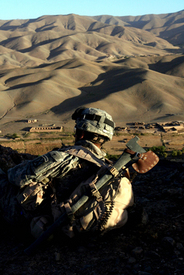 Afghanistan: U.S. air strikes rise sharply
As part of a major military offensive against revived Taliban resistance in southern Afghanistan, as of mid-June U.S. forces had launched 240 air strikes there over a three-month period, more than double those in Iraq in the same period.
The campaign coincides with U.S. preparations to hand over military responsibilities in southern Afghanistan to a NATO-led force including over 3,300 British troops. Most U.S. troops will have left the area by the end of July, Agence France Presse said.
Taliban forces killed 32 friends and close relatives of a member of the Afghan Parliament in attacks on June 18. More than 40 foreign troops have been killed in Afghanistan so far this year — 30 of them U.S. soldiers. Observers agree that fighting in Afghanistan is more intense now than at any time since the U.S. invasion in late 2001.
S. Africa: AIDS conferees praise, criticize U.S. program
Mixed reports emerged from a meeting of organizations receiving HIV/AIDS treatment funds under the U.S. President's Emergency Plan for AIDS Relief (PEPFAR) held June 12-16 in Durban, www.health-e.org.za reported.
Proponents say the U.S. initiative to provide $15 billion worth of anti-retroviral drugs to 15 African countries over five years has brought treatment to 561,000 patients in the last three years.
Speakers cited Malawi's success in treating 50,000 patients, up from 4,000 two years ago. They predicted that in four years treatment would be extended to 250,000 people there, half of the anticipated need.
"Sustainability lies in the extent to which countries can build and maintain health systems," said South African Health Minister Tshabalala-Msimang, adding, "It is only when funders support efforts to build well-functioning health systems that we can truly speak of sustainability."
Critics point out that PEPFAR preferentially funds programs emphasizing abstinence and faithfulness to a single partner over the use of condoms. One-fifth of PEPFAR's beneficiaries are religious organizations.
Chile: Gold mine faces growing opposition
For over 10 years the world's largest gold mining company, Canadian-based Barrick Gold, has sought to open and operate the Pascua Lama mine. In mid-June the Chilean National Environment Commission approved the $1.5 billion project to begin this year.
Local farmers, their supporters and Chilean environmentalists are seeking delays through the courts, and petitions to stop the mine are being circulated worldwide. Opponents say that for the operation to proceed, glaciers would be destroyed and an immense hole created to receive mine refuse. They say cyanide and sulfates will contaminate water and soil in the remote area for generations.
Indigenous rights groups have filed lawsuits contesting Barrick's ownership of the land. They plan to bring the case before the Inter-American Human Rights Court. Barrick claims the construction process will create 5,500 jobs and that mining operations will require 1,600 workers for 20 years. With three-fourths of the ore lying in Chile and the remainder in Argentina, the project would be the world's only binational gold mine.
China: Int'l meeting highlights mutual security and development
At a mid-June summit marking the Shanghai Cooperation Association's fifth anniversary, member states renewed their commitment to mutual security and peaceful development, and pledged not to let their territories be used to undermine the sovereignty, security or territorial integrity of other member states.
The SCO's six member states — China, Russia, Kazakhstan, Kyrgyzstan, Tajikistan and Uzbekistan — also said they will consider developing a regional conflict prevention mechanism.
Last year, after the SCO urged the U.S. to set a deadline for closing its bases in Uzbekistan and Kyrgyzstan, Uzbek President Islam Karimov ordered the Pentagon to get out.
At the summit, Iran's President Mahmoud Ahmadinejad — present as an observer along with leaders of India, Pakistan and Mongolia — met privately with Chinese President Hu Jintao and Russian President Vladimir Putin, both of whom have opposed the U.S. drive for severe measures against Iran's nuclear program.
World Notes are compiled by W.T. Whitney (atwhit@megalink.net). Marilyn Bechtel contributed.
TOWN HALL May 2 – Confronting the COVID Economy: Women Fight Back