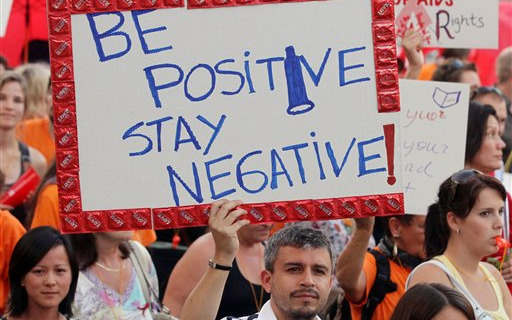 Canada: Cool reception to water access as human right
In late July the UN General Assembly will consider a Bolivian-sponsored resolution designating access to water and sanitation as a human right. In a letter to UN diplomats, Maude Barlow, founder of the Canadian-based Blue Planet Project, asserted that "lack of access to clean water is the greatest human rights violation in the world." (See www.blueplanetproject.net.) "Nearly 2 billion people live in water-stressed areas and 3 billion have no running water within a kilometer of their homes," she added. Barlow elsewhere condemned northern industrialized countries, Canada in particular, for opposing the resolution dear to developing nations. But, according to the Stockholm International Water Institute, sanitation problems pose more danger to the world's poor than reduced water access.
Romania: Opposition mounts to mining project
Greenpeace activists in early July blocked entry to the headquarters of the Rosia Montana Gold Corporation. They were protesting preparations for gold and silver mining operations in northwestern Romania that depend upon cyanide technology. Canada-based Gabriel Resources Ownership holds 80 percent ownership in the corporation with remaining shares controlled by the Romanian government, which anticipates at least $2 billion in income. Opinion surveys show that 80 percent of Romanians reject what would be Europe's largest gold mine. The opposition campaign has become "the strongest civic movement in contemporary Romania," according to Inter Press Service. Citing increased employment opportunities, the European Commission refused to implement condemnation of the mining project last May by the European Parliament.
Mozambique: Biofuel production exacts human toll
At a summit meeting in Brasilia on July 14, European Union and Brazilian leaders agreed to expand biofuel production in Mozambique. Anabela Lemos of Friends of the Earth Mozambique responded: "The expansion of biofuels in our country is transforming natural forest and vegetation into fuel crops, taking away fertile farmland from communities growing food." (See www.foeeurope.org.) Rural poverty there exceeds 64 percent, malnutrition approaches 40 percent, and foreign corporations have targeted 12 million acres of land for biofuel production. In a recent comprehensive report, Friends of the Earth warned that conversion of land to industrialized jatropha production threatens food sovereignty and livelihoods. Jatropha plant oil used for diesel fuel satisfies anticipated EU requirements that vehicle fuels be made from 20 percent renewable sources.
India: Massive poverty highlights contrasts
The Oxford Poverty and Human Development Initiative has devised a new way of looking at poverty to be incorporated into the next UN Human Development Report, one that looks at broader measures of deprivation than income data alone. An OPHDI study released July 20 utilizing its "Multidimensional Poverty Index" showed that while 26 of the poorest African nations claim 410 million poor people, eight of the poorer Indian states are home to 421 million of the poor. Three years ago, 46 percent of Indians were malnourished. Commenting on the report, the Hindu newspaper highlighted "another India," one out of step with the newly refurbished Delhi airport, the launching recently of five satellites, and this year's 8.5 percent GDP rise.
Austria: Good news, and bad, on fight against HIV/AIDS
With one million HIV-infected people beginning treatment last year, the worldwide total of those receiving anti-HIV medications rose to a record high 5.2 million patients. The World Health Organization released the data this month at the 18th International Aids Conference in Vienna. Encouragement was tempered, however, by the UNAIDS program reporting that donor nations' financial support for HIV treatment and prevention had fallen off after eight years of increasing monetary contributions. Waning support jeopardizes prevention and early treatment regimens essential to victims' survival, according to the UN News Center. UNAIDS Executive Director Michel Sidibé indicated 10 million infected people lack treatment and that the campaigns to reach the anti-poverty Millennium Development Goals and to combat HIV infection are linked.
Photo: A demonstration in Vienna, July 20, demands more support for AIDS victims. (AP/Ronald Zak)