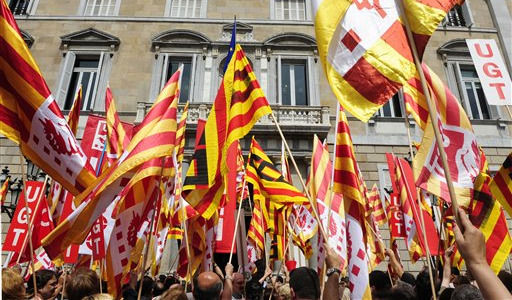 Europe: Unemployment is up
Reporting on June 1, Eurostat, the European Union's statistics arm, put the EU's April unemployment at 9.7 percent, up one point in a year. Unemployment for the Eurozone, 16 EU nations using the Euro, rose slightly over the previous month to 10.1 percent. Joblessness is highest in Ireland, Slovakia and Spain. Spain, with 19.7 percent of working adults jobless, has the Eurozone's highest unemployment and in the EU is second only to Latvia, where unemployment is 22.5 percent. The BBC report sees rising unemployment as highlighting divisions within the 27 EU nations. Germany, with 7.7 percent unemployed, registered the EU's only unemployment drop. Meanwhile the Wall Street Journal indicated European "manufacturing output slowed sharply last month."
Iraq: Suffering of displaced persons mounts
UNHCR, the UN refugee agency, warned recently of a humanitarian crisis affecting 1.5 million displaced Iraqis, especially 500,000 of them living as squatters. Over 260,000 live close to Baghdad, up from 160,000 last year. They live on former military properties, "under bridges, alongside railroad tracks and amongst garbage dumps." Drought, joblessness and problems related to people returning from foreign countries add to their plight. The nongovernmental organization Refugees International recently called for increased international assistance, although the United States last year provided $387 million in aid for displaced persons. Quoted on www.iwpr.net, an Iraqi official opined that displaced persons "are not the only Iraqis and squatter camps are not the only problem in Iraq." The government last year ordered squatters to vacate public land.
Nepal: Constituent Assembly lives on
Completion of the Constituent Assembly's (CA) two-year term on May 28 would have fractured the peace process begun in 2006 with the ending of the Maoist Communist Party's insurgency. The next day that party, the Congress Party and the Communist Party Marxist Leninist, with 38, 19 and 18 percent of CA delegates respectively, reached a deal. The CA would continue for one more year, past agreements would be implemented, and CPML leader and Prime Minister Madhav Kumar Nepal would resign, sometime. The Maoists no longer insisted he leave before pending issues were settled, among them the army absorbing former insurgents, dismantling of Maoist paramilitary youth groups, and seized land being returned. Later, according to Hindustan.com, Maoist spokespersons insisted the prime minister leave by June 1.
Costa Rica: Union-busting for privatization
Attacks against the SINTRAJAP union culminated on May 26 when the police raided, trashed and occupied union headquarters in Puerto Limon, entry point for 80 percent of Costa Rican imports. Coincident with IMF-funded plans unveiled in January to privatize facilities mainly serving container ships, the government induced, or perhaps bribed,13 percent of union members to put new, collaborationist union leadership in place. Since then, government agents have infiltrated demonstrations, frozen union bank accounts, and arrested ousted union leaders. Legitimate union President Ronaldo Blear has sued high government officials and appealed to the International Labor Organization. Solidarity actions have been taken by the U.S.-based International Longshore and Warehouse Union on behalf of SINTRAJAP and union democracy.
Nigeria: Big oil deal with China
A Chinese state corporation and the Nigerian government last month settled arrangements for construction of three oil refineries and a petrochemical plant. The $23 billion Chinese-financed deal will in five years, according to AFP, result in Nigeria saving $10 billion annually by not having to import 85 percent of the refined petroleum products it uses domestically. Half of the 750, 000 barrels per day expected from the project, seen as China's largest overall in Africa, will be exported. Last year, the China National Petroleum Corporation bought Nigeria's Addax Petroleum for $7.2 billion, while negotiations began on China gaining control over 6 billion barrels of Nigerian oil reserves. Nigeria is the third largest foreign supplier of crude oil to the U.S.
Cuba: European women write Michelle Obama about Cuban 5 wives
In a new tack toward securing the right for Adriana Pérez and Olga Salanueva to visit their respective husbands Gerardo Hernández and René González in U.S. jails, 115 Spanish women – politicians, unionists and professional workers – signed a letter on May 26 to Michelle Obama urging her to intercede with her husband, President Barack Obama, in favor of visits. For 10 years, the two Cuban women have not seen their husbands, two of five Cuban men unjustly imprisoned for defending Cuba against terror. Eva-Britt Svensson, Swedish delegate to the European Parliament, initiated the women's letter-writing campaign, according to rebelion.org. Her letter to Ms. Obama in April, signed by Swedish parliamentarians and peace activists, claimed denial of visiting rights violates "international standards for humane treatment."
Photo: In Spain, which has the highest unemployment in the Eurozone, government employees in Barcelona protest the regional government's austerity measures, June 1, 2010. (AP/Manu Fernandez)