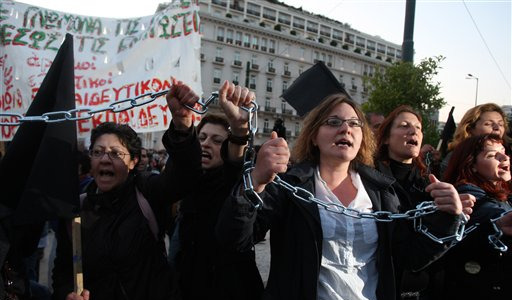 Greece: Workers reject wage, social security cuts
The general strike April 21-22 of civil servants protesting government-ordered austerity measures was smaller than general strikes earlier this year joined by private sector workers. The conditions under which Greece's social democratic government will be receiving $60 billion in EU and IMF loans, as requested on April 23, include wage, pension and hiring freezes; benefits cuts and tax increases. The striking unions, mostly affiliated with the Communist Party, were dissenting from widespread trade union acquiescence in social support rollbacks. Government debt has risen to 11.3 percent of GDP, a six-year high. Unemployment has reached 11.3 percent, while 20 percent of the population lives in poverty, according to Al Jazeera. The George Papandreou government retains a 33 percent approval rating.
Honduras: New U.S. base in the works
U.S. Ambassador Hugo Llorens announced recently that Washington will be providing $2 million toward construction of facilities near the Nicaraguan border serving as a base for four naval vessels and "advisors." The advertised purpose, according to Resumenlatinoamericano.org, is drug interdiction. The Honduran navy and the U.S. Army's Southern command will be exerting joint operational control over the base located in the poverty stricken Mosquitia region. On hand for the announcement, current Honduran President Porfirio Lobo characterized plans for the base as "a magnificent contribution." Bloomberg Businessweek reported recently that Nicaraguan President Daniel Ortega is on the verge of restoring ties with Honduras, broken in the wake of the military coup last year that removed Lobo's predecessor Manuel Zelaya.
Western Sahara: Human rights abuses continue despite UN monitoring
Nobel Peace Prize winner Adolfo Pérez Esquivel recently joined Argentinean human rights activists in demanding that Morocco release Western Saharan political prisoners and protect human rights in Western Sahara. The prisoners, on hunger strikes for 40 days as of April 22, face possible military tribunals and the death penalty for trying to visit refugee camps in Western Sahara, according to rebelion.org. At the same time, Polisario Front leader Mohamed Abdelaziz conferred with UN Secretary General Ban Ki-moon in New York, obtaining the latter's pledge that UN monitoring of the ceasefire between the Front, which has fought for Western Saharan independence since 1976, and the Moroccan government would continue. The ceasefire came about in 1991 only after both sides agreed upon a self- determination referendum, which Morocco since then has blocked.
Photo: Unemployed teachers protest government cuts during a demonstration by public workers outside the Greek Parliament in Athens, April 27. (AP/Thanassis Stavrakis)