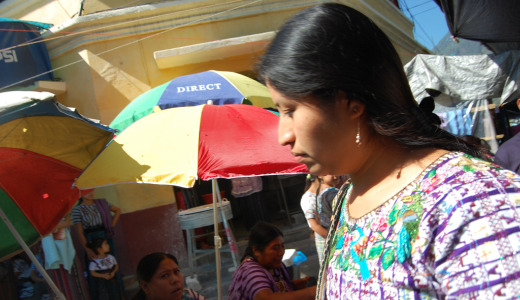 Guatemala: Abused women find their voice
A "Tribunal of conscience for women survivors of sexual violence during the armed conflict" took place March 4-5. Women, many of them indigenous, testified to unacknowledged violations, thereby joining an estimated 30,000 other victims accumulated over 36 years. According to rebelion.org, the current wave of femicide – 700 women killed last year – is an outgrowth of past violence. Impunity stemming from a judicial "blind eye" persuaded planners to designate the gathering a "tribunal of conscience." The report sees sexual attacks as integral to a "generalized and systematic" system of terror and "rupture of the social fabric" mounted by state agents within the framework of counter-insurgency. After hearing testimony and looking at evidence, the tribunal issued recommendations to government agencies, aimed in part at societal education.
Bolivia: Plan for reducing maternal deaths is working
In a follow-up to the Beijing Conference on Women 15 years ago that called for "specific plans" benefiting women's health, Bolivia's government introduced a program eight months ago of subsidies aimed at encouraging women to obtain medical care during pregnancies and childbirth, and for two years afterwards for themselves and their babies. Early results becoming available now and summarized early this month by Inter Press Service suggest that Bolivia, with the second worst maternal mortality rate in the hemisphere, is heading toward 80 percent improvement over five years. Attendance at clinics available through the country has skyrocketed. The subsidy, paid in 17 installments, amounts to $258. Bolivian hospital care for women and children is free.
Palestine: Women's burdens mount
A World Bank report released in February details the impact on Palestinian women of economic crisis and incapacitation of men. Data is cited from 2007 indicating 60 percent of working age adults produce no income. With men targeted by the Israeli Army, women struggle increasingly for their family's survival. They are producing, borrowing, and trading for food. Women breadwinners are handicapped by wage discrimination, minimal education, and exclusion from loans. Many at home deal with male violence stemming, say experts, from frustrations relating to unemployment The report calls upon Israel "to lift movement and access restrictions which disadvantage women," also for the Palestinian Authority to legislate transportation services for women and enforce labor laws. See the report here.
Iraq: Birth defects spike
Anecdotal evidence has surfaced of a striking rise in babies born in Fallujah with birth defects, possibly due to depleted uranium and white phosphorus weaponry used during the U.S. assault there in 2004. According to a BBC report March 4, pediatrician Samira al-Ani "saw two or three new cases every day," although the Iraqi government denies any epidemic. British-based researcher Malik Hamdan indicated that in January the incidence of birth defect heart malformations in Fallujah was 95 cases per 1,000 births, 13 times the rate in Europe. The situation is likened to that of Basra, subjected to similar weapons in 1991, where the incidence of congenital malformations has steadily increased from 1.31 cases per thousand in 1993 to 22.19 cases in 2001.
Photo: http://www.flickr.com/photos/subzonica/ / CC BY 2.0