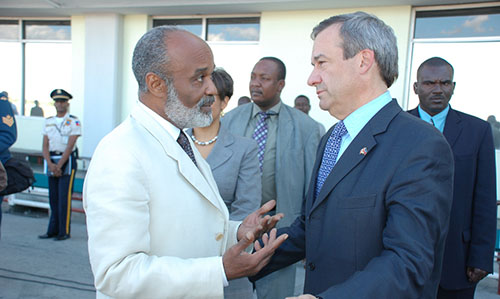 Haiti: Election preparations are flawed
The International Association of Democratic Lawyers wrote UN Secretary General Ban Ki-moon, U.S. Congressman Maxine Waters communicated with Haitian President René Préval, and Haitians demonstrated last month, all protesting the Provisional Electoral Council's recent exclusion of more than 12 political parties from upcoming parliamentary elections. They included former president Jean-Bertrand Aristide's Fanmi Lavalas Party, Haiti's most popular political party, according to analyst Kevin Pina. Acceptance of the Front for National Reconstruction (FNR) provoked widespread criticism. FNR paramilitary leaders provoked destabilization leading to the 2004 coup removing Aristide. Guy Philippe, who presided over a FNR gathering December 19, is under U.S. indictment on drug importation and money laundering charges. (See http://www.haitiaction.net/News/HIP/12_20_9/12_20_9.html.) Only 5 to 11 percent of first round voters showed up for parliamentary elections last year, boycotted due to earlier exclusion of Fanmi Lavalas.
South Africa: Sun City is called to account
Protesting racist incidents at the Sun City resort hotel and resort complex, the COSATU labor federation protested verbal abuse last week allegedly directed at black employees as well as the showing of a CD which it labeled as racially offensive at a staff party. "Whites at Sun City resorts" do not "recognize their black colleagues as people," said the statement quoted by www.timeslive.co.za. COSATU affiliated SA Clothing, Catering and Allied Workers' Union is currently on strike against Sun City, demanding a 13 percent wage hike, increased pay for night work and honoring of overtime pay agreements. Picketing and marching intensified on December 31, according to www.cosatu.org.za. The union will be engaging local communities in a boycott campaign, and building international solidarity.
Russia: U.S missile defense would upset status quo, says Putin
Speaking last week in Vladivostok, Prime Minister Vladimir Putin represented U.S. missile defense plans as blocking agreements on a new Strategic Arms Reduction Treaty to replace an earlier one which expired last month and remains alive only through a temporary accord. In September, Washington gave up on missile defense systems planned for Eastern Europe, and is focusing now on sea-based systems and Mediterranean area land installations, particularly in Turkey. To preserve the cold war ere balance of nuclear power, "we need to develop offensive weapons systems," warned Putin, quoted by Global Research. "The problems of anti-missile defense and offensive weapons are very tightly linked," he explained. A U.S. spokesperson agreed, offering up reassurance "that missile defense systems [will] be negotiated later."
Afghanistan: Foreign forces' public image falls
For the third time in several days, anti-U.S. demonstrations erupted following the killing December 28 of ten civilians, mostly school children, by NATO forces. The Hamid Karzai government demanded custody of those responsible. The UN Assistance Mission in Afghanistan reported last week that, between January and October, fighting killed 2,038 civilians, 10.8 percent more than during the comparable period last year. Although a minority, 468 in all, was killed by pro government troops, such disastrous unintended consequences have been gaining widespread publicity. "Every time an American soldier gets killed, they bomb an entire village," bemoaned legislator Haji Farid, quoted by PressTV. In another year end report, Reuters indicated that the Taliban are operating fully developed insurgencies and their own governmental institutions in all but one Afghan province.

China: Trade Pact with neighbors becomes a reality
A free-trade agreement between China and the ten member Association of Southeast Asian Nations (ASEAN) took full effect on January 1, after several years of limited accords. Tariffs will cease on 90 percent of goods with major benefits expected later on through widened investment opportunities. The Indonesian tariff-protected textile, food and electronics industries will probably suffer under the agreement. Wide economic disparities within ASEAN membership limit prospects for an early single market on the EU model. Citing an Asian Development Bank economist, People's Daily speculated that free trade will encourage "the diverse Asian community to further integrate and might give birth to a broader multilateralized trading pact," one that might gather in economic powers such as Japan, South Korea, and the United States.
Cuba: President reviews U. S. relations
In a far – ranging speech December 20 to the National Assembly, President Raul Castro dedicated a portion to clarifying his government's views on U.S. efforts to bridge the U.S-Cuba divide. He made these points: the United States ignores international and U.S. majority opinion favorable to improved relations, it "does not give up on destroying the revolution," and "instruments of aggressive policies toward Cuba remain intact."
The U.S agent arrested last month for handing out sophisticated communications equipment to government opponents serves as an example of "encouragement of both open and concealed subversion against Cuba." Raul also criticized U.S. budgeting this year "without any blushing" of $55 million for "support supposedly of democracy." Castro denounced an expanded U.S. media campaign against Cuba "in open defiance of international conventions."
The President concluded by reiterating "Cuba's sincere willingness definitively to solve differences with the United States through respectful dialogue between equals on any matter whatever, without detracting from our independence, sovereignty, and self determination." He recommended the U.S. government give up on "conditions for internal order it would impose on us that only Cubans are competent to decide."
Photo: http://www.flickr.com/photos/jjphoto509/ / CC BY-SA 2.0
President Preval with Canada's ambassador to Haiti.