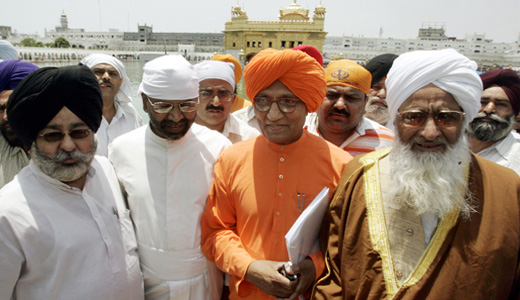 India: Anti-guerrilla fight jeopardizes civilians, neutrals
Local police in Chhattisgarh state engaged Salwa Judum, a police-trained tribal vigilante group, to assist them in attacking Maoist insurgents. The result, say the police, was 36 Maoists and three of their own killed over five days beginning March 11. Civilians were killed and wounded in three villages. Also, three women were raped, and 300 buildings burned, according to Hindu.com. Venerable social activist Swami Agnivesh, who retrieved five police officers from Maoist captivity in February, charged "torture and mayhem." On March 26, accompanied by reporters and with police protection, he tried unsuccessfully to take humanitarian aid to the three sealed-off villages. Reacting to the 1000 Salwa Judum members who turned him away, Agnivesh declared, "The police have created a Frankenstein's monster that they cannot control."
Hungary: Rightist revival
Over 600 members of the fascist Jobbik party marched April 2 in Hejoszalonta village, north of Budapest. Weeks earlier, 2,000 had marched through Gyongyospata. In both instances, paramilitary demonstrators were claiming to protect Hungarians against Roma criminals. Jobbik gained 17.5 percent of the vote in last year's general elections. Right wing ferment was on display also as the European Greens met March 31- April 3 in Budapest. Anti-Semitic outbursts proliferated on YouTube and in emails the Greens received. The trigger, says the EU Observer, was the presence of Green European Parliament leader Daniel Cohn-Bendit, who is of Jewish heritage. Meanwhile, the ruling Fidesz Party is engineering regressive constitutional changes, including strictures against gay marriage. Also, Fidesz Party is making expressions that Hungary should claim responsibility for the situation of ethnic Magyars living beyond the country's borders.
United Kingdom: Use profits for debt relief, say international organizations
The London based Bretton Woods Project joined 60 international "civil society organizations" in releasing a joint statement on April 4 that called upon the International Monetary Fund to apply $2.8 billion derived from gold sales to canceling poor countries' debts. The IMF Executive Board meets in mid April,. The IMF, which began selling gold in 2008, has realized $3.5 billion in unanticipated profits, due to rising gold prices. The organizations ask that $2.8 billion be paid into the "Post-Catastrophe Debt Relief Trust Fund" for use in canceling debts. That fund had been established after the 2010 Haiti earthquake. Poor countries, the statement said, "find themselves taking on new debt in the wake of natural disasters or other external shocks such as the global financial crisis." Click here for a 5 page copy of the joint statement.
Iraq: U.S. civilian presence will expand
Speaking with reporters on April 1, Ambassador James Jeffrey outlined plans to double staff assigned to the U.S. embassy to 16,000 persons within two years. U.S. troops will make up "only a very small part of that number." Personnel based at the Embassy, by far the largest in the world, will include 5,500 private security troops, up from 2700 at present. Jeffrey, quoted by the UK Telegraph, indicated that in 2012 "the American presence in Iraq will consist of up to 20,000 civilians at sites that include two embassy branches, two consulates, and three police training centers. Plans are still in force for 50,000 U.S. soldiers presently in Iraq to depart by the end of 2011.
Guatemala: transport fuels or food?
Some 3,000 Mayan peasants had lived and farmed in the Polochic Valley for thirty years when 1000 soldiers and police arrived on March 15 to evict them from their small land holdings. The action, backed by the current center-left government, left one farmer killed and many wounded. On March 24, a private brigade hired by a nearby sugar mill company destroyed their remaining crops. Since 2005, transnational corporations intent upon producing biofuels have amassed land in order to grow African palm and sugar cane. Presently, sugarcane is grown on 28 percent of Guatemala's farmland, 80 percent of which is owned by five percent of the population. Evicted peasants, says Inter Press Service, are running out of land they need for survival.
Cuba: Self employment is applied to mines, quarries
The Basic Industry ministry announced April 4 that self-employed workers henceforth would be allowed to work mines and quarries previously operated only by state owned companies. Officials promise to speed up the issuing of permits. Concessions for extracting small volumes of construction materials will be good for a year. Vice Minister of Basic Industry Iván Martínez, cited by Cubadebate.cu, indicated that impetus for the change comes from decisions taken to increase production of building materials, such as sand, bricks, and cement. Stepped up housing construction is a government priority. Involvement of private enterprise in mining and quarrying parallels the movement this year of half a million workers from state employment into the private sector.
Photo: Hindu religious leader and social activist Swami Agnivesh, wearing orange, with leaders from other religions, at the Golden Temple, Amritsar, India. (Aman Sharma/AP)