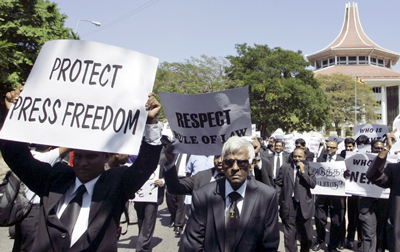 Paraguay: Agrarian reform unveiled
Timed with President Fernando Lugo's promise to respect landowning rights for 300,000 soy farmers from Brazil, Rural Development Minister Alberto Alderete on Jan. 12 launched the first phase of an agrarian reform program. He went to San Pedro, Paraguay's poorest region, where Lugo served as bishop, to outline plans to build schools, health centers, bridges and roads and provide food, seeds and other assistance for 5,500 families.
The TeleSur report emphasizes the government's intention to have infrastructure and coordination among ministries in place before peasants receive land. Hundreds of demanding, landless peasants are living on the outskirts of large holdings. The government, whose revenues derive mostly from soy exports, is moving to improve the conditions of these small producers.
Uganda: Nile nations jostle over water
Negotiations among 10 nations belonging to the Nile Basin Initiative are deadlocked as upstream countries like Uganda oppose the prospect of Egypt and Sudan retaining privileged use of Nile waters dating from the colonial era. Lake Victoria, a major source of the Nile, has dropped 2.5 meters in three years.
At issue is a proposal allowing upstream users merely to inform member nations rather than having to obtain prior approval for hydroelectric and irrigation projects. According to
allAfrica.com, "declining rainfall and increased use [of water are] causing panic among states that share the Nile."
Citing the importance of irrigation for agriculture, Ugandan development expert Patrick Rubaihayo warned, "Continuing extreme poverty is one of the consequences if a new protocol is not signed."
Russia: Privatization and early death
The Lancet medical journal last week published a study showing that rapid industrial privatization from 1989 to 2002 caused the death rate for working-age men in 25 former Soviet bloc countries to increase by 12.8 percent. Its authors attributed 1 million excess deaths to a 56 percent rise in unemployment, significant because workplaces had provided workers with health care and social support.
From 1991 to 1994 unemployment tripled in severely affected Russia, Kazakhstan, Latvia, Lithuania and Estonia. Adult male death rates there rose 42 percent. In 14 countries where more gradual privatization prevailed, employment and mortality remained stable. Analysts cited by the BBC blamed health care inadequacies and alcoholism going back to the Soviet era as contributing to the early deaths.
Gaza: International solidarity with victims builds
Worldwide revulsion against Israel's war on Gaza caused the publicity-shy Greek government last week to prevent a U.S. naval ship carrying 235 armament-laden containers from leaving Astakos port for Israel.
The Aporrea web site also reported that Venezuela flew 12.5 tons of medicines to Egypt for delivery to Gaza.
So far, donor nations, including Russia, Belgium, Venezuela and Arab countries, have provided Gaza with an estimated 3,500 tons of medical supplies and 26,000 tons of food and other provisions. Both Venezuela and Bolivia broke diplomatic relations with Israel.
Sri Lanka: "Then they came for me"
Thus editor Lasantha Wickrematunga, writing his own obituary, foresaw the circumstances of his death. Gunmen in Colombo shot him dead on Jan. 8, two days after he condemned the ransacking of Maharaja TV's broadcasting facilities by thugs he linked to the government.
Inter Press Service cited peers who admired Wickrematunga as "a giant in the media landscape both here and abroad." His anti-government Sunday Leader specialized in "stunning exposes on corruption, scams and scandals." The murder played out in the context of "dozens of previous attacks on the media" and regular government labeling of protests against its war on Tamil Tiger rebels as unpatriotic, even traitorous. Observers see increasing "brutalization" of Sri Lankan society.
Cuba: Dialogue on work and pay
The Cuban Central Labor Federation (CTC) and Union of Young Communists held a joint press conference Jan. 14 to discuss non-working young people. CTC Secretary General Salvador Valdés called for revitalizing "the principle of socialist distribution" (from each according to his/her ability, to each according to his/her work), Rebel Youth newspaper reported.
Two days later, the official Granma newspaper published a letter from reader A. Rondón Velázquez advocating "work and contribution from those who can, or else give up the good things we produce in Cuba with the sweat of many."
Earlier President Raul Castro told a Granma interviewer, "If we don't take measures so that people feel the vital necessity of working to satisfy their needs, we will never come out of this hard patch."
World Notes are compiled by W.T. Whitney Jr. atwhit @roadrunner.com)