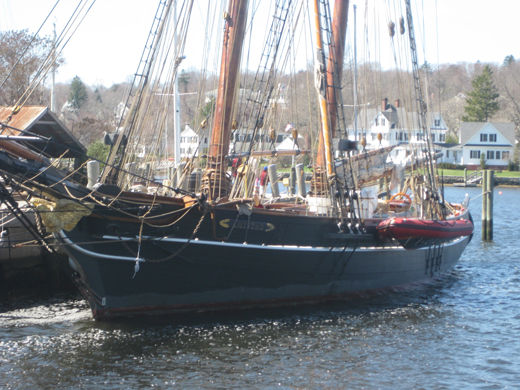 Palestine: Israel wins "water wars"
The Israeli Human rights group B'Tselem took March 26, the UN designated International Water Day, as underscoring Israeli control and use of 80 percent of the water from West Bank rivers and the shared Mountain Aquifer. Consumption by West Bank individuals averages 73 liters daily, three fourths of the World Heath Organization daily recommendation. The average Israeli uses up to 240 liters daily. Chronic water shortages force a "substantial percentage" of West Bank residents to buy water of questionable quality at inflated prices. Untreated wastewater from two million out of 2.8 million West Bank and East Jerusalem residents, both Jewish and Palestinian, seeps into aquifers. Over 90 percent of Gaza groundwater contains sewage residue and salt and nitrates from sea water contamination.
Cuba: Amistad pays a visit
The replica schooner Amistad sailed into Havana on March 25, International Day of Remembrance of the Victims of Slavery and the Transatlantic Slave Trade. Cuban National Assembly President Ricardo Alarcon welcomed the ship, joined by author Miguel Barnet, who praised the historical recreation as memorializing "history's longest holocaust." Inter Press Service reported Cuban activists took the occasion to highlight ongoing antiracist struggle in Cuba. Massachusetts Representative William Delahunt helped secure U.S. State and Treasury Department permissions for the visit. During ten years of visits to U.S, Canadian, African, and European ports, the ship has evoked memories of oppression and struggle. In 1839, slaves being transported in the original Amistad overwhelmed its crew off Cuba and ended up in U.S. prisons. The 1841 U.S. Supreme Court decision freeing them became an abolitionist milestone.
United Nations: Earth hour circles the globe
At least one billion people in 126 countries marked the fourth annual Earth Hour on March 28 by turning off electric lights, up from 88 countries in 2008. In Beijing, the Forbidden City went dark for the first time. For UN Secretary-General Ban Ki-moon, Earth Hour represents both a "warning and a beacon of hope." "Solutions are within our grasp," he added, quoted by the UN News Center. United Nations weather monitoring agency recently identified the past decade as the warmest on record. Speaking to reporters, Bolivian President Evo Morales pinned responsibility on rich nations engaged in "boundless exploitation of natural resources." He is preparing for a "People's" climate change conference in Cochabamba on April 20-22.

Romania: Pensioners protest
Crying out, "We live in poverty" and "We are dying of hunger," retirees belonging to the National Federation of the Pensioners' Trade Unions protested March 26 in front of government buildings. They demanded that pensions below the average salary no longer be taxed at 16 percent, that only pensions above the average salary be taxed, that pensions be increased and purchasing power strengthened. They protested paying for services at public health centers, supposed because of financial crisis. Over three million retirees receive pensions of less than 250 Euros per month, although at least 325 Euros are required for survival. Coincidently, military planners decided to buy 24 used F-16 fighter planes. The report on rebellion.org claims 57 percent of the population are "tremendously deceived" by the capitalist system.
Uganda: U.S. military may take a hand
The U.S. Senate recently authorized the U.S. government to "help develop and support" resistance to the Lord's Resistance Army (LRA), widely accused of human rights abuses. Washington had already designated the insurgency as terrorist and in 2008 awarded the US Military Command for Africa (AFRICOM) $1 million for anti- LRA operations. This time AFRICOM would gain "a green light to extrajudicial executions" and use of military drones, according to Samar Al-Bulushi (allAfrica.com). The Senate, she suggested, was responding to pressures from ostensibly humanitarian NGO's in the region. Military operations would take place on land harboring Sub-Saharan Africa's largest oil reserves. Meanwhile, because of drought and flooding, "At least 900,000 people" in northeastern Uganda require food supplementation, reports IRIN News.
Costa Rica: Dock workers resist privatization
Publically owned dock facilities in the Caribbean ports Limón and Moín provide funding for services and infrastructure projects in Limón province. The Oscar Arias government sold off Pacific port facilities in Caldera, but privatization on the Caribbean side so far has been stymied, thanks mainly to new, left-leaning leadership of the dockworkers' union Sintrajap. Other unions, environmentalists, and popular movements have mobilized in support. The government refuses to negotiate, despite union occupation of ministerial offices in January. Its operatives have bribed union members and recruited new union leaders through manipulating votes of a minority of members. The legitimate leaders are occupying their offices despite police attempts at removal. The International Transport Workers Federation asks that emails supporting Sintrajap be sent to President Arias at: info@casapres.go.cr
Japan: Nuclear ban is waning
Responding to Communist Party deputy Kasai Akira at a parliamentary committee, Foreign Minister Katsuya Okada admitted on March 17 that "in cases of emergency" U.S. nuclear armed ships could enter Japanese waters. The exchange followed governmental confirmation March 9 that U.S. – Japanese "secret treaties" had permitted such entry since the 1960's. Japanese Prime Ministers had denied their existence, despite Washington's affirmations. Japan's Constitution prohibits offensive military weapons, and four decades ago, Japan enunciated its "Three Non-nuclear Principles" – no production, possession, or introduction of nuclear weapons. The Japan Press Weekly reported Kasai's assertion that for the Principles to remain in force, the secret agreements must go. Minister Katsuya claimed importation and transportation of nuclear weapons are both still forbidden.
Photo: http://www.flickr.com/photos/wlscience/ / CC BY-SA 2.0