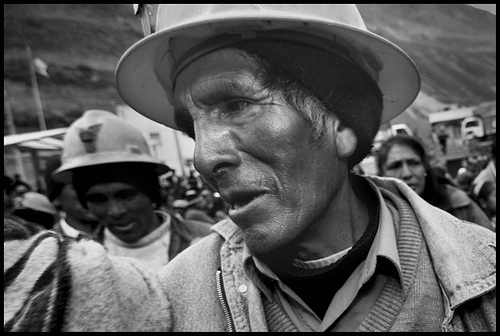 Peru: Police kill protesting miners
Highway blockade in Chala by 6,000 miners belonging to the 60,000 member FENAMARPE union ended April 4 when police shot five miners and a bus rider. Nationwide labor actions have been under way on behalf of legislation allowing unlicensed, mainly gold miners to obtain permits. Because only 5,000 informal miners hold concessions, they can hire and exploit tens of thousands of their unlicensed counterparts. Ten months have gone by with no vote on completed legislation. Strikers also want revocation of decrees passed earlier that, favoring large mining interests, were aimed at implementing the U.S.-Peru free trade agreement. The IPS report cites parallels between this deadly clash and that in Bagua last year when 33 demonstrators and police were killed.
Australia: Rudd government reverses field on immigration
In what Amnesty International calls "an appalling political move," the Labor government on April 9 suspended asylum applications from Sri Lankan and Afghan refugees. Naval ships have intercepted 100 boats carrying refugees since 2007, with almost 1,900 boat people arriving so far this year. The suspension came as the rescue of 70 refugees aboard a sinking boat became news. Insisting the new policy is legal and temporary, Immigration Minister Chris Evans pointed to improving situations in Afghanistan and Sri Lanka. The Sydney Morning Herald diagnosed a "humiliating backdown" for a Labor Party buffeted by Conservative criticism as to softness on border protection. Seized refugees will go on being transferred to a detention center on Christmas Island in the Indian Ocean.
Cuba: Energy sources and savings on the agenda
Granma newspaper reported recently that community discussions on a "culture of saving" were producing results. Diminished first quarter electricity use in Havana led to a 21,000 ton cut in oil required for electricity generation, with savings of $11 million. Positive energy news came also from oil drilling operations along the northern Matanzas coast that reached productive depths in an area previously regarded as exhausted. But the emphasis of the 9th International Workshop on the Promotion of Renewable Energy convening April 7 in Bayamo was on solar energy. Enrico Turin, representing EUROSOLAR, warned that profligate use of current energy sources threatens human survival, while Cuban Academy of Sciences president Ismael Clark assured 100 delegates present from 12 countries that for the sake of sustainability, global consumption patterns needed to change.
Photo: Miners in Casapalca, Peru. (Humberto Jesus Paz Burkli http://picasaweb.google.com/lh/photo/w5RFTmbuSOfqnGlSpMCcxg)