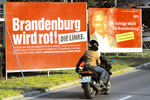 Al-Jazeera reported that last May U.S. gunfire also killed al-Shabab leader and possible al-Qaeda member Aden Hashi Ayro.
Meanwhile, plans are underway for U.S. construction of "an enormous military base of 1,000 hectares" (2,471 acres) on the outskirts of Tan Tan, Morocco as home for AFRICOM, the U.S. military command for Africa. The report on rebelion.org also cites a U.S. congressional committee's impression that the Kingdom of Mohammed VI offers "internal stability and solid friendship."
Ecuador: Seeks carbon-offset investments
Ecuador this month began seeking out international funding for a project that would leave 846 million barrels in oil reserves – 20 percent of the nation's total – underground in the Amazonian Yasuni Reserve. For 407 million tons of carbon emissions kept from entering the atmosphere, European governments would pay Ecuador an amount equal to half its lost income, thereby funding clean energy, social development and reforestation.
Oil extraction accounted for 63.1 percent of Ecuador's export income last year and 46.6 percent of the government's budget. According to economist and project leader Alberto Acosta, cited by kaosenlared.net, the project is aimed at climate change, protecting indigenous lives and biodiversity, and replacing the Kyoto system of carbon exchanges with so-called "co-responsibility."
India: Worker uprising in Karnataka
Responding to labor agitation throughout Karnataka, state labor minister Bache Gowda claimed a "political conspiracy," but granted unorganized workers demanding constitutional rights a 10 percent minimum wage hike.
He apologized for statewide police brutality that protest organizer Muneer Katipalla of the Center for Indian Trade Unions (CITU) characterized, according to daijiworld.com, as "against democracy in the country and typical of the rule of dictators."
Serious injuries resulted in Gulbarga where workers seeking a hearing for their 17-point package of demands blocked entry into police headquarters. Over 800 demonstrators were arrested in Mangalore and 2,000 in Tumkur, where CITU and Communist Party of India (Marxist) leaders were detained.
Two campaign posters in Potsdam, in the German state of Brandenburg: (right) for the Social Democratic Party; (left) "Brandenburg becomes red," urges support for the Left Party. AP photo.
Germany: Anti-war position propels Left Party
The Left Party, formed in 2007 when former East German communists joined left social democrats, gained in polls last week in advance of Sept. 27 national elections. While support levels approaching 14 percent will hardly affect the outcome, the news follows Left Party success in regional elections Aug. 31 when it won over 20 percent of the votes in three states.
The party's fortunes are on the upswing in part, Deutsche Welle said, because it is the only party demanding withdrawal of 4,500 German troops from an unpopular war in Afghanistan. The recent German-ordered killing from the air of 30 to 40 civilians in Kunduz provided a further boost. "You can never stabilize Afghanistan with an army," one Left Party organizer declared.
Yemen: Civil war brings humanitarian disaster
UN officials last week expressed concern over civilian casualties caused by government air attacks on rebels based in Yemen's North. The Sept. 16 killing of dozens of people in a refugee camp triggered Secretary-General Ban Ki-moon's call for a ceasefire.
With Sa'ada city isolated and 150,000 people having lost homes since July, the humanitarian situation has become "alarming," according to the UN News Center. Response to a recent $23.7 million UN humanitarian appeal has been nil.
Complicating matters are separatist tendencies, U.S. fears of an Al Qaida presence, and, as a UK Guardian report alleges, an Iran-Saudi proxy war setting Shiite rebels against Shia-inclined government forces. The government announced a ceasefire Sept. 18.
Cuba: Island-wide talks on future directions
The government announced this month 45 days of nationwide discussion aimed at defining methods to increase productivity, savings and work efficiency, and to combat corruption.
Venues will be union centers, schools and universities, and meetings of Communist Party groups and Committees for the Defense of the Revolution. Study material includes President Raul Castro's July 26 and Aug. 1 speeches on themes of economic adjustment.
As reported by Agence France Presse, Castro had cited "the irrevocable decision to construct socialism" and called for movement toward a new socialist model. The expected focus on internal analysis, problem identification and solutions will set this discussion period apart from talk sessions in 2007 that primarily encouraged ventilation of grievances.