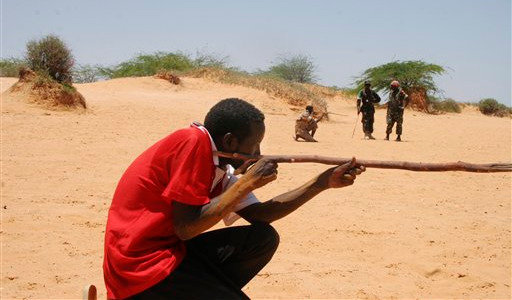 Somalia: Soldiers desert as Western money runs out
Somali government soldiers are deserting because their $100 per month salaries paid by the United States, France and Germany arrive only sporadically. Some 2,100 of them posted for training in Djibouti and Kenya absorbed $6.8 million in U.S. funds last year. The Associated Press reported that troops stationed near Mogadishu received U. S.-provided "food this month to try to help the malnourished soldiers regain their strength." Since 2007, Washington has spent $14 million on salaries, supplies and transport for soldiers who on deserting return home or switch allegiance to al-Shabab rebels. The U.S.-supported coalition government controls little of the Somalia countryside and only parts of Mogadishu. Hizbul Islamic combatants seized a northern coastal town on May 2, pledging to enter nearby towns.
Spain: Unemployment skyrockets
The European debt crisis is spreading beyond Greece. A credit rating decline on April 28 led to a 3 percent stock market downturn in Europe's fourth largest economy. Two days later it became clear that people's lives were taking a hit when Spain's National Statistics Institute reported first quarter unemployment at 20 percent. PressTV indicated that the 700,000 jobs lost last year translated into a doubling of unemployment since January 2008. Only Latvia's unemployment is higher within the European Union, where overall joblessness was 9.6 percent in March. Speaking in Melilla on May 1, labor leader Alonso Díaz warned, "This city runs the risk of … stark differences between the comfortable population and others in a very precarious situation."
Cuba: Workers Day highlights values and goals
Cubans marked International Workers Day, May 1, with rallies throughout the island. In Havana 1,300 labor leaders from 56 countries were on hand. Some 10,000 women there marched as a block with hundreds of thousands, the throng taking two hours to pass through the Plaza of the Revolution. A giant banner made up of 52 large Cuban flags – signifying 52 years of revolution – served as rear guard. Addressing the gathering, CTC Labor Federation General Secretary Salvador Valdes emphasized that for "preserving our social system" and raising living standards, "we will have to share the lack of resources and our efforts in order to overcome them." Valdes lauded work "as a creative source of material and spiritual wealth and a molder of conscience." His speech appeared in Granma International.
United Nations: Press freedom at low ebb
At a panel discussion prior to World Press Freedom Day on May 3, U.N. Secretary-General Ban Ki-moon condemned the murder last year of 77 journalists worldwide. He cited the Universal Declaration of Human Rights as enshrining freedom of expression. Far from being "high-profile war correspondents," victims worked for local publications in peacetime, Ban said, adding that they were "attempting to expose wrongdoing or corruption." The panel focused on Southeast Asia, where, according to Inter Press Service, 40 reporters and bloggers are presently in jail. President Porfirio Lobo of Honduras last month promised his government would investigate the recent killings there of seven journalists. He anticipates help from Colombia – no paragon of journalist protection – and the United States, nations that recognized his election as president when others in the region did not.

Puerto Rico: University students rebel against privatization
Proposals to hike tuition and slash government support for university education reflected a push over years to privatize much of the island's higher education. NCM Noticias noted, for example, that a U.S. accreditation agency had hired a consultant espousing "universities as an industry." The consultant condemned an almost total lack of private funding for a system serving 65,000 students at 11 University of Puerto Rico campuses. A student strike and occupation of campuses that began April 23 had by May 3 spread throughout the island despite a heavy police presence and administrators' attempts, foiled by the judiciary, to declare the universities in recess. In fact, said the report, the government was up against a "perfect storm" carrying students forward to a likely "negotiated outcome."
Photo: Somali army recruits train using sticks instead of guns at Camp al-Jazira, the government's main military base, in Mogadishu. (AP/Katharine Houreld)