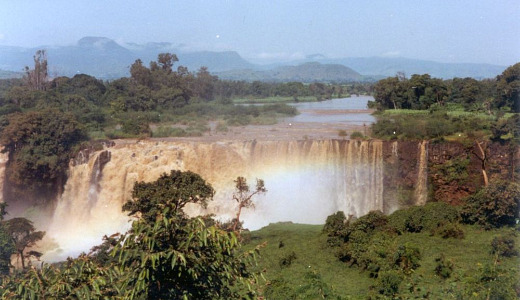 Uganda: Nile agreement is divisive
Rwanda, Ethiopia, Uganda and Tanzania agreed May 14 on equitable sharing of Nile River waters. An Ethiopian official predicted that Nile Basin countries Kenya, Burundi, and the Democratic Republic of Congo would eventually sign the agreement. The four signatory countries would consult with Egypt and Sudan on irrigation and hydroelectric projects, but no longer recognize those countries' veto power granted under a 1929 colonial era treaty. The two downstream nations – Egypt and Sudan – have maintained control over 90 percent of Nile waters under arrangements set in 1959. European Union spokesperson Marc Franc backed Egyptian and Sudanese condemnation of the treaty. Threatening legal action, the Egyptian state minister for legal affairs categorized the water deal as "mistaken."
Romania: Bucharest on board for NATO missile defense
U. S. and Romanian "technical talks" taking place in Bucharest in early May followed Czech Republic rejection last year of a U.S. missile defense system projected for Europe. Global Research reported that Romanian officials announcing the upcoming negotiations last February expressed hopes that national and regional defense capabilities would be served. Meanwhile Russian military spokespersons announced plans recently to develop naval bases in Ukraine in response to NATO activities in the region. Media reports have circulated as to the expected re-opening of a Soviet-era Crimean submarine base – rental agreements have been signed – and construction of three Black Sea bases. Russian President Dmitry Medvedev will sign a package of defense agreements with Ukraine on his visit there in May.
Australia: Protect refugee rights, say unions
In a letter May 8, the Australian Council of Trade Unions (ACTU) and 19 other unions called upon Labor Party Prime Minister Kevin Rudd to honor asylum claims by Afghan and Sri Lankan refugees. The Australian Guardian newspaper reported on warnings by the unions of violations of international law and exploitation of xenophobia. The letter condemned reopening of an isolated detention facility in Western Australia to house detainees. Recently the ACTU recognized the "bravery, courage and compassion" of "Front Puffin" crew members who last year rescued 34 injured refugees. On May 9, authorities removed 59 hungry, thirsty Sri Lankan refugees from a disabled boat. The government has refused to investigate an eight-day rescue delay contributing to five refugee deaths.
Photo: Tisissat, the Blue Nile Falls close to the city of Bahar Dar in Ethiopia. During some days of the week, the water is redirected for a damn and what is left of the falls is only a trickle. http://www.flickr.com/photos/mk_b/ / CC BY 2.0