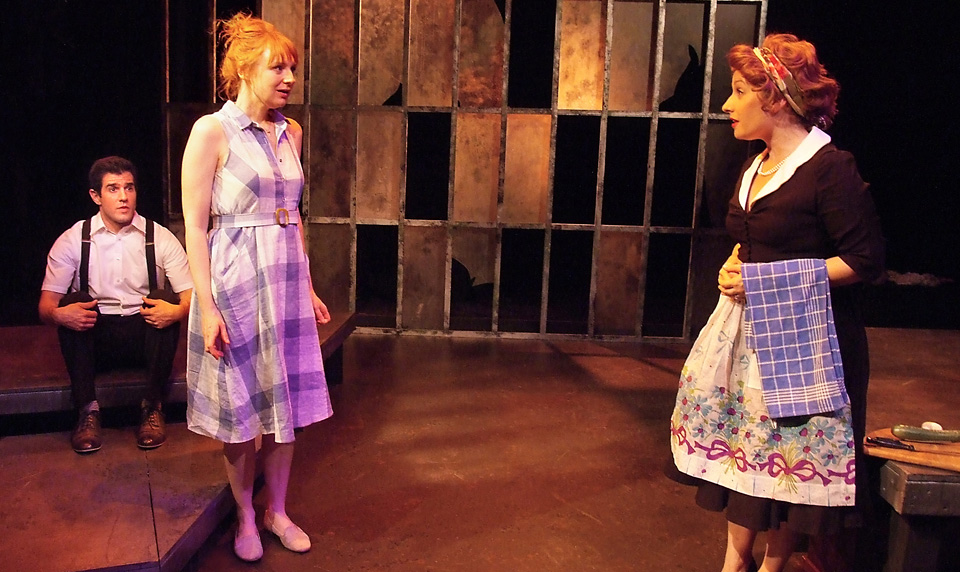 LOS ANGELES—The roots of reproductive justice are explored in The Lord of the Underworld's Home for Unwed Mothers, a poetically pro-woman play by Louisa Hill now receiving its world premiere production at the Skylight Theatre Company. The action of the play spans the years 1964-1991.
It would be satisfying to view this play as the prelude and pre-history to the reproductive freedom of choice we enjoy today, but more realistically it's a "back to the future" glance at what is happening as we speak in the GOP-dominated halls of government. Now that the runner-up in the popular vote has secured his first Supreme Court appointment, thanks to Mitch McConnell's nuclear option in the Senate, the landmark ruling in Roe v. Wade guaranteeing a woman's right to full control of her body may not survive much longer as settled law.
Knocked up as a teenager, Dee (Corryn Cummins) is forced to give her baby daughter away for adoption, though it's her undiminished dream in life to someday be reunited with her. When she finally meets her, 25 years later, it turns out that Corie (Michaela Slezak) is heavily involved in the nihilistic death metal scene, and wants nothing to do with her birth mother.
"What does choice mean if you've got no other options?" asks the  playwright. Hill reveals "the heartbreaking consequences of following the rules at the cost of family." It's a topic not often broached in the theatre, although now we are hearing more and more revelations about Catholic homes for unwed mothers that were little more than punitive baby factories in Ireland, the U.S. and elsewhere.
A percentage of these mothers, possibly most, were able to put the "sins of their youth" behind them and go on to create purposeful, productive lives for themselves. Others, as in Dee's case, never recovered from the loss of the child they bonded with in pregnancy and childbirth and desperately wanted to keep. Strict social convention stood in her way at every possible turn. Women and girls simply did not enjoy the agency to make reproductive decisions for themselves.
Women's firsthand accounts documented in Ann Fessler's book The Girls Who Went Away served as an inspiration for Hill's play. "There was so much shame and violence surrounding this big part of American history that thrives on silence," says Hill.
It's significant that Hill sets the beginning of her play in 1964. It was not until 1965, in Griswold v. Connecticut, that the Supreme Court ruled against a state's ban on the use of contraceptives as a violation of the right to privacy. Before that, although certain methods were available, Connecticut and other states criminalized the encouragement or use of birth control. Unwanted pregnancies and illegal abortions were familiar markers on the reproductive landscape of America. It sure looks as though that's just what the current administration seeks to bring back to "make America great again."
Seeds, life, roots and growth are recurring themes in the play, expressed in the dialogue, the action, and the set, balancing out the morbidity of the music world into which Corie has fallen. The stage is a series of platforms adaptable with a few props to a wide range of settings. "Stylistically," says director Tony Abatemarco, "it is a perfect sandbox for inventive staging."
Both of the female leads are harrowing in their portrayals. We lament sympathetically with Dee over her conventional Catholic parents who want to put this whole episode behind them as antiseptically as possible, dismissing the possibilities of marriage for their daughter to her boyfriend Billy because, although also Catholic, he's just not from the right family. As Corie, Slezak is equally powerful in her portrayal of a lifetime of unlucky foster home placements and group home residencies that have deprived her of just the kind of devoted love Dee would have offered her.
Two additional performers round out this rich cast: Adrian Gonzalez as the Male Chorus, and Amy Harmon as the Female Chorus, who play multiple roles as parents, psychologists, boyfriends, nurses, social workers, band members, etc. Their versatility is constantly on display and stunningly executed. Finally, in a most unusual conceit, Marylin Winkle is placed toward the back of the stage playing poignant melodies and making a world of sound effects on her cello.
"An opportunity," muses director Abatemarco about Louisa Hill, "What phrase in our language offers more potential?… Opportunity is at the core of her play's theme. The potential for acts of reparation between estranged mother and child. You don't get more opportune than that."
Hill has written a major piece of social history that brings into deep relief a part of our past many would like to forget. Her offbeat title brings together the very distinct environments of the mother and daughter in the two acts: "Lord of the Underworld" resonates with Corie's death-worshipping, satanist heavy metal scene, but also suggests a certain ungodliness in the Church's practice of brutally abandoning "the product of sin" to a bleak fate in the maws of the foster mill.
This is memorable and important feminist theatre for everyone (well, not young children).
Lord of the Underworld's Home for Unwed Mothers plays at 8:30 pm Fri. and Sat., and 3:00 pm on Sun. through May 14. Skylight Theatre is located at 1816-1/2 N. Vermont Ave., Los Angeles 90027. Reservations at (213) 761-7061 or online at http://SkylightTix.com.