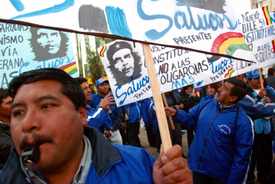 Canada: Peace activists say 'Get out of Afghanistan'
The Canadian Peace Alliance, Canadian Labor Congress, Canadian Islamic Congress and Échec à la Guerre jointly announced plans in June for nationwide demonstrations aimed at bringing Canadian troops home from Afghanistan. The actions are set for Oct. 28, the Canadian newspaper People's Voice reported.
As reasons to withdraw, organizers point to the flawed human rights record of the present U.S.-backed Afghan government and the $4 billion cost of Canada's military intervention there. They said one obstacle to a pullout is the interest of Canadian oil and gas corporations in getting in on the $3.2 billion Trans-Afghan Pipeline, which, when completed, will bring oil from the Caspian region through southern Afghanistan to ports in Pakistan.
Pakistan: Gov't attacks workers' rights
At a June 29 press conference in Karachi, representatives of nine trade unions denounced amendments to existing laws recently passed by Pakistan's National Assembly. The 8-hour workday was extended to 12 hours, for example, and women workers can now be kept on the job until 10 p.m., rather than only until sundown.
The government also eased restrictions on overtime work, and created a new kind of contract worker who is ineligible for overtime pay. Pensions were also weakened, particularly at smaller enterprises, LabourStart reported.
Labor union speakers denounced the measures as illegal, and accused the government of acquiescing to demands from the World Bank, the Asia Development Bank, and other international institutions for the benefit of "big multinationals and industrialists."
Australia: Labor demonstrations rattle government
Union-led demonstrations rocked Australia on June 28. On a National Day of Action, workers and their allies were protesting the "industrial relations reforms" of Prime Minister John Howard's Conservative government. In Melbourne, 150,000 people turned out for an event organized by the Australian Council of Trade, LabourStart reported. Some 300,000 demonstrated nationwide.
The new rules restrict workers' rights to union representation, give employers unilateral powers for determining wages and working conditions, and contain "independent contractor" regulations aimed at reducing wages. According to David Cockroft, general secretary of the International Transport Workers' Federation, "These laws represent a serious attack on workers' rights. … Workers and their unions will not take this lying down — the success of the national day of action shows that they will oppose these laws all the way."
Bolivia: Morales wins partial victories
On July 2, President Evo Morales' Movement Toward Socialism (MAS) party won 134 of the 255 seats for Bolivia's Constituent Assembly, which will begin working on a new constitution beginning on Aug. 6. Although MAS won a clear majority, it fell short of the 170 seats needed to act without hindrance to strengthen indigenous rights and create a legal framework for land reform, Inter Press Service reported.
Bolivians voted against giving autonomy to departments, or states, by a 56 percent majority. In four of nine departments, however, voters opted for relaxing national ties. Secessionists, particularly in the oil-rich eastern state of Santa Cruz, have advocated breaking away from Bolivia since Morales' election. The vote for autonomy in Santa Cruz was 71.6 percent, Prensa Latina reported.
France: Report spotlights social inequalities
On June 17 the National Statistical Institute of France published its 12th edition of "Social Data," the newspaper L'Humanite reported. This triennial report depicts changes in French society affecting education, working conditions, employment, health care and education.
The report points to evidence of persistent social inequalities and the emergence of new ones. The level of "insecure employment" has doubled over 20 years to make up 10 percent of all jobs. Young people are particularly subject to flexible modes of employment, and nearly one-third of recent college graduates find they are overqualified for available jobs.
Children of workers and immigrants experience more difficulty finding work than children of managers or those with parents of European background. Working-class women are increasingly subject to flexible work schedules harmful to family life, and men continue to neglect domestic chores.
The report says women, despite their better chances of getting a college degree, face greater difficulties than men in securing industrial and scientific jobs.
Oman: U.S. trade pact moves forward
On a 60-34 vote, after limited debate, the U.S. Senate passed the Oman Free Trade Agreement June 29. The House is set to vote on the pact later this month.
Labor activists have raised numerous objections to the pact, including the fact that Oman has until very recently banned independent labor unions, and that it tolerates both forced labor and human trafficking. The country's labor force consists primarily of vulnerable, foreign-born "guest workers," reports the Citizens Trade Campaign, a coalition of environmental, labor and consumer groups that opposes the pact.
World Notes are compiled by W.T. Whitney Jr. (atwhit@megalink.net).