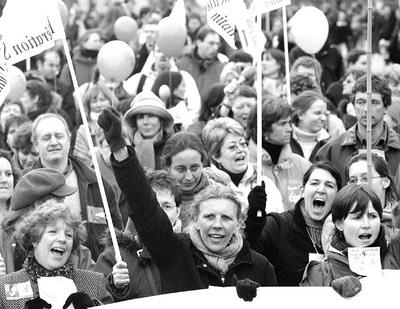 Lebanon: Thousands rally for democracy and peace
Thousands of demonstrators gathered in Beirut's Riad Solh Square March 13 under auspices of the Communist Party, to call for "the truth" about the assassination of former Prime Minister Rafik Hariri and to reject U.S. interference in Lebanon's domestic affairs, the Lebanese newspaper The Daily Star reported.
Demonstrators called for civil peace and implementation of the Taif Accord of 1989 that marked the end of the country's long and bloody civil war.
Addressing the demonstrators, CP head Khaled Hadada called on the Lebanese people to work for establishment of "true democracy" and save the country from sectarian conflicts and foreign interference.
Canada: Help for Wal-Mart workers
The Quebec Federation of Labor is asking its more than 5,000 affiliated unions to join in a program to sponsor Wal-Mart workers who will lose their jobs when the store in Jonquiere, Quebec, closes May 6. The UFCW-Canada said the program will feature financial aid and help with job placement.
"We will not leave any of our wounded on the battlefield," said Yvon Bellemare, president of the UFCW Quebec Provincial Council.
A recent poll shows most Canadians believe the company's decision to close the Jonquiere store, claiming it is "unprofitable," is a threat to scare other Wal-Mart workers from unionizing.
France: Massive protest vs. gov't 'reforms'
Organizers said more than a million people joined protests throughout France March 10, demanding continuation of the 35-hour workweek, higher wages, and an end to the government's efforts to decrease social benefits, Agence France Presse reported.
"Higher salaries, shorter working hours, against deregulation and unemployment," read the giant banner at the head of the march in Paris. Strikes by transport workers paralyzed the Paris metro system and area airports.
Unemployment exceeded 10 percent in January — its highest level in five years — and workers have become even more determined after news of record profits by top French corporations.
Turkey: Protest attack on Labor Party headquarters
Protests by labor and people's organizations are continuing against an armed attack on the headquarters of the Party of Labor (EMEP) in Ankara Feb. 26, in which youth leader Cem Gurbetoglu was seriously injured.
Demonstrators from unions, political parties, organizations of students and others gathered in front of the headquarters that evening, and a drumbeat of protests around the country and statements from a range of people's organizations has continued ever since.
The attack is widely seen as part of an overall attack against labor and democratic forces. To date, the government has not responded to demands from EMEP and other organizations that it join the search for the assailants. Send messages to H.E. Faruk Logoglu, Ambassador of Turkey to the U.S., by e-mail at contact @ turkishembassy.org, or by fax: (202) 612-6744.
Guatemala: Protest passage of CAFTA
Despite massive and continuing street protests that forced postponement of an earlier planned vote, Guatemala's Congress voted overwhelmingly March 10 to approve the Central American Free Trade Agreement (CAFTA), Weekly News Update of the Americas reported. The Congress also agreed to pass legislation later to compensate for the pact's negative effects on many Guatemalans.
Deputy Alba Estela Maldonado, head of the Guatemalan National Revolutionary Unity's legislative bloc, charged that U.S. ambassador John Hamilton was pressuring deputies to vote for the pact.
At least six people were injured March 9 when thousands of National Civilian Police agents sealed off the area around the Congress building and used tear gas and nightsticks to disperse a demonstration the authorities said had 1,800 participants.
The pact creates a trade bloc of Costa Rica, the Dominican Republic, El Salvador, Guatemala, Honduras, Nicaragua and the U.S.
Zambia: Public workers protest wage freeze
Five public workers' unions are warning the government it must take a fresh approach to negotiations, including ending a wage freeze so workers can receive decent wages. At a press briefing in Lusaka last week, Sylvester Tembo, chair of the five unions, said, "We don't think we can negotiate forever because we get the same answers and same paltry offers." Calling on the government negotiating team to come up with a new position within two weeks, Tembo warned that if they fail to respond positively, "We'll have no option but to consult our members on the next move."
World Notes are compiled by Marilyn Bechtel
(mbechtel @ pww.org). Julia Lutsky and Dan Margolis contributed to this week's notes.