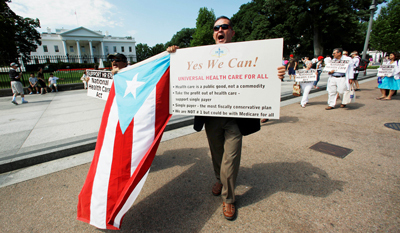 Argentina: Elections mirror economic stresses
In parliamentary elections June 28 the center-left Peronist bloc headed by President Cristina Fernandez and former president Nestor Kirchner lost congressional majorities.
Voting in Buenos Aires Province, home to 40 percent of Argentinians, was decisive. The results opened the door to potential opposition presidential candidates in elections set for 2011. Kirchner had to give up leadership of his Victory Front grouping to a Peronist rival with neoliberal leanings.
Voters were angered at the president's handling of the strike last year by big farmers. Food prices are up 25 to 35 percent, foreign trade is down, and unemployment has reached 12 percent. Some $20 billion is leaving the country annually, rebelion.org reported.
"The national economy is in intensive care," writes correspondent Daniel Cadabon.
United Kingdom: MPs urge cut-off of aid to Colombia
Members of Parliament met June 30 as the "Friends of Colombia" to demand an end to British military aid to a country militarized with Washington's assistance.
The BBC reported the MPs' outrage at killings of trade unionists and the military's role in murders of civilians, as documented by a recent UN human rights investigation. Representing all political parties, they heard Luis Alberto Vanegas, human rights director of Colombia's CUT Central Labor Federation, tell of death threats against CUT executive committee members and himself. General Secretary Brendan Barber conveyed support from the Trades Union Congress.
A so-called early day motion on aid to Colombia, backed by 242 MPs, is the third most popular such motion currently before Parliament.
Zimbabwe: Government gains financial aid
Prime Minister Morgan Tsvangirai said a $950 million loan from China announced earlier this month was the largest received by the new government during a campaign to raise $8.3 billion to revive the national economy.
On arrival in Harare after an extended fundraising trip, Tsvangirai told reporters that the European Union had committed to providing support and humanitarian aid worth $150 million. The prime minister asserted that in London, Washington, Berlin, Stockholm, Brussels and Paris he received pledges totaling almost $500 million.
The report on Al Jazeera suggested that reservations by foreign governments and aid agencies as to implementation of power-sharing arrangements between President Robert Mugabe and Tsvangirai have impeded the government's efforts to reach its overall goal.
Gaza: Humanitarian shipment attacked
Israeli warships last week attacked a boat carrying medical supplies, cement and toys to Gaza. "We didn't come with guns … but just with humanitarian aid, in an attempt to break the siege," said Chairperson Huwaida Araf of the U.S.-based Free Gaza Movement, organizer of seven other humanitarian voyages.
Israeli authorities seized the boat and supplies and jailed accompanying peace activists from 13 countries. They included Irish Nobel Peace laureate Mairead Maguire and former U.S. Representative Cynthia McKinney, who recalled President Obama's demand that Israel admit humanitarian supplies into Gaza.
"Twenty-one internationals can get headlines," observed the Free Gaza group's web site. "What about the 11,000 Palestinians who languish in jail, many of them tortured?" it asked.
Thailand: Giant farms threaten small producers
Calling upon the government to protect 40 million small farmers, rice producers voiced opposition, last month, to looming foreign land purchases, epitomized by plans of the Gulf Cooperation Council (GCC) to promote monopolized agricultural ventures throughout the region. (See farmlandgrab.org.)
Schemes to exchange oil for food security were on display in Bahrain last week as the GCC and the Association of Southeast Asian Nations jointly explored prospects for large scale land investments. Similarly, a June 28 report on telegraph.co.uk described purchases by Indian agricultural conglomerates of "hundreds of thousands of hectares" in African countries to produce rice, corn, beans and sugarcane for domestic consumption. China, South Korea and Arab countries are likewise engaged in "creating new African mega-farms."
Puerto Rico: Doctors lead health care fight
Members of the Puerto Rico College of Physicians and Surgeons joined community representatives in a rally before the White House last week to urge President Obama to support creation of a single-payer pilot program demonstrating that healthcare can be provided for all Puerto Ricans.
"This is a matter of both health and social justice," explained the organization's president, Dr. Eduardo Ibarra, quoted on healthcare-now.org. Ibarra wrote Obama in May noting Puerto Rico's 45 percent poverty rate, 14.7 percent unemployment, and half a million uninsured.
"Please let Puerto Rico be the front line of a noble endeavor," Ibarra urged, adding that "We can create a system in which access to health care is recognized as a basic right for all."
World Notes are compiled by W.T. Whitney Jr. (atwhit@roadrunner.com)