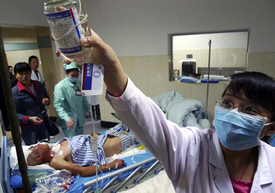 China: Gov't revamps health careA three-year health care reform plan costing $124 billion was announced in April. At a State Council meeting last week, Premier Wen Jiabao indicated that medical insurance will be extended this year to 72 million additional people. Health care will also be guaranteed for over 6 million workers laid off from state-owned companies. A campaign to improve coordination between 900 city hospitals and 2,000 county-level hospitals has been launched. The government is also reaching out to millions of women with screening for cervical and breast cancers. Over 23 million unvaccinated children between age 8 and 15 will receive hepatitis B vaccine. People's Daily reported that at the same meeting regulations were outlined to implement China's new Food Safety Law.
Nigeria: Insurgents call for ceasefire After weeks of intensified assaults on oil facilities culminating in an unprecedented hit on a depot near Lagos, the Movement for the Emancipation of the Niger Delta (MEND) announced a 60-day ceasefire on July 15, the day after the government released MEND leader Henry Okah. Negotiations on MEND demands and the government's amnesty offer were conditioned on military forces withdrawing from occupied communities and the return of displaced persons. MEND's three-year fight for autonomy in the Niger Delta region and equitable division of national oil wealth involved threats recently against the Trans-Sahara pipeline carrying oil to Algeria. Afrol News reported that the National Petroleum Corporation's monthly revenues are down 50 percent this year.
Israel: Soldiers speak out Breaking the Silence, an organization of present and former Israeli soldiers "demand[ing] accountability regarding Israel's military actions," (see breakingthesilence.org) released a 110-page report last week with testimony from 26 soldiers underscoring rampant brutality evident during Israel's recent war against Gaza. The Jerusalem Post accused the group of taking foreign money. Co-founder and Army reservist Yehuda Shaul claimed that Israeli soldiers, who ran no risk, failed to protect civilians, who comprised most of the 1,400 people killed. One soldier lamented the "hate and joy in killing." "The artillery fire was mindless," said another, referring to "gratuitous destruction" of houses, where "not one was left intact." Shaul, quoted by rebelión.org, explained: "There were no limits. Everybody there was an enemy … The Israeli army abandoned all its moral values," he said.
Bolivia: President lambasts U.S. bases At ceremonies last week commemorating Bolivian victory 200 years ago over Spanish colonialism, President Evo Morales labeled Latin American political leaders who accept U.S. bases "traitors to their country." Regional military forces need to shed U.S. dependency, he declared. TeleSur highlighted Bolivia and Ecuador's new constitutions as having banned foreign bases. Yet according to human rights lawyer Orlando Castillo, U.S. troops have entered Paraguay under the guise of embassy technicians (Upsidedownworld.org). U.S. Ambassador Liliana Ayalde has utilized drug counseling, narcotics interdiction and medical care to dress up "joint military exercises" as "diplomatic cooperation." The United States is reportedly refurbishing its Mariscal Estigarribia air base, built during the 1980s close to the Bolivian border.
Turkey: Agreements reached on gas pipeline Despite financial uncertainties, Austria, Bulgaria, Hungary, Romania and Turkey agreed to pave the way politically to construct the Nabucco natural gas pipeline aimed at relieving European dependency on Russian gas. The agreement last week materialized after Turkey relinquished demands that it retain 15 percent of gas derived from the Caspian Sea region. At the Ankara meeting, Turkish Prime Minister Erdogan's warm words for Iranian participation riled Washington. As if in response to a Greenpeace critique citing greenhouse gases and calling for solar energy, 12 corporations, mostly German, signed an agreement July 13 to plan and develop the Desertec Initiative, solar-energy installations strung across Northern Africa projected as eventually supplying 15 percent of Europe's energy needs.
Cuba: The 'Five' gain international support "The Americans answered that they will do it," Dave Prentis, head of Britain's Unison public workers' union, told Trabajadores (Workers') Newspaper. His reference was to UNITE labor federation leader Tony Woodley's trip to the United States recently where. unionists there promised support for the campaign to free the Cuban Five. "These unions are going to exert their influence on the government," said Prentis, quoted by Cuba News Agency. The Five have served 10 years in U.S. jails for monitoring anti-Cuban terrorists in Florida. "What is happening to them is an immorality," Prentis declared. Last week in Havana, Adriana Pérez learned that the U.S. State Department had again denied her the right to visit husband Gerardo Hernández in jail. She has not seen him since 1998. World Notes are compiled by W.T. Whitney Jr. (atwhit@roadrunner.com)