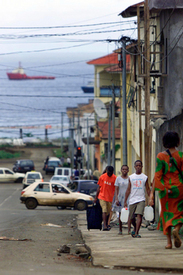 Equatorial Guinea: Corporations, banks back corruption
Oil money has been diverted to the ruling few while people languish "in poverty worse than in Afghanistan or Chad," according to a Human Rights Watch report issued last week. The account by Inter Press Service cites a 5,000 percent rise in Equatorial Guinea's GDP in almost 20 years.
A Global Witness report released in March featured the Teodoro Obiang regime, in power since 1979, as typifying collusion between a repressive government and international banks leading to billions stolen and disregard of problems like skyrocketing child mortality rates. Investments from U.S.-based oil companies have allowed the country to become sub-Saharan Africa's fourth-largest oil producer.
Human Rights Watch called upon the Obama administration to reverse Bush's support of the country's regime.
Australia: Labor protests anti-worker discrimination
"It is time for a national debate about a new deal for job security," declared Sharan Burrow, Australian Council of Trade Unions president. She was protesting a minimum wage freeze imposed last week by the Fair Pay Commission affecting 1.3 million workers, and the loss of 22,000 jobs during June. With their "windfall," Burrow declared, "Employers have no more excuses not to pull out all stops to protect jobs."
Unemployment presently is 5.8 percent. The ACTU head called for reduced executive salaries and brakes on overseas export of jobs.
Ironically, new industrial relations laws taking effect July 1 represent "an historic step forward for the rights of working Australians and their families," the ACTU web site said.
Afghanistan: U.S. military contractors take root
The U.S. military buildup in Afghanistan signals opportunity for DynCorp and Fluor corporations. Awarded contracts totaling $15 billion over five years, the giant enterprises will build military structures and bases there and undertake power, water, housing, logistic and administrative projects.
Texas-based Fluor Corporation will carry out work at 74 bases in northern Afghanistan, while DynCorp will operate throughout southern Afghanistan.
The Defense Department rejected bids from Halliburton subsidiary KBR, recipient of contracts worth $31.4 billion from 2001-2009. Reuters recalled that a Congressional commission found that KBR had wasted billions because of "poorly defined work orders, inadequate oversight and inefficiencies" marking construction projects in Iraq and Afghanistan.
United Nations: Ban speaks out on climate change
UN Secretary-General Ban Ki-moon scolded Group of Eight heads of state last week for waffling on commitments to reduce greenhouse gases, 80 percent of which are produced by their nations.
"The time for delays and half-measures is over," Ban declared at the L'Aquila summit. "Personal leadership" was needed in dealing with "one of the most serious challenges ever to confront humanity."
The goal of reduced emissions by 2050 lacked credibility, he suggested, unless short-term goals are set, specifically 25-40 percent reductions from 1990 levels by 2020. The UN News Service reported that in September Ban will convene a climate-change summit in New York in preparation for December talks in Copenhagen aimed at a new climate treaty.
Guyana: U.S. military visits
The U.S. Southern Command has billed the three-month deployment of 650 troops to Guyana beginning July 1 as humanitarian. They will build schools and a medical clinic, according to www.southcom.mil, as well as providing medical care. The soldiers started off with a visit to an orphanage.
The project mirrors last year's visit to Peru of 950 active duty troops and reservists whose supposed humanitarian outreach provoked nationalist-inspired condemnation of violations of national sovereignty.
No benevolent purposes were evident in arrangements currently under discussion for opening up three Colombian air bases and two naval bases to U.S. forces. An agreement is close, Bogotá's Cambio newsweekly recently reported. Last year, the U.S. Fourth Fleet included Guyana on its unprecedented continent-wide tour.
Cuba: Good living at low ecological cost
Issuing its annual Index of Planet Happiness July 4, the London-based New Economics Foundation (NEF) awarded Cuba seventh place among 143 nations surveyed. Societies were assayed in terms of life expectancy, citizen satisfaction and ecological impact.
Costa Rico ranked first in proving, according to the NEF web site, that "good lives don't have to cost the earth."
The top 10 included nine Latin American nations. The United States was assigned 114th place.
Analyst Pascual Serrano explained the contradiction between Cubans emigrating to the United States and expressing satisfaction with their lives (see rebelion.org). Prior to the revolution, migration north was considerable, he said. And the United States receives more immigrants from Mexico, El Salvador, Jamaica and Canada than from Cuba.
World Notes are compiled by W.T. Whitney Jr. (atwhit @roadrunner.com)