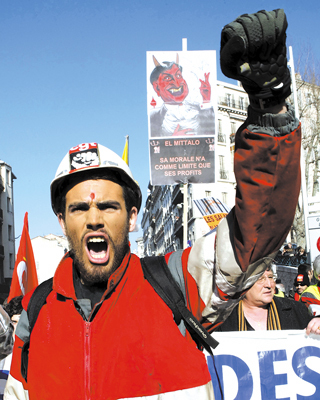 France: Unions mount general strike
Protesting failure by the government of conservative President Nicolas Sarkozy to protect jobs and support consumer buying power while bailing out banks, eight national unions in a rare manifestation of unity launched a day-long general strike Jan. 29. Unions reported a million workers stayed away from their jobs.
Although the work stoppage by transportation and public service workers proved disruptive rather than paralyzing, Sarkozy held off suggesting as he did last year that general strikes pass unnoticed in France. The BBC reported that an opinion poll for Le Parisien indicated a 69 percent level of public support for the strikers. Forecasts place unemployment in France next year at 10 percent.
Russia: Missile bases on hold
The Financial Times reported last week that in response to indications the United States will not place anti-ballistic missiles in Eastern Europe, Russia has shelved plans to station cruise missiles in Kaliningrad, near Lithuania. Igor Yurgens, spokesperson for Russian President Dmitry Medvedev, declared, "In announcing they would close Guantánamo and get out of Iraq in 16 months, they made gestures. This is our gesture. We will wait now until Obama articulates his position on the missile shield."
The Bush administration had been preparing a missile base in Poland and a radar system in the Czech Republic, ostensibly to defend against missiles launched by Iran. Popular protests erupted in Eastern Europe and Russian leaders voiced blanket condemnation.
Egypt: Rail strike shuts down transport
Trains throughout Egypt came to a standstill Jan. 29 as 62,000 signalmen and switch operators went on strike for less than a day, the second time in a week. Officials of the Egyptian National Railway were said to have gone back on promises to discuss worker grievances.
The strikers told Daily News Egypt they want wages equivalent to those of train drivers, as well as bonuses and overtime pay. They are also protesting inaction by their state-controlled union.
Labor reporter Per Bjorklund explained that railroad management has exploited differences among railroad workers divided by job category. Strike organizing is frequently left to a changing cast of railroad workers. A common front on demands rarely materializes.
Chile: Left coalition takes shape
The Humanist and Communist parties and two Socialist Party offshoots announced Jan. 28 that at a convention in March they would devise a common program and choose a single candidate for presidential elections next December. In a statement, leaders cited dangers posed by the world economic crisis and Latin American hopes raised "by governments of the left … independent of U.S. imperialist policies."
Later, Communist Party leader Guillermo Teillier called for "profound changes so that Chile's enormous inequality is ended, so we can be owners of our riches." (www.pcchile.cl)
The French news agency AFP said former President Eduardo Frei, a Christian Democrat projected as candidate of the center left Concertación coalition, faces token opposition in December from millionaire Sebastián Piñera of the rightist Alliance for Chile.
China: Leader discusses challenges
Premier Wen Jiabao told the World Economic Forum in Davos, Switzerland Jan. 27, "We are facing severe challenges in China, including shrinking global demand, overcapacity in some sectors, and rising unemployment in urban areas." He foresaw protests and social unrest.
China's trade unions are helping retrain and find new jobs for millions of migrant workers forced by the downturn to return home, People's Daily reported. The Ministry of Finance said it will help create jobs in government infrastructure and environmental protection projects.
Wen Jiabao pointed to "an unsustainable model" in western societies of low savings and high consumption and "blind pursuit of profit" on the part of U.S. and European banks. The government initiated a $586 billion stimulus program last November.
Cuba: Social security is revised
A new social security law took effect last week following nationwide workplace discussions and National Assembly approval. The change comes in the context of economic reform measures presently underway in Cuba.
Women's retirement age increased from 55 to 60 and men's from age 60 to 65. A draft version of the law had set retirement as beginning at ages 62 and 67 respectively.
To qualify for retirement, workers must have completed 30 years of service, according to www.cubanow.net. The law takes effect gradually for individuals close to retirement age, to allow for planning. Young people without parents continue to be protected through completion of university or professional training.
World Notes are compiled by W.T. Whitney Jr. (atwhit@roadrunner.com)