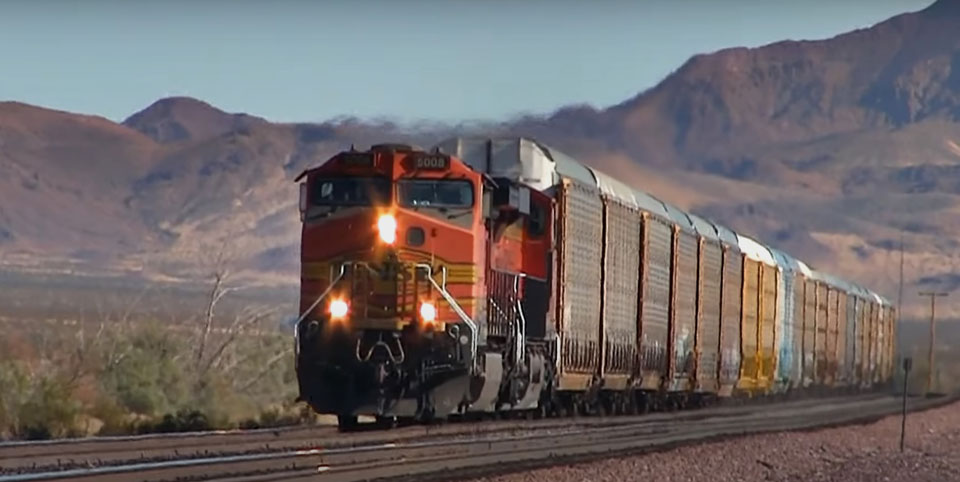 CLEVELAND—Management exploitation of the nation's rail freight engineers, including massive overwork and demands for one-person—or fewer—crews—could force the 23,000 engineers to strike as soon as July 18.
All they would need is the go-ahead from the board of their union, the Brotherhood of Locomotive Engineers & Trainmen/Teamsters (BLE&T), and a Democratic Biden administration decision by the night before not to intervene.
And if the bosses, especially those at the big Class I freight railroads, force the workers to walk, that could bring rail freight traffic—everything from coal to cars to oil to corn—to a dead halt. After all, right now, you can't run a train without an engineer. That's even though at least one exec at one big carrier, the Burlington Northern Santa Fe, has advocated just that.
The strike possibility arose after 99.5% of the engineers voted to authorize their board to call a strike, union President Dennis Pierce announced July 11. The tally was 11,358-74.
The strike would start with the board's OK unless Democratic President Joe Biden steps in and triggers an automatic 30-day cooling-off period by naming a Presidential Emergency Board to hear out both sides and make a recommendation to settle the years-long conflict over a new contract between 14 rail unions—including BLE&T—and the railroads.
Key issues are no raises since the old contract expired a year before the coronavirus pandemic hit, a 29% job cut at the railroads over the last six years, and what BLE&T terms "a toxic workplace" in locomotive cabs. And the roads imposed "draconian attendance policies where workdays can stretch to 12 hours and" workers must "be on call for 14 days."
Two years of talks, including federal mediation, have been unsuccessful. A strike may be "necessary to secure a contract worthy of consideration," said Pierce.
"Despite record profits, the nation's largest railroads have not given an extra dime in contract raises to locomotive engineers and other essential rail workers during the pandemic."
"Contrary to the self-serving propaganda being spread by the rail carriers, the BLE&T membership owes no one an apology for voting as they did," Pierce wrote his members. "I too voted with the majority and I applaud them for doing it. But there is more to this story than just casting a vote in favor of striking."
Before the pandemic, most Class I railroads "adopted slash-and-burn operating plans with only one goal in mind; Profits without regard to the health, safety, satisfaction or well-being of their employees, their customers or our nation at large," his letter to members added.
"They furloughed or fired a third of their nationwide workforce, forcing the remaining employees to work more. They began running longer and longer trains, without regard for safety, that continue to all but shut down the rail networks due to an infrastructure never designed to run these longer and heavier trains."
After the economy started to recover from the coronavirus pandemic, railroads "refused to adequately staff their operations, continually blaming their remaining employees for rail carrier actions that negatively impacted their shippers."
The mandated attendance "forces engineers and conductors to work day in and day out with no scheduled time off or be fired. These ridiculous policies forced thousands of employees out of the industry…compounding an already understaffed operation.  And if anyone is close to being abused as much as the employees by this business model, it's the shippers, or as they should be called, the rail industries' customers." It's "employer and shipper be damned."
"In short, the railroads used and continue to use their economic strength to steamroll their employees, customers, and the nation, all for their bottom line…They have no intentions of changing. Now throw a national contract negotiation into this already toxic workplace."
Pierce said the unions offered many proposals and "there is no fact-based argument the rail carriers cannot afford the union's proposals nor do they even make such a claim. Instead, the carriers stonewalled…One CEO called some operating employees, who actually move the nation's freight doing what have become thankless jobs, 'unnecessary.'"
"Consumed by corporate greed that would make the robber barons of old blush, they just simply don't want to share their record profits with their employees." Pierce added the unions' proposals would improve the railroads' ability to hire and keep workers.
"The question of whether or not any of the rail industry's" union workers "want to legally strike is secondary to what they truly want. They want a contract with meaningful wage increases and good benefits…There would be no need" to strike if bargaining produced that. The firms "created the mess, and they have the power and financial means to fix it."