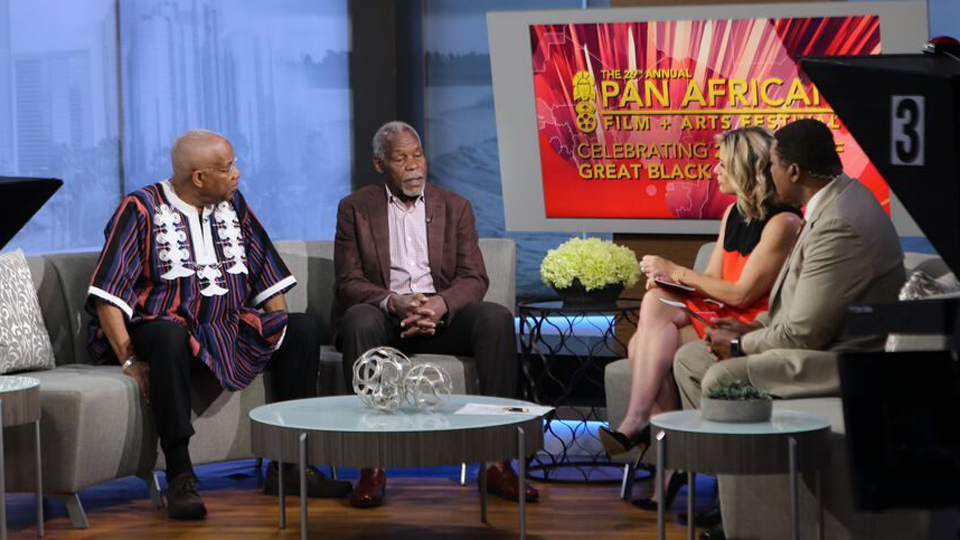 LOS ANGELES—As blackface, KKK and noose racist imagery and scandals involving Jussie Smollett, R. Kelly, etc., threatened to overshadow the yearly Black History Month celebrations, the L.A.-based Pan African Film and Arts Festival (PAFF) continued to emit a dazzling light of brilliant positivity and hope. Billing itself as America's biggest Black-themed film fest, from Feb. 7-18 PAFF screened more than 100 fiction, documentary, animated and short productions, plus workshops, panels and an art expo, all highlighting the history and experiences of people of African ancestry.
Superstars, such as rapper/actor Common (who wrote the lyrics for the short Hats) and actor Danny Glover (who narrated and appeared in the documentaries Power to Heal and The Robeson Effect, also shown at PAFF), made personal appearances at Cinemark Baldwin Hills Crenshaw Plaza and the Directors Guild of America Theater, where the opening night gala screening of the Aretha Franklin film Amazing Grace took place.
Your all-too-human movie reviewer was unable to see every film he wanted to. The following is an overview of the 27th Annual Pan African Film Festival, which presents hard-to-see films that, in many cases, Angelino and U.S. moviegoers may never otherwise get to savor.
Coincidentally, my theater-hopping was bookended by Richard Wright works. The first one was helmed by the renowned Black novelist's grandson Malcolm Wright, but much to my surprise, the press was forbidden access to Whale Like Me. Considering that filmmakers, publicists, etc., frequently seek reviewers out in order to gain coverage for their creations, this struck me as strange.
Besouro: The good, the bad and the Brazilian
This 2009 Brazilian feature is a combination of a Bruce Lee/Jackie Chan chopsocky flick with a Sergio Leone Spaghetti Western plus Gillo Pontecorvo's Third World revolution epic Burn! Stylishly directed by João Daniel Tikhomiroff, who is of Russian ancestry, Besouro is based on legends about Pereira, a young man of African descent who becomes a master of capoeira, Brazil's martial art. He uses his skills to fight against the oppression of agricultural workers by mixed-race plantation owners and exploiters in Bahia, a state with a large Black population. This action-packed cinematic film has some great cinematography, as well as sexy scenes. In 2011 Besouro won PAFF's Best Narrative Feature award, and it was reprised this year as one of PAFF's screenings, giving lucky moviegoers a chance to enjoy this revolutionary kung fu film.
Armed: Charmed and dangerous
Like Tikhomiroff, cinematic scion Mario Van Peebles made personal appearances at PAFF's screenings of Armed, which stars Mario, who also wrote, directed and produced this mind-blowing movie. Armed has a highly cinematic psychedelic panache, like Dennis Hopper at the peak of his powers (and acid-dropping, although Mario said he doesn't take drugs), when the Easy Rider helmer was shooting 1971's avant-garde The Last Movie on location in the deepest darkest Peruvian jungle.
Inspired by actual events, the ultra-violent Armed deals with the easy availability of guns, white nationalists, Post Traumatic Stress Disorder and more. Armed's virtuoso filmmaking shows that Mario is a true auteur, like his iconic father Melvin Van Peebles (who appears in a cameo as—who else?—Mario's character's dad), director of 1970's satirical jibe at racism, Watermelon Man. Introducing his low budget indie and doing Q&As, Mario showed himself to be highly intelligent, thoughtful, good-natured and loving.
Ali's Comeback: The Untold Story, a knockout doc
Art Jones' stand-up-and-cheer documentary Ali's Comeback: The Untold Story tells the unsung saga about the bout that broke boxing's blacklist of the champion who said "no" to war and racism. I thought that in this behind-the-scenes story of the draft resisting boxer's return to the ring the gifted filmmaker was going to reprise the "Thrilla in Manila" or "The Rumble in the Jungle." But as the sly Jones deftly discloses, after being blacklisted from pugilism for years for refusing to serve during the Vietnam War, in 1970 the heroic Muhammad Ali was able to strap the gloves back on in, of all places, way down in the Deep South, despite KKK threats.
Jones knows how to tell his story well as he finally reveals this nail-biting bit of fisticuffs' hidden history, full of suspense and triumph. Jones reveals the surprising role that, of all people, über-racist governor Lester Maddox (infamous for using ax handles to keep his restaurant segregated) played in the heavyweight's comeback, as well as that of a Black Southern state senator, promoters and others. Jerry Quarry's wife and Quarry himself, the so-called "Great White Hope," also show themselves to be standup, decent people, so whites aren't demonized in this exciting tale.
But of course, the superstar of this 76-minute nonfiction film is the one and only Ali, who'd converted and become an adherent of the Nation of Islam. A skillful storyteller, Jones interweaves archival footage of the boxer and his coterie with original interviews featuring Civil Rights icons such as Andrew Jackson and Khalilah, who was Ali's wife when he started stinging like a bee and floating like a butterfly again. His historical reenactments are creatively staged, shot slightly out of focus so the viewer realizes the film is a break from actuality where film footage is presumably unavailable.
Muhammad Ali steals the show, with his wit, beauty, bravery, poetry, athletic prowess and above all else his political genius that wisely, defiantly declared to the world at the height of the war in Vietnam: "No Viet Cong ever called me n****r." Jones not only captures Ali but the times, as well as the circus atmosphere that prevailed at his return bout opposite Quarry, which drew celebs and wise guys galore from across America. One pimp drolly observed that there was so much jewelry and furs at the comeback fight that "we raised mink to a whole new level." The fight's aftermath for some fans at an after party is shocking but humorous.
Jones delivers a heady haymaker, an entertaining, enlightening good fun crowd-pleaser full of consciousness. This knockout doc was one of PAFF's gems and is a must-see for everyone who's a fan of sports, dissent, topnotch filmmaking and, of course, of "The Greatest." Ali's Comeback is guaranteed to make you rise out of your seat chanting: "Ali! Ali! Ali!" An audience favorite, Ali's Comeback won the Audience Award for a Documentary Feature at PAFF.
Socialism's crown jewel in Dare to Dream: Cuba's Latin American Medical Schools
Propaganda pictures can be dreary, crammed with slanted informational content that often beats viewers over the head in efforts to persuade them to believe particular points of view. What a refreshing change this ebullient agitprop doc about Cuba's Latin American Medical Schools (ELAM) is! Although ELAM (which is affiliated with IFCO, the Interreligious Foundation for Community Organization) is open to wannabe doctors from around the world, Dare to Dream focuses on Americans who attend this Cuban med school totally tuition free. If I recall correctly, more than 120 Americans have graduated from ELAM since 1999. Reportedly up to 30,000 doctors have been trained at what may be the world's biggest provider of medical school scholarships.
The main condition (besides studying hard) is that the Yanqui pre-med students have to promise that upon graduating they will provide their skills to "underserved" communities in the U.S. While socialism and communism are rarely if ever mentioned in this 30-minute breezy chronicle, and clips of Fidel are only quickly shown without being dwelled upon, what is stressed is the humanitarian ideal of serving the people, instead of enriching oneself by becoming a doctor. (Wow, that's "a commie plot" if I ever heard one!)
The doc follows the multi-culti would-be docs to Cuba and back to America. Dream contends that in addition to attending medical school (which takes longer in Cuba than in the USA) free of charge, the pupils graduate without the crippling student debt that has turned a whole class of U.S. university scholars/serfs into 21st-century indentured servants. This enables the ELAM Americans greater flexibility in seeking residencies, and instead of having to feed debts with lucrative practices, the interns can do their residencies in hospitals in underserved communities. In the process the Spanish they had to learn in Cuba comes in very handy in minority neighborhoods in cities like Newark where they serve the people.
In the history of world socialism, Cuba's medical program—from fighting Ebola in Africa to providing healthcare in America's impoverished urban centers—is, with its global dedication, determination and scientific advances, among the crown jewels of international socialist achievement. The fact that this less developed "Third World" nation, hampered by a more than half-century-long Washington-imposed embargo, does a far better job providing its people with access to universal healthcare than the North American colossus speaks volumes about each society's priorities. The film includes some startling health statistics comparing Cuba and America, such as those regarding infant mortality, and it's astonishing how developing Cuba surpasses the USA.
Creatively directed by Jennifer Wager, the well-made, award-winning Dare to Dream is politically engaging and uplifting in a very human way that shows what socialism is all about, without being pedantic or boring.
Power to Heal: Medicare and the Civil Rights Revolution
As part of PAFF's "Short Doc Series 7," Dare to Dream was paired with another excellent nonfiction film, Power to Heal: Medicare and the Civil Rights Revolution. Narrated by Danny Glover and co-directed by the pioneering independent filmmaker Charles Burnett (who also helmed 1978's Killer of Sheep, 1990's To Sleep with Anger, 2007's epic Namibia: The Struggle for Liberation, starring Glover), Power depicts the intersectionality of healthcare, the Civil Rights movement and government programs. The almost hour-long documentary poignantly reveals the inhuman way medicine was (and often was not) practiced under apartheid in the Jim Crow South. Power to Heal scored the PAFF Directors' Award for Documentary Short.
Paul Laurence Dunbar: Beyond the Mask, content without form
Frederick Lewis's almost two hour-long documentary about one of African America's poet laureates and novelists (and lest we forget, elevator operator and bon vivant) certainly crams in lots of information (although some may find the private life stuff is TMI). One can see why, for example, the future mural and WPA artist and chairman of the art department at Jackson State, Mississippi, the 1910-born Lawrence A. Jones, was named after that late 19th-century man of letters, Paul Laurence Dunbar. I learned a lot about Dunbar from this highly informative film, but director Frederick Lewis, an Ohio University Media Arts Associate Professor, has an academic, not a cinematic sensibility. Although he's made other docs, Paul Laurence Dunbar: Beyond the Mask has a scholarly style that becomes tedious. Lewis doesn't seem to know how to shape his content in order to compellingly tell his endless story in an entertaining way.
Mr. Soul!: The people's talk show
Melissa Haizlip's highly cinematic Mr. Soul! chronicles her uncle Ellis Haizlip and his trendsetting late '60s-early '70s Black-consciousness PBS-TV program Soul!, with clips of guests ranging from Stevie Wonder to James Baldwin. Soul! did for African Americans what PBS's Sesame Street did for children, providing them with a place they belonged that embraced, loved and accepted them. Although it's almost two hours long, the well-directed and edited Mr. Soul!, full of dynamic guests presided over by the insightful Ellis Haizlip, is never dull. The documentary has a gay subtext, revealing the Nixon regime's behind-closed-doors Machiavellian maneuvers to censor this televised portal for Black America. Mr. Soul! won PAFF's Best Feature Documentary Award and is highly recommended viewing.
Djambar, Sembene the Unsubmissive, Africa's greatest director
One of the most exciting aspects of PAFF is that it is indeed truly Pan African, including films from Mother Africa. Djambar, Sembene the Unsubmissive is a biopic about and tribute to Senegalese director and novelist Sembene Ousmane by Cameroonian filmmaker Eric Bodoulé Sosso. Sembene is arguably sub-Saharan Africa's top director, who put pro-independence and Marxist themes in features like 1966's Black Girl, 1975's Xala (a comedy about impotence) and 1988's Camp de Thiaroye, about a military mutiny. Sosso does Sembene justice in this 85-minute documentary chronicling the life and work of the African auteur who was arguably the African continent's counterpart to the French New Wave. Required viewing for all world cinema aficionados.
Where Hands Touch: Blacks and Nazis
London-born auteur Amma Asante is of Ghanaian roots, and her features, such as the excellent 2013 Belle and 2016's ponderous, slow-moving A United Kingdom (both screened at PAFF this year) are fixated on race relations and interracial romance. Asante takes this theme to its ultimate conclusion in Where Hands Touch. While the tragedy of the Jews during the Final Solution is well documented and has been dramatized by filmmakers from Charlie Chaplin to Steven Spielberg, the plight of the reportedly 25,000 Blacks who lived in the Third Reich under the Nazis is largely unknown.
Asante creates the ultimate Romeo and Juliet drama of forbidden love as the teenagers Leyna (L.A.-born mixed-race actress Amandla Stenberg), who has an African father and Aryan mother, falls for Lutz (George McKay), who is—you guessed it, of course—a member of the Hitler Youth. Needless to say, complications ensue, as Der Führer's furious minions seek to exterminate Germany's Blacks. Ultimately Leyna is dispatched to [plot spoiler alert!] a concentration camp. Who coulda guessed?
Hands' content is harrowing and moving, especially the death camp portion where Leyna befriends an inmate portrayed by the Australian actress Abbie Cornish (who played poet John Keats's lover in 2009's Bright Star). But the problem is that Asante's feature is almost completely minus any artistry and style and instead of looking like a motion picture, it seems to be a filmed stage play. I was often able to guess what the next line of extremely predictable dialogue was going to be. Nevertheless, Hands' performances are good enough and the story so powerful—especially the terrifying death camp sequences—that this artless work and sincere plea for tolerance is still well worth seeing.
Lara and the Beat: Crazy rich Nigerians
Nigerian-American producer/director Tosin Coker's feature film had its U.S. premiere at PAFF. The story follows upper-class Nigerians who lose their fortune and have to rebuild their lives. The first half hour or so seemed like a counterpart to that awful, unfunny movie Crazy Rich Asians. Since I hate the bourgeoisie of every land (too bossy, gaudy and greedy!) I found them to be tedious types. But once the Giwi sisters go broke the story becomes more intriguing as the film follows them during their trials and tribulations. What's most interesting about Lara for Americans is that it is shot entirely on location in oil-rich Nigeria, presumably in its biggest city, the sprawling urban center of Lagos, which is full of high rises, traffic and slums. Lara won PAFF's Programmers' Award for Narrative Feature.
Native Son: Going "native"
This is at least the third screen adaptation of Richard Wright's classic novel about racism in Depression-era Chicago, including a 1951 version starring Wright himself as the protagonist Bigger Thomas, who is here played by Ashton Sanders of 2016's Moonlight (or as white people call it, "that movie that stole the Oscar from La La Land") in a modern-dress version presumably set in 2019 Chicago.
I just don't know about Sanders's portrayal. I'd always imagined, as his name implies, that Bigger was buff and Sanders seems too skinny. In addition, I don't recall Bigger being a Beethoven buff, as he is portrayed here—this seems to be shoplifting from A Clockwork Orange's Alex, leader of the deranged thuggish droogs in Stanley Kubrick's 1971 adaptation of Anthony Burgess's dystopian novel. Just as newcomer helmer Rashid Johnson seems to have borrowed some of his shots straight out of Spike Lee. I'm also not sure about Suzan-Lori Parks's (who wrote Lee's 1996 Girl 6) screenplay, which seems to take a number of significant liberties with the text by Wright, who is long gone and can't defend his oeuvre (although if I remember correctly, his aforementioned grandson Malcolm has a consultancy credit).
Other members of the cast include Elizabeth Marvel (the president on Showtime's Homeland) as the mother of Mary Dalton (Margaret Qualley), an heiress with radical pretensions, but who is really totally clueless about how the other 99 percent live. Wright's Communist and pro-Communist (the author actually joined the CPUSA) characters are replaced by Occupy Wall Street types or, as in the case of Bigger's leftwing lawyer, like in the Antaeus Theatre Company's stage production last year, the script writers have simply deleted one of Wright's most compelling characters.
David Alan Grier has a cameo and the great German actress Barbara Sukowa also has a small role. She has starred in numerous Margarethe von Trotta features, including 1986's Rosa Luxemburg and most recently, 2012's Hannah Arendt. Given that the latter coined the term "the banality of evil" while covering Adolf Eichmann's trial, it's interesting to ponder what Arendt would have thought of Bigger and his crimes?
I read HBO acquired the rights to Wright's film but don't know if they'll release it theatrically or on its cable channels, presumably later this year. This is a so-so iteration of Wright's explosive masterpiece. But of course, what makes it worth seeing is what remains of Wright's writing and insights. He is to world literature what the Wright Brothers were to aviation and Frank Lloyd Wright to architecture.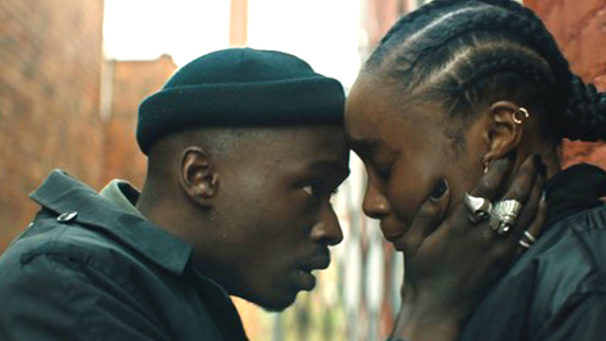 Overall, I was glad to see this latest attempt at Native Son, which was the final film I saw at the stellar Pan African Film Festival. And I was delighted once again to attend the peerless PAFF 2019, where you can see great movies before they play anywhere else—if they ever do in the USA at all. A cinematically splendid time was had by all.
The PAFF 2019 award winners are:
Best Narrative Feature: Sprinter (Jamaica), directed by Storm Saulter. Honorable Mention: Ellen (South Africa), directed by Daryne Joshua.
Best First Feature Narrative: Skin in the Game (U.S.), directed by Adisa. Honorable Mention: Veronica's Wish (Uganda), directed by Rehema Nanfuka.
Best Feature Documentary: Mr. Soul! (U.S.), directed by Melissa Haizlip. Honorable Mention: Oliver Tambo: Have You Heard from Johannesburg (South Africa/Netherlands/ UK/U.S.), directed by Connie Field.
Best Short Documentary: 120 Years (U.S.), directed by Matt Nadel and Lukas Cox. Honorable Mention: The Infamous Future (U.S.), directed by Richard Butterworth.
Best Short Narrative: Twelfth Round (Australia), directed by Nir Shelter. Honorable Mention: Time 2 Surrender, directed by Elvis Nolasco.
PAFF Programmers' Award—Narrative Short: The Fisherman (Ghana), directed by Zoey Martinson.
PAFF Programmers' Award—Documentary Short: Sincerely, The Black Kids (U.S.), directed by Miles Iton.
PAFF Programmers' Award—Documentary Feature: Blue Note Records: Beyond the Notes (UK), directed by Sophie Huber, and Boss: The Black Experience in Business (U.S.), directed by Stanley Nelson.
PAFF Programmers' Award—Narrative Feature: Lara and the Beat (Nigeria), directed by Tosin Coker.
PAFF Directors' Award—Feature Documentary: Oliver Tambo: Have You Heard from Johannesburg (South Africa/Netherlands/ UK/U.S.), directed by Connie Field.
PAFF Directors' Award—Feature Narrative: Nine Nights (UK), directed by Veronica McKenzie.
PAFF Directors' Award—Narrative Short: Bail (UK), directed by Kwame Lestrade.
PAFF Directors' Award—Documentary Short: Power to Heal (U.S.), directed by Charles Burnett and Daniel Loewenthal.
Audience Award—Short Documentary: Bakosó: Afrobeats de Cuba (U.S.), directed by Eli Jacobs-Fantauzzi.
Audience Award—Narrative Short: Pas Honteux (U.S.), directed by John D. Tucker.
Audience Award—Documentary Feature: Ali's Comeback: The Untold Story (U.S.), directed by Art L. Jones.
Audience Award—Narrative Feature: Rattlesnakes (UK/U.S.), directed by Julius Amedume.
For more info see: www.paff.org/.