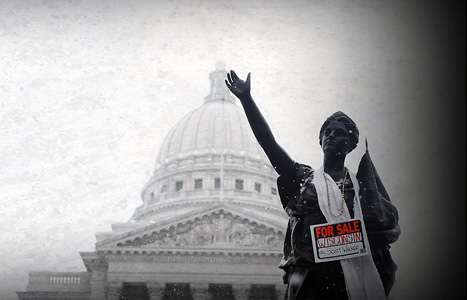 NEW YORK (PAI)-The Writers Guild of America-East is leading other union and community allies in demanding that a Public Broadcasting System flagship station, WNET 13 in New York, air a documentary it originally funded – and then canceled showing – about the controversial right wing moguls, the two Koch brothers.
At a mid-day demonstration on August 13 outside WNET's midtown-Manhattan offices, participants also presented a petition about the documentary bearing 350,000 signatures. The petition contends PBS, as well as WNET, should air the film.
WNET officials accepted it, without comment, Lowell Peterson, the Writers Guild president, said in a telephone interview. The station pulled funding from the film, Citizen Koch, the petition says, in response to Koch pressure. One Koch sat on WNET's board.
Some unions are airing the film. It's a straightforward report on the Kochs, their use of their money and their views, one of the filmmakers, Tia Lessin, told a National Press Club forum on change in the mass media several months ago.
The Kochs, billionaire oilmen from Kansas City, are a strong force behind many radically conservative causes and organizations, including the American Legislative Exchange Council (ALEC). They also are considering buying the Tribune Company's six major newspapers-including the Baltimore Sun, which is unionized with The Newspaper Guild-CWA-to provide them with a media megaphone.
"We've been involved in projects about corporate money" and its influence on broadcast media, Peterson says of his union's presence at the demonstration. His union represents documentary filmmakers, including the duo who created the Koch film, along with producers of news and analysis programs at WNET, such as Frontline.
"What's happened over the last several decades is systematic underfunding" of PBS by Congress, Peterson says. As a result, "public television has handed the keys over to wealthy benefactors, so they get to decide what goes on the air – or in this case, not on the air." Ideally, Congress should provide the money, but realistically, it won't.
The protest's immediate aim was to get Citizen Koch – the title is a play on the classic 1941 movie, Citizen Kane – on the air, and that would be "a victory," Peterson says. But the larger issue is finding stable funding for public media that lets its producers take on challenging and controversial issues, air them, and let the public decide.
"And we're encouraged that so many people – unions, community groups, media reformers and others – are concerned about this issue," he adds. "People are worried about political interference" in mass media. "Our concern is to prevent that."
Photo: Citizen Koch website.