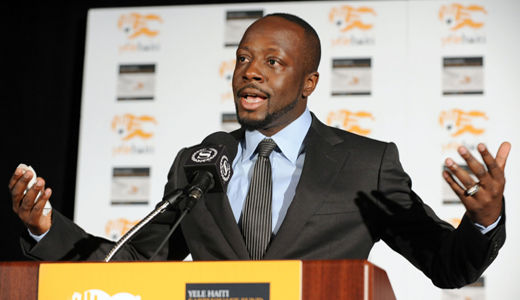 Haitian-born singer and producer Wyclef Jean is expected to announce his candidacy for president in the earthquake-hit Caribbean country on Thursday night, on Larry King's CNN show.
Haiti is scheduled to elect a new president Nov. 28. The poverty-stricken country is still recovering from a devastating earthquake that struck in January, killing up to 300,000 people and leaving 1.6 million homeless.
A three-time Grammy award-winner, Jean, who was named an official Haitian ambassador-at-large in 2006, told Time magazine the deadly quake and its aftermath motivated him to run.
"I knew I'd have to take the next step," he said. "The quake drove home to me that Haiti can't wait another 10 years for us to bring it into the 21st century."
He said there is no contradiction between his life as an artist and his ambition as a politician.
"If I can't take five years out to serve my country as president, then everything I've been singing about, like equal rights, doesn't mean anything," he said.
The son of a preacher, Jean, 37, was born outside Port-au-Prince and moved with his family to Brooklyn, N.Y., at age 9. He has maintained his Haitian citizenship, a prerequisite for running, and has always been a symbol of Haitian pride.
In the late 1980s, Jean along with his cousin Prakazrel "Praz" Michel and friend Lauryn Hill formed The Fugees, one of Hip-Hop's most popular groups. The group's 1996 album, The Score, sold more than 18 million copies worldwide, and won a Grammy for best rap album. However the band eventually split to pursue solo careers.
Jean's solo career launched with the album Carnival, which featured songs in Haitian Creole including the hit "Gone Till November." The following years saw four more albums by Jean and a wealth of collaborations with the likes of Missy Elliot, Mary J Blige, Bono and Shakira, to name a few.
In 2005 Jean set up his own humanitarian organization, the Yele Haiti Foundation (Haiti Freedom Cry), which has been funding scholarships for children in the country. Since the January earthquake it has raised more than $9 million in aid. The Yele Corps has also given Haitians jobs removing rubble and housing the displaced.
The charity – and Jean himself – came under fire earlier this year after he was accused of using money from the foundation for personal gain. Jean admitted the foundation had fallen behind with its taxes, but said: "I never, and would never, take money for my personal pocket when it comes to Yele."
Analysts predict Jean – who is very popular among Haitians, particularly youth – could easily win the presidency. Half of Haiti's 9 million people are under 25 years of age.
Jean told Time his secret weapon in the election campaign would be that Haiti's "enormous youth population doesn't believe in politicians any more."
Jean reportedly will campaign on positive but vague goals like improving education, creating jobs and rebuilding the country's infrastructure.
He will run as part of a coalition called Ansanm Nou Fo, translated as "together we are strong" in Creole.
Jean has said he hopes to build a bridge between the Haiti and the Haitian diaspora in the U.S. There is an estimated 800,000 Haitian expatriates living in the U.S.
Rumors have swirled for months that Jean would run. In recent weeks his Twitter feed has called for transparent elections, proposals for reducing Haiti's chronic poverty and demands to defend camps of the estimated 1.6 million people made homeless since the quake.
Haiti's next president faces an enormous task of rebuilding the country. Presidents have only rarely completed a constitutional five-year term – most in the country's history have been overthrown, assassinated, declared themselves "president-for-life" or some combination of the three.
Dozens of candidates are expected to compete for Haiti's presidency including Jean's uncle Raymond Joseph, who is the country's ambassador in Washington.
Speaking to Reuters, Jean says he's up for the job. Now is the time for action, he's said.
"So I would think with all my allies around the world that have loved my music, that have loved the message and the work we have done with Yele Haiti, they understand I can't just sing right now," he said.
"When I am looking back at my career, I've sung songs all my life and I've watched singers sing songs about certain changes that we want, we say, you know what, we're going to turn them into a reality."
Photo: Wyclef Jean discusses his visit to earthquake-stricken Haiti and how his organization, Yele Haiti, is helping with relief efforts, Jan. 18, in New York. (AP/Diane Bondareff)