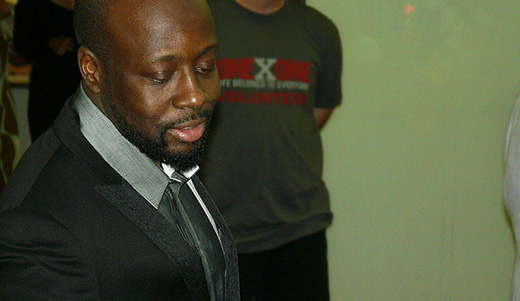 Recording artist turned presidential aspirant Wyclef Jean is challenging last week's ruling by Haitian election officials disqualifying his run for the island nation's highest office. Jean was ruled off the ballot for failing to meet a five year residency requirement.
According to the New York Times, Jean, after initially accepting the ruling, changed his mind on Sunday saying, "We have met all the requirements set by the laws. And the law must be respected."
The rapper claims his status as an ambassador-at-large appointed by the country's president René Préval, exempts him from the residency requirement.
However Jean's challenge may be hard to pursue as there is no legal mechanism in Haiti for appeal.
Nineteen of 35 potential candidates were approved by the election commission.
While spurring some enthusiasm at home in Haiti and abroad, support for Wyclef Jean's bid is far from universal. His one-time band mate in the Fugees, Pras, is supporting another candidate, Michel Martel.
Others point out that the hip hop star supported the U.S.-backed coup against former President Jean-Bertrand Aristide.
Charles Hinton of the Center for Research and Globalization writes, "Wyclef Jean supported the 2004 coup. When gun-running former army and death squad members trained by the CIA were overrunning Haiti's north on Feb. 25, 2004, MTV's Gideon Yago wrote, 'Wyclef Jean voiced his support for Haitian rebels on Wednesday, calling on embattled Haitian President Jean-Bertrand Aristide to step down and telling his fans in Haiti to keep their head up as the country braces itself for possible civil war.'"
Aristide's Fanmi Lavalas Party has been banned from participating in the election.
Haiti's current leader, President Préval was initially part of the Lavalas movement but "turned against those who voted for him. " contends, Hinton. The writer continues, "He scheduled elections for 12 Senate seats in 2009 and supported the Electoral Council's rejection of all Lavalas candidates."
Aristide is currently living in exile in South Africa. Calls for his return enjoy support especially since the earthquake. "Titid — known to the rest of the world as Jean-Bertrand Aristide — was forced out of Haiti six years ago, but the suffering wrought by last month's devastating earthquake has intensified calls for the return of the Catholic priest who became the country's first democratically elected president," reports MJ Smith of AFP.
Most of the aid promised Haiti so far has not been delivered. As of June peoplesworld.org editor Teresa Albano writes most aid had not been delivered. "Although $5.3 billion in immediate aid was pledged to help Haiti after its Jan. 12 near-apocalyptic earthquake, only two percent, or $45 million, has been donated. Brazil was the first and only country to have donated –$40 million — to the reconstruction effort."
Photo: Wyclef Jean/CC