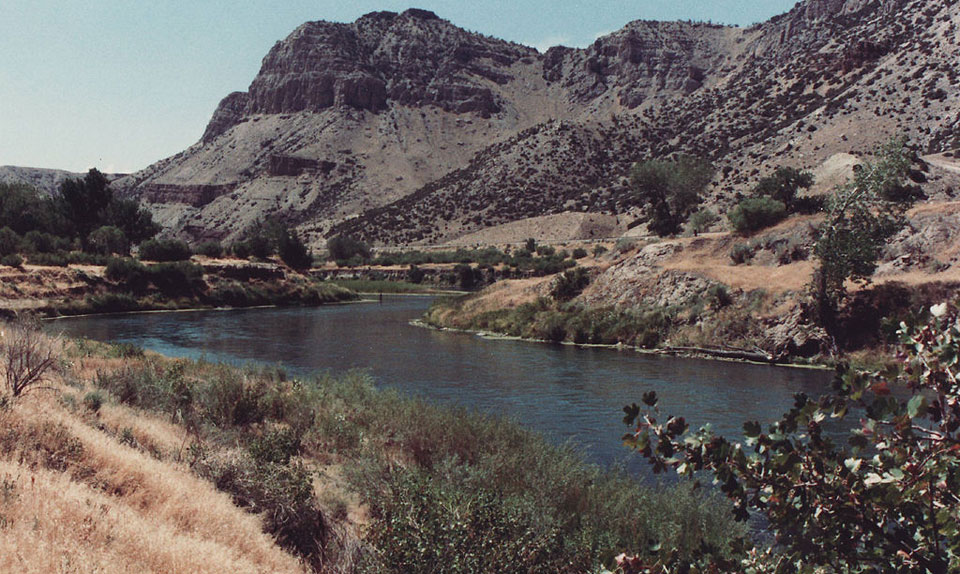 RIVERTON, Wyoming—There is a hotbed of controversy raging about the treatment of Tribal members of the Wind River Indian Reservation by a local hospital and inflammatory statements made by the Fremont County Commission Chairman Travis Becker.
In the early days of the pandemic Northern Arapaho Tribal members of the Wind River Indian Reservation in west central Wyoming were reportedly denied treatment at the Stage West Hospital in the city of Riverton. This city is within Reservation boundaries, But, due to what I would call one of the anomalies of federal Indian law it is not considered part of the Reservation. Allegedly, Tribal members were seeking treatment for the virus and were turned away and driven off in the truck beds of Sheriff's pickups to a Tribal quarantine facility.
On September 14, at a meeting of the Select Committee on Tribal Relations, Lee Spoonhunter, Northern Arapaho Business Council (NABC) Chairman, spoke at length on this situation and issued a statement which I quote in pertinent part:
"Wyoming remains in the grip of a public health crisis due to COVID-19, and no corner of our state has been hit harder than the Wind River Reservation. The human toll has been unspeakably tragic—every one of us knows a friend, family member, elder, or colleague lost to this terrible virus.
"That's why I am so deeply troubled to learn about a threat made this week by Fremont County Commission Chairman Travis Becker against the Wind River Reservation and Arapaho people. Chairman Becker called state Rep. Andi Clifford and demanded I apologize and retract my earlier comments to a legislative panel regarding substandard healthcare treatment for Native Americans, as well as lingering bias and stigma toward the Tribal community that this pandemic has exposed. Unless satisfied with my apology, Chairman Becker said he would revoke our Tribe's use of county vehicles for the transport of patients to and from the Wind River Family & Community Health Care and White Buffalo Recovery Center.
"Let me be clear: I won't apologize for pointing out the kind of discrimination—whether overt or subtle—that Tribal members in Wyoming and across our country know well.
"And I won't apologize for talking openly and honestly about systemic racism and how it has contributed to a COVID- 19 pandemic that continues to infect and kill our Arapaho people and members of Indian Country in disproportionate numbers."
Spoonhunter continued, "In fact, Chairman Becker's threat against the Northern Arapaho Tribe and its people—who are county residents—perfectly illustrates the kind of anti-Tribal sentiment that remains all too common."
The Sheriff of Fremont County, Lee Ryan, strongly denied that Tribal members were ever transported in the backs of pickups when questioned by this reporter. Ryan stated that any transporting that was done was with Tribal members inside the cab of the vehicle separated by a Plexiglas shield from the front seat for the protection of passengers and driver.
A call to Sage West Hospital in reference to this matter was not returned. The hospital has subsequently issued a general statement of denial.
Nonetheless, the pickup story persists. What is generally agreed upon is that the hospital employees in the early days of the pandemic called at one point, Reservation case managers to come and get Tribal members who had entered the facility for treatment for COVID-19. On one occasion, a call was made to a case manager at 3 a.m. This was never done when there were white patients involved. This is discriminatory treatment.
But, the foremost point to be made is that, as was so eloquently presented by Chairman Spoonhunter and that is undeniable is that Native Americans, not just in Wyoming, but nationwide are subjected to "substandard healthcare treatment" and that "systemic racism …. has contributed to a COVID-19 pandemic that continues to infect and kill our Arapaho people and members of Indian Country in disproportionate numbers." Again, this is indisputable.
As for Chairman Becker's threat to stop the use of the County vehicles unless Chairman Spoonhunter apologizes apparently still stands. Becker made this threat to State Rep. Andi Clifford, a member of the Eastern Shoshone Nation, on Wednesday, September 16, by phone and stated the tribes could lose the county vehicles unless Spoonhunter apologized for the remarks he made before the Legislative Committee on Monday. Spoonhunter has adamantly refused.
Surprisingly, when this reporter on September 24, called his online office number, Becker himself answered the phone. When asked if he still maintained his position on revoking Tribal use of the County vehicles unless Chairman Spoonhunter made an apology, Becker stated he never made any such statement at any Commission meeting. When asked if he made such a statement on a phone call to Rep. Clifford, he replied that this was a private discussion, that she chose to make public. This was obviously just a ruse to evade answering the inquiry. Becker is on record for having made that draconian threat.
This threat by Chairman Becker is adding insult to injury in that if there is no apology by Chairman Spoonhunter for even daring to allege discriminatory healthcare experienced by Native people retaliation will ensue, county vehicles will be withdrawn. This is beyond outrageous and is a racist insult to all of Indian Country!
Some of the background for the Northern Arapaho Tribe—that has accounted for more than one-fourth of Wyoming's COVID-19 deaths—is that it, like so many reservations populations, has multiple generations of the same family residing in one home. If one family member is exposed to the virus then all family members could become infected and quarantined. Of the 14 persons who have died in Fremont County from the virus, all were Northern Arapaho Tribal members.
Since the start of the pandemic, Tribal members have experienced racism in the predominantly non-Indian communities of Riverton and Lander, recounted Spoonhunter. In March when COVID testing began, he said Tribal members had been confronted with remarks such as being called "those Indians with the virus" and a female Tribal member shopping in Riverton was called a "dirty Indian" by a white woman.
Historically, the Wind River Indian reservation is a shared reservation of two sovereign nations- the Northern Arapaho and the Eastern Shoshone. Two sovereign nations are sharing the same land base.
Both Tribes are afraid of a second outbreak, which could only be facilitated by discriminatory health care treatment which is legally actionable.