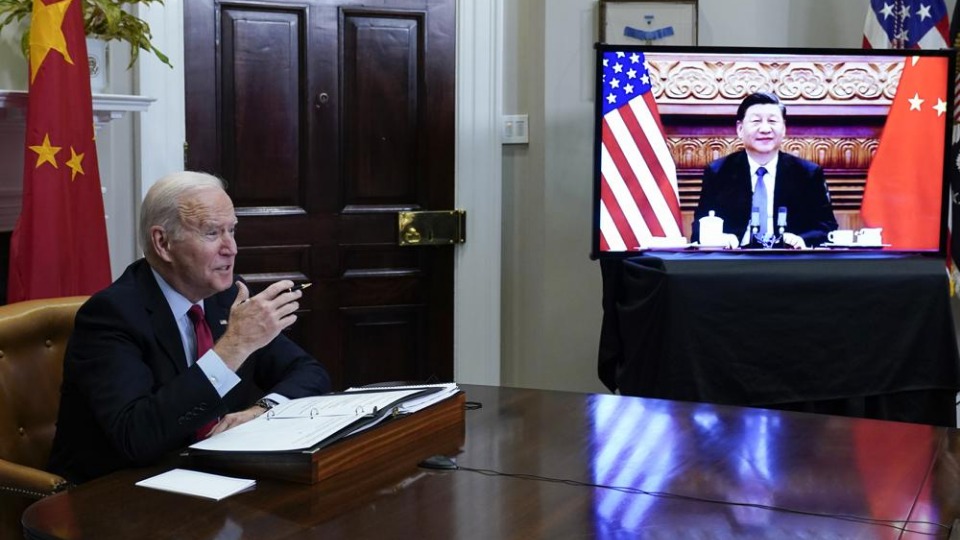 China said Tuesday that a virtual meeting between President Xi Jinping and his U.S. counterpart Joe Biden had sent a strong signal to the world following a candid and constructive exchange between the two leaders.
The positive description of the talks contrasted sharply with heated exchanges between Washington and Beijing earlier this year, raising hopes for a marked improvement in relations, although major differences remain.
"If China-U.S. relations cannot return to the past, they should face the future," Foreign Ministry spokesperson Zhao Lijian said.
The video conference between the two leaders and their senior aides lasted more than three hours and was their first formal encounter since Biden took office in January.
"As I've said before, it seems to me our responsibility as leaders of China and the United States is to ensure that the competition between our countries does not veer into conflict, whether intended or unintended," Biden told Xi at the start of their virtual meeting.
The White House had set low expectations for the meeting, which was not followed by any major announcements or even a joint statement.
Xi greeted Biden as his "old friend" and echoed the latter's cordial tone in his own opening remarks, saying: "China and the United States need to increase communication and co-operation."
However, Xi maintained a firm line on Taiwan, which Chinese officials had signaled would be a top issue for them in the talks.
The Biden administration has loudly objected to the Chinese military's deployment of an increasing number of fighter jets near the island, which Beijing insists is a breakaway province of China.
Xi blamed the tensions on Taipei seeking to attain independence through reliance on the U.S. and some in Washington using Taiwan as a way to interfere in China, the official Xinhua News Agency said.
"This is extremely dangerous. It's playing with fire, and those who play with fire will burn themselves," Xi was quoted as saying by the agency.
Chinese military forces held exercises last week near Taiwan in response to a visit by a U.S. congressional delegation to the island.
The White House said that Biden had reiterated the U.S. would abide by its long-standing "one-China" policy, which recognizes Beijing's sovereignty but allows informal relations and defense ties with Taipei.
Morning Star