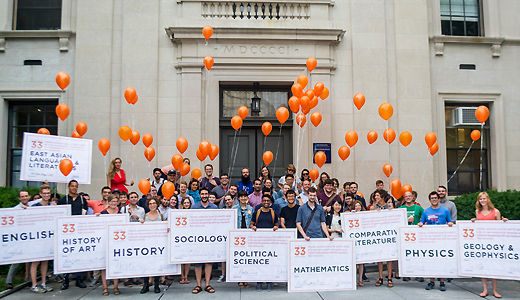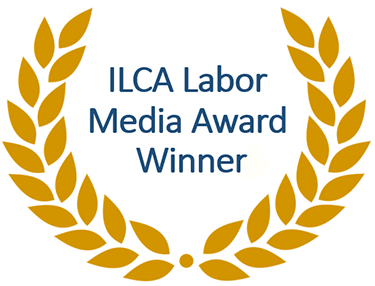 ILCA, First Place, Saul Miller Award for Organizing
NEW HAVEN, Conn. – Gleeful graduate student workers at Yale University wasted no time in filing petitions with the National Labor Relations Board for union certification following the long awaited NLRB decision to restore collective bargaining rights to graduate employees at private universities.
Despite majority votes and card collections over the past 25 years, the Yale University administration has repeatedly refused to recognize the right of the graduate student workers to a union, claiming they are simply students despite the paychecks they receive.
The decades long-struggle, supported by Yale clerical and technical workers in Local 34, service and maintenance workers in Local 35, undergraduate students, elected officials and the community, reached a high point earlier this year when UNITE HERE President D. Taylor issued a charter to the graduate student workers for UNITE HERE Local 33.
Now Local 33 is seeking the right to vote for recognition and bargaining rights with Yale University.
"We've been ready to vote for a long time," said Local 33-UNITE HERE Co-Chair Robin Canavan. "We're extremely excited to have our election, make it official, and get to negotiating a contract for the improvements we want to see."
The landmark NLRB decision was issued on August 23 in favor of graduate employees seeking to unionize at Columbia University. This long overdue ruling opens the door for union drives at private universities across the country.
"We are proud to represent the members of Local 33 as they take this historic step forward," said Taylor. "For 25 years our union has fought for the right of graduate workers to organize and we will be behind them 100 percent as they win their election and join their fellow union members on campus in receiving the respect they deserve."
Graduate teachers at Yale want a union in order to resolve longstanding issues around teaching and funding security, mental health care, equity for people of color and women, and affordable child care.
"I've had to pay $4,000 per year for my wife to have health care, and when she needed a root canal she waited to do it back home in Turkey because it wasn't covered so we couldn't afford it," said Mehmet Dogan, a graduate teacher in the physics department. "I want a union so that we can negotiate better health care benefits."
"I commend the Board on restoring grad teachers' rights at last," said Bob Proto, president of Local 35. "Our members who clean Yale's classrooms have a say in their working conditions, it's past time for the people who teach in those classrooms to have a voice too."
The petition for union recognition comes as Locals 34 and 35 are in the midst of negotiating their own contracts, which expire in January. The addition of hundreds of graduate student workers to the union rolls at Yale bolsters the ability to negotiate strong contracts for all University workers.
Graduate teachers at Yale are charting new ground by seeking NLRB elections department by department — a legal strategy developed in consultation with the UNITE HERE General Counsel's Office.
"The members of Local 33 are following in the footsteps of hotel workers in our International Union who have taken advantage of the NLRB's recent decision to permit union elections in 'microunits,'" said Kristin Martin, legal counsel to the union. "By starting with a set of departments where the desire to form a union is overwhelmingly clear, we hope to avoid the unnecessary legal gamesmanship that typifies NLRB elections."
"Graduate teachers in ten departments have chosen to pioneer this new approach by being the first to file for elections, vote, and negotiate a contract," said Local 33-UNITE HERE Chair Aaron Greenberg, a graduate teacher in political science, who also represents Ward 8 on the New Haven Board of Alders. The departments are comparative literature, East Asian languages and literatures, English, geology and geophysics, history, history of art, mathematics, physics, political science, and sociology.
"The cost of childcare for my two-year-old child is well over 50 percent of my pay," said Anne Lessy, a graduate teacher in history. "I am eager to negotiate a union contract that makes childcare more affordable for graduate teachers and our families."
Local 33-UNITE HERE's department-by-department approach is based on the NLRB's 2011 decision in Specialty Healthcare, in which the NLRB announced that, upon request from a union, it would order representation elections in the smallest appropriate unit, even if a larger unit would also be appropriate. United States Courts of Appeals have consistently upheld this approach, most recently in FedEx Freight, Inc. (3rd Circuit, August 9, 2016).
Photo: Yale graduate teachers celebrate in front of Yale's administration building, Woodbridge Hall, after filing petitions with the NLRB for union certification. Local 33 UNITE HERE.