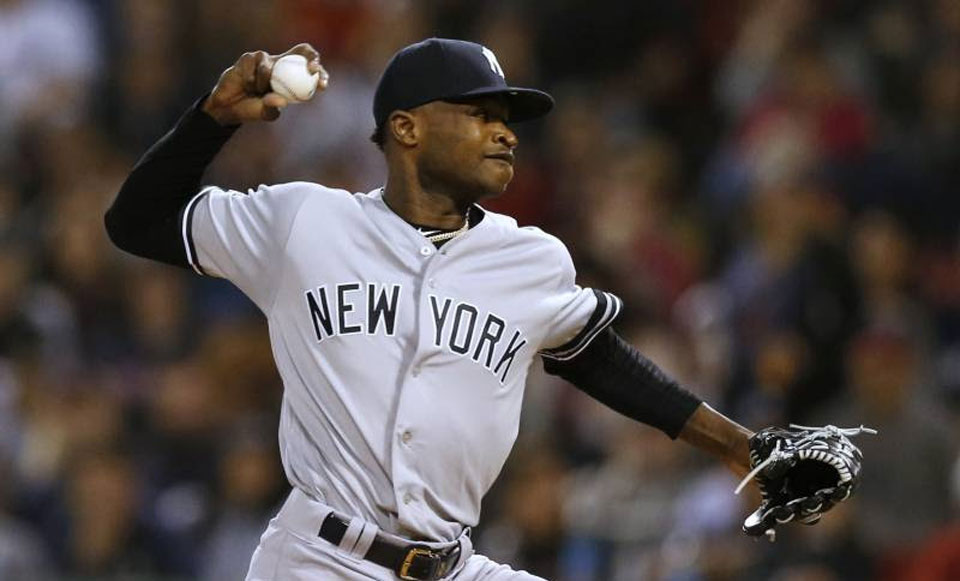 Baseball's 162-game slugfest is slowly winding down. As we officially begin the fall season, we are left with only eight more days of this underwhelming—if you're a New York Mets fan like me—regular season.
The New York Yankees, Minnesota Twins, St. Louis Cardinals, Houston Astros, Atlanta Braves, and Los Angeles Dodgers have all clinched a playoff spot. And the Wild Card race will be heating up this week.
Personally, I'm keeping hope alive the "Miracle Mets" will pull something off and make it to the postseason—even if it's only a two percent chance (never tell me the odds).
But for two teams, one of whom making a postseason appearance, the end of the regular season will be accompanied by ignominy.
Last week, Yankees ace pitcher Domingo German, 27, was placed on administrative leave under MLB's domestic violence policy—creating doubt he will be available for the playoffs—and Pittsburgh Pirates closing pitcher Felipe Vasquez, 28, was arrested and charged with statutory sexual assault, unlawful contact with a minor, and corruption of minors.
Let's start with Pittsburgh.
Vasquez faces multiple felony charges, and a misdemeanor count of indecent assault of a person under 16 years old, after admitting to investigators he attempted to have sex with an underage girl in 2017.
All of it goes back to Vasquez's alleged encounters with the minor that began through social media in 2017, when she was 13 years old, and living east of downtown Pittsburgh.
According to state troopers, who spoke with the minor last month, she said she entered Vasquez's car, he removed her pants and tried to have sex with her. When interviewed by troopers Vasquez admitted to the incident and also admitted to receiving explicit photos of the girl by text messages as recently as July.
Pennsylvania authorities began investigating Vázquez in August after being contacted by the Florida Department of Law Enforcement. The girl's mother contacted Florida officials after learning of an alleged sexual relationship between Vázquez and a teenage girl living in Lee County.
Stephen Limani, a state troopers' spokesperson, said the girl moved from Pennsylvania to Florida at some point after the interaction with Vázquez began, though Limani said there was no evidence the move had anything to do with their relationship. Authorities believe there was only one case of improper physical contact between Vazquez and the minor.
MLB placed Vasquez on administrative leave under its MLB-MLB Players Association domestic violence policy. He will be placed on the restricted list, but will still receive his $4 million salary.
Upon hearing of the arrest, Pittsburgh Pirates ballclub president Frank Coonelly said:
"Today we were made aware of an active law enforcement investigation involving Felipe Vázquez and his subsequent arrest. We take this matter, and these charges in particular, extremely seriously….We need to be respectful to all involved and the ongoing legal proceeding. As a result, the organization, our staff and players cannot comment any further at this time."
Monday morning, Vasquez was transferred to the Westmoreland County Prison and will appear in court Wednesday.
Turning east and traveling about 375 miles will take us to the Yankees' "evil empire" where pitcher Domingo German is being investigated for an alleged domestic assault involving his girlfriend at their home, according to the AP's unnamed source familiar with the situation.
German was placed on administrative leave Thursday, Sept. 19. MLB is not aware of any police involvement, and won't announce any discipline until the investigation is concluded.
Germán's status for the postseason remains uncertain. The right-hander is the team's winningest pitcher this season, going 18-4 with a 4.03 ERA in 24 starts and three relief appearances.
MLB and the players' union is scheduled to meet this week to discuss the next steps in the investigation. German has the right to challenge the administrative leave before an arbitrator under the terms found within the players' union grievance procedure.
German and Vasquez join Chicago Cubs shortstop Addison Russell, Los Angeles Dodgers pitcher Julio Urías and Philadelphia outfielder Odubel Herrera on the domestic violence suspension list for this year.
The New York Yankees organization released a statement, saying: "We fully support all measures being undertaken by the Commissioner's Office pursuant to the Policy on Domestic Violence. We support this policy which reinforces that domestic violence has no place in our society and cannot be tolerated. We have followed the lead of Major League Baseball and will continue to provide our complete cooperation throughout the investigative process. We reserve any further comment until the investigation reaches its conclusion."