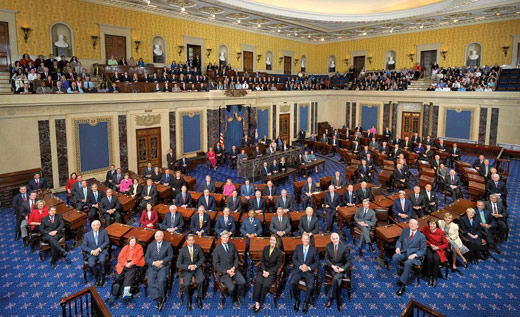 WASHINGTON (PAI) – Congress' year-end rush to approve a massive spending bill for the rest of fiscal 2015, which ends next September 30, and to extend a hodge-podge of special tax breaks may produce little for workers, statements from several unions show.
And among the objectionable ideas jammed into lawmakers' last-minute plan to get out of town: A scheme the Teamsters oppose that would keep tired truckers on the road, and a bevy of corporate tax breaks that let General Electric get away with paying only 1.8 percent of its net income in federal taxes over the last decade. Those draw AFSCME's ire.
And the fixthesenatenow.org coalition, led by the Communications Workers, was separately trying to convince senators to approve more than 100 presidential nominees – most of them for vacant judgeships – that would otherwise die when Congress quit for the year.
The special-interest "riders" are in a money bill to keep the government going from December 11 through next September 30, and in a "tax extender" bill that would renew more than 50 special tax breaks retroactively to January 1 and all the way through this year.
Those tax breaks range from ones that help workers – such as a tax exclusion for company subsidies of workers' mass transit costs and a tax deduction for teachers who buy school supplies for their students – to big loopholes that benefit corporations.
The tired truckers plan, by Sen. Susan Collins, R-Maine, endangers not just truckers but other drivers on U.S. roads, the Teamsters and highway safety groups told a December 8 press conference. The U.S. Transportation Department imposed rules to cut truckers' weekly hours from 82 weekly to 70 weekly. At the behest of the truck firms' lobby, Sen. Collins would reverse that.
Collins inserted a provision banning DOT from spending money for the new hours-of-service rules. "There have been no hearings and no safety reviews. Also, there has been no debate or vote on the amendment to strip the anti-safety provision," the Teamsters said.
"The current rule allows truckers to take a short rest period of just 34 hours off-duty before beginning a new work week, which can include up to 60 or 70 hours of driving," Teamsters Legislative Director Fred McLuckie and his allies said in a fact sheet. "The 'Collins amendment' will suspend the safety requirements."
Those requirements "prevent drivers from taking back-to-back short rest periods after long weeks, and require two periods of rest between 1 a.m. to 5 a.m., dramatically increasing allowable driving hours of truck drivers to more than 80 hours a week," it explained.
Obama Transportation Secretary Anthony Foxx also opposes Collins' hours-of-service scheme, but he did not threaten to ask Obama to veto the money bill if it includes Collins' plan.
"The evidence clearly shows truck drivers are better-rested and more alert after two nights of sleep than one," Foxx' letter to lawmakers says. "Unending 80-hour workweeks lead to driver fatigue and compromise highway safety." A DOT study, which led to the new hours-of-service rule, showed 65 percent of drivers, operating under the current rule, reported feeling drowsy behind the wheel, Foxx said.
AFSCME emphasized opposing the business tax breaks. The tax extenders bill includes some provisions the union likes, such as restoring the full tax exclusion of more than $250 per employee for mass transit subsidies. But overall, the legislation is a corporate giveaway, the union said. The House had passed the tax extenders bill 378-46.
"The overall package costs $44.7 billion in lost tax revenues over 10 years, which would increase the federal debt significantly," it said. "AFSCME supports closing other federal corporate tax loopholes to offset these lost revenues."
AFSCME backed extending the expiring provisions that help workers and their families, such as the tax exclusion for mortgage debt forgiveness, the transit tax break and an individual's deduction for state and local sales taxes.
But the others are business-written loopholes, AFSCME declared. Several of them, it noted, helped General Electric pay an effective U.S. corporate tax rate of 1.8 percent yearly over the last decade. Other firms also paid little, thanks to those tax breaks, it added.
The Amalgamated Transit Union campaigned for restoring the full tax provision to let companies subsidize workers' mass transit costs by excluding the subsidies from workers' taxes. There's a similar tax break for subsidizing parking, worth more than $250 per worker, but the one for mass transit dropped at the start of this year to about half of that. The extender bill would restore the full amount.
ATU said restoring the full mass transit tax exclusion would not only help workers, but cut the emission of greenhouse gases that contribute to global warming.
Meanwhile, the fixthesenatenow.org coalition urged Senate Majority Leader Harry Reid, D-Nev., and Minority Leader Mitch McConnell, R-Kent., to keep the Senate going until there are votes on all the nominees. With McConnell set to run the Senate next year, leading a GOP majority, keeping solons in session this year may be unlikely.
"Many offices responsible for implementing and enforcing our laws are vacant," the letter, drafted by the CWA-led coalition and signed by the AFL-CIO, Jobs With Justice, the Auto Workers, the Service Employees and other groups, says.
"At the same time, our courts are understaffed, delaying justice for Americans across the country. Also, by delaying these votes, the President needs to start the process of re-nominating all these individuals again – a waste of time and resources for a new Congress and president. We urge you and your colleagues to fulfill the duties of the Senate, stay in session and vote on as many nominees as possible before the end of the 113th Congress.
Photo: Wikipedia