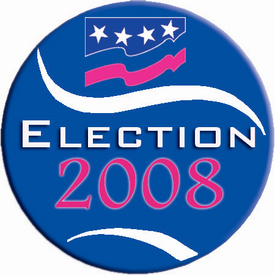 Obama hits delegate milestone as primaries near end
PORTLAND, Ore. — Oregon and Kentucky primary voters May 20 gave Barack Obama the majority of elected delegates to the 2008 Democratic National Convention, virtually assuring his nomination as that party's candidate for the presidency.
Even before the votes were all counted that night he declared in a victory speech in Iowa that John McCain is now the focus of the campaign. He dismissed the Republican as a clone of President Bush on tax cuts, Iraq and health care.
"This year's Republican primary was a contest to see which candidate could out-Bush the other, and that is the contest John McCain won," Obama declared to thousands cheering him at a rally in Des Moines, the capital of the state that gave him a victory in the first contest of this year's primary and caucus season.
"From the very beginning, you knew this journey wasn't about me or any of the other candidates in this race," Obama said. "It's about whether this country — at this defining moment — will continue down the same road that has failed us for so long or whether we will seize this opportunity to take a different path: to forge a different future for the country we love."
After the May 20 primaries Obama had 1,964 delegates overall out of 2,026 needed to secure the nomination. Clinton had 1,782. Obama was just 62 short of the total needed for the nomination, a total he is virtually assured of getting from the remaining three primaries — Puerto Rico, South Dakota and Montana — all on June 3. He may achieve the total with superdelegate support even before those primaries.
He and Clinton split the May 20 contests, with Clinton coasting to victory in Kentucky and Obama rolling up a substantial victory in Oregon.
Some in the media cited what they described as Obama's inability to win white working-class voters in Kentucky, because of statements by a third of Clinton backers that they would not back Obama in November. Four years ago, 42 percent of Kentucky Democrats defected from their party by voting for Bush when John Kerry was their candidate, indicating that race is less a factor than many have suggested.
Other pundits publcized claims by Clinton that she has a popular vote majority. Those claims, to be valid, would have to give Clinton votes in Michigan where Obama was not on the ballot and would have to discount caucus states that he carried.
In a history-making turnout for a political rally, 75,000-plus jammed Tom McCall Riverside Park here May 18 to cheer Obama who used the occasion to promote unity by praising Clinton's tenacity while blasting McCain.
The nation, Obama said, "cannot afford more Katrina incompetence, warrantless wiretaps and tax policies skewed to the wealthiest Americans." He drew the strongest applause when he promised to end the Iraq war. Other cities should follow Portland's lead in building mass transit and promoting bicycles to get to and from jobs and schools, Obama said.
Shauna Ballo, communications director of Local 49 of the Service Employees International Union, SEIU, told the World the size and spirit of the rally proved that "Oregon is Obama country." SEIU, the Teamsters, United Food and Commercial Workers, Unite Here and the Oregon Education Association worked tirelessly to mobilize a landslide victory for Obama, she said.
"It was really gratifying to stand in that crowd and see the result of all our hard work," said SEIU organizer Michael Shannon, "Obama comes from an organizing background. He is bringing people into the process, addressing working people's issues."
Shannon had just come back to Obama's Oregon headquarters on Portland's east side when he spoke to this reporter. SEIU members were coming in a steady stream, dropping off ballots they had picked up in door to door canvassing. Felisa Hagins, political director of SEIU Local 49, was supervising the operation.
"A lot of people said the 2004 election was the most important election of their lifetime," Hagins told the World. "A president was reelected who stands for corporate power not the needs of working people. That election was about fear. This election is about hope. This is the most positive, exciting election I have ever worked in." Born in Highpoint, N.C., she has lived in Oregon now for 15 years and became a union organizer "because I wanted to make political change that people feel every day."
Lucinda Hites-Clabaugh, a Democratic precinct committee member in Washington County (which went for Obama with 59 percent) and co-chair of the Hispanic Outreach Committee, took this reporter to meet Maria, 79, who emigrated from Mexico in 1994 and became a citizen in 2003. Maria said that she had given birth to nine children. Her seven surviving children all live nearby, working in the nurseries and other agricultural enterprises.
She registered to vote in the 2004 election. Unable to speak or read English, she asked a poll official to help her fill out her ballot. "Oh, you want to vote for President Bush," the official told her. Maria did not argue. "This time I voted for Obama," she said. "I hope he will be able to help us. Si se puede!"
greenerpastures21212
@yahoo.com, John Wojcik
contributed to this article.