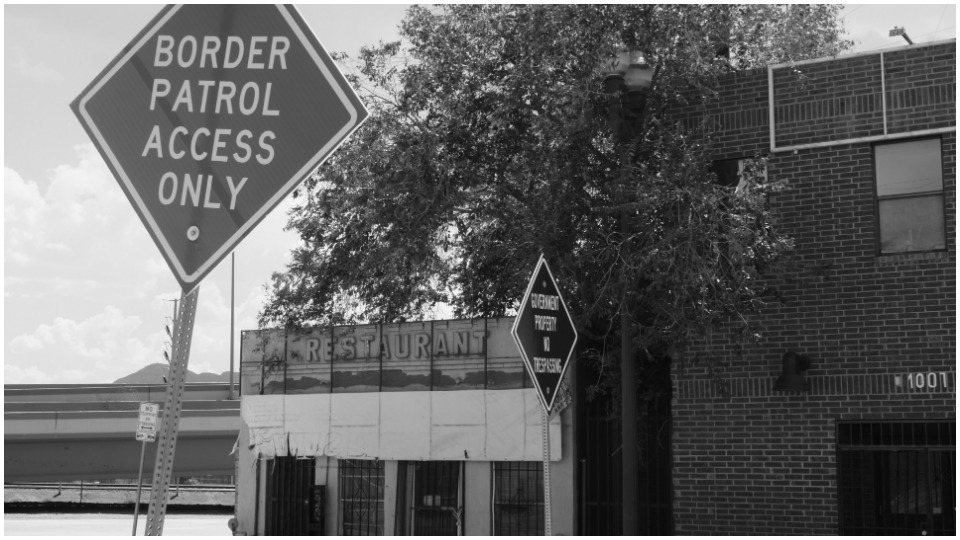 This article is part of the People's World "On the Border Series," which won a first place prize in the Best Series category at the 2020 Labor Media Awards, presented by the International Labor Communications Association.
People's World correspondent Al Neal is in the field reporting from sites all along the U.S.-Mexico border. In his dispatches, you will get a view of the towns and people caught up in Trump's "border crisis." You will see the women, men, and children impacted by the administration's immigration policies as well as U.S. foreign policy in Latin America. Other installments in the series can be read here.
U.S.-MEXICO BORDER—"Good afternoon, where are you heading today?" asked the aviator sunglasses-wearing Customs and Border Patrol officer, quite matter-of-factly.
"I'm heading to San Juan, and from there I'll keep going west," I said, watching as a second CBP officer and his K-9 unit walked and sniffed up and around my pickup truck.
This was the second checkpoint I had passed through along Highway 83, a two-lane stretch of occasionally paved road alongside the Rio Grande, hugging the U.S.-Mexican border.
The officer paused, seemed to listen to my answers, and contemplated the truthfulness of my statements while peering into my back seat through the open driver's side window.
I knew what question came next.
"Are you a U.S. citizen?"
"Yes."
"Do you have documentation?"
"Yes."
"Have a nice afternoon," said the officer, waving me through the checkpoint, as little flashes of white light flickered in front and behind me.
The 15-mile-per-hour speed sign gave the cameras time to take a full 360-degree photo of each exiting vehicle.
As soon as I hit an open stretch of road, I drew a straight line in my notebook, marking the second time I had been asked about my legal status. I wasn't crossing the border back into the United States, but, it sure as hell felt like I was a stranger in my land.
A cloud of tan dust appeared to my left, and two white and green CBP SUVs came to a crashing halt at the highway crossing. Less than a mile from where they stood was a break in our southern border wall. And as I drove, I continued to see little blips of tan dust spring up, every few minutes, from the edges of the Rio Grande.
Roving CBP patrols able to pull over and search "suspicious" vehicles for undocumented migrants; warrantless searches and seizures of buses and shuttles "within a reasonable distance from any external boundary of the United States" (100 air miles from any border point) for immigration documentation; and routine checks of legal status…what type of nightmare are we living in?
Oh, right, the one where our government now arrests citizens for harboring, sheltering, or just leaving a bit of food and water for migrants crossing over. Who knew providing humanitarian aid would one day be considered a felony?
History will not forgive us for our inaction during this time.
The bumpy one hour and forty-five-minute drive from Brownsville to San Juan, Texas, was filled with a cloudless, pale blue sky, 18-wheel trucks from either side of the border, cattle, and wide-open fields.
The U.S.-Mexico border wall snaked its way alongside the Rio Grande, and at each junction or crossing, a CBP mobile site or patrol was likely to be seen coming and going from the dirt roads. These were the points along our border where no wall exists, the areas Trump is so eager to fill in with steel and razor wire chainlink fencing.
My destination was the historic Eli Jackson Cemetery, found a mile from the Rio Grande, south of the Hidalgo County town of San Juan—the "Friendly City," on the sacred lands of the Carizzo/Comecrudo Native American Tribe of Texas.
The Carrizo/Comecrudo (Spanish for "raw meat-eaters") are a Coahuiltecan people who lived in northern Tamaulipas, Mexico. They lived along the south bank of the Rio Grande near Reynosa. Their name was bestowed upon them from the Spanish conquerors' observations of the people's food being half raw from cooking in animal paunches.
Their descendants continue to proudly live alongside the big river.
Since January, the Carrizo/Comecrudo, along with other Native, ecological, and political activists, occupied and established a makeshift campsite at the cemetery—protesting the proposed new border wall route which would destroy their land and force those resting peacefully six feet under to be exhumed.
From a levee overlooking the cemetery grounds, it was hard to tell where the U.S. ended and Mexico began. It was a magnificent sight of landscape, vividly illuminated by the high noon sun. Tractors from nearby farms passed by, and waves of hello were exchanged.
Why would we ever want to physically alter this view?
Construction of the border wall would make the third time Western civilization displaced the Carrizo/Comecrudo people. Documents discovered in the Texas Railroad Commission Archives by the tribe show they were attacked and chased north across the Rio Grande by Spanish soldiers and Catholic clergy in the late 1700s.
With memories of genocide, displacement, and forced Christian conversion, it's only natural the Carrizo/Comecrudo view themselves as fighters, defenders of their land and people from historic as well as modern-day conquerors. It's something that connects them to the broader, intersectional fights facing minority communities today.
"I would have to say that the roots of fracking, family detention, racist mascots, and other issues like water protection lies in the dismantling of 'the Doctrine of Discovery'…. It has to do with our own dismantling of our colonized versions of who we are," said Juan B. Macias, Tribal Chair of the Carrizo/Comecrudo Tribe in 2015.
"It is in these feelings where the reasons to stand-up for justice issues lie. Issues like our sacred river the Amahatau Mete'l (Rio Grande) being turned into the divider of the great Esto'k Gna (Human People) Nation, a nation that had lived, traded, and maintained an area for thousands of years before the push of other nations upon us because of the greediness brought from Spain and the Catholic Church."
Months of occupation, protest, public outrage, and a lawsuit filed by Earthjustice on behalf of the tribe led to a victory for the people of the Rio Grande Valley.
CBP issued a statement June 3 saying a section of the border wall currently under construction in the Rio Grande Valley of South Texas will be rerouted to avoid the Eli Jackson cemetery.
"It has never been CBP's intent to disturb or relocate cemeteries that may lie within planned barrier alignment," read the statement.
Of course, this is not the end.
Macias and the tribe have continued to establish camps along the path of the proposed border wall and are "prepared to lie down in front of construction equipment if needed."
They're placing their lives on the line to protect the land they've lived on for thousands of years. "We're not going anywhere," Macias said when asked about the tribe's next steps.
The fight against border wall construction continues, and as Tricia Cortez, executive director of the Rio Grande International Studies Center, said: "We are talking about creating a wall that is going to cut through ecological assets … nature trails, parks, low-income, and middle-income neighborhoods, and just this rich river vega — the floodplain that lines our entire city."
Supporters of "build the wall" are gambling not only with human lives, but with the lives of endangered species, and further damage to the region's wildlife and natural landscape construction would bring.
A walk among the tombstones
Strolling through various historic cemeteries, I was fascinated by their design, and religious iconography—courtesy of the Catholic Spanish conquistadors—when I unexpectantly came to a sobering realization: The names etched into the headstones were all Spanish in origin, some from Mexico, others from Texas. Most were accompanied underneath by the words "World War II."
"How often do we remember the Mexican-Americans and Mexican citizens who volunteered to fight Nazi Germany?" I asked myself. "I wonder if our supposedly armed-forces-loving commander-in-chief even knows about them; does he think of them when talks about those "criminals coming over the border"?
Was his taxpayer-funded rolling tank display (disgrace) this past July Fourth not meant to honor them, too? They may not have been segregated like African Americans during the war, but forced segregation is exactly what this White House occupant would like to see.
Mexico doesn't come to mind when we talk about the Allied Powers' victory in World War II, but our neighbor to the south did their part in our war efforts. Thousands of Mexican nationals living in the U.S. volunteered for service, and Mexico's elite air squadron, the "Aztec Eagles," flew missions alongside the U.S. Air Force throughout the Pacific islands.
Between 400,000 and 500,000 Hispanic Americans served in the armed forces during World War II, including servicewomen who were active with the Women's Army Auxiliary Corps (WAC).
All those individuals bravely fought and died to stop Nazi Germany and the march of fascism.
And now, 74 years later, the fetid corpse of fascism rises up again—wearing a red "Make America Great Again" ball cap.
Trump's administration and the Republican Party tarnish the memory and sacrifice of those in this cemetery by demonizing their descendants, their people, and their home countries throughout Latin America.
It is a sad day in the "land of the free, home of the brave." Children are in cages, families are separated, asylum seekers are denied entry—all brought to us by individuals who were "just following orders."
Where have you, dear reader, heard that line before? Take a moment, and let the realization sink in.