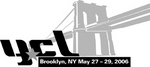 NEW YORK — The Young Communist League and the Communist Party USA set themselves a task: raise $65,000 in just a month and a half to help finance the YCL's national convention in Brooklyn May 27-29.
The campaign was a total success.
In less than two months we raised almost $70,000 and we still have money coming in. The national committee meeting of the Communist Party in early March set the tone for the entire campaign — we raised over $14,000 in one night!
"Party members are committed to the success of the YCL and its convention," said CPUSA National Chair Sam Webb. "We are inspired by what they've accomplished. In 2004 they joined hundreds of young people in traveling to the Midwest to fight the ultra-right and helped to build broad youth participation in the elections. We're looking forward to what young Communists will do coming out of their convention this year."
From its participation in last summer's World Festival of Youth and Students in Venezuela to its continuing work in the National Youth and Student Peace Coalition, the YCL has inspired a wide network of supporters who appreciate its unique role in U.S. politics.
YCL members and friends from around the country worked hard to raise the money. We traveled to over 18 states, doing everything from house visits to fundraising dinners and pancake breakfasts. We talked about the YCL's work and the exciting program at the convention, including international guests, skills-building and issue-based workshops, and an art show and concert.
Adam Tenney, who traveled the country during the fundraising campaign, said, "I had a great time talking with older comrades about their experiences in the YCL and about how important the YCL was to them in their lives," often leading to a lifetime of commitment to economic justice, equality, peace and socialism.
The donations ranged from just a few dollars to one as large as $5,000. The most common was $250, the amount that each convention participant has to raise on his or her own.
We're not there yet, though, with the total cost of the convention projected at some $125,000. We've already raised over half of what we need, and expect that fees collected from convention delegates will help us cover most of the other half.
Convention delegates pay a flat rate of $250, which covers housing, registration and travel, whether they are from Brooklyn or California. Of course, that's a lot of money for many young people, especially the working-class youth and high school students who have their sights set on attending the convention. While we've reached above our goal, we want to raise more to offer the possibility of scholarships to YCL members and allies who are not able to pay for themselves.
The national convention takes place Memorial Day weekend. That still leaves you time to reach deep into your pockets and pull out $250 to help sponsor a young person to attend the YCL convention!
Dan Margolis and Adam Tenney contributed to this article.