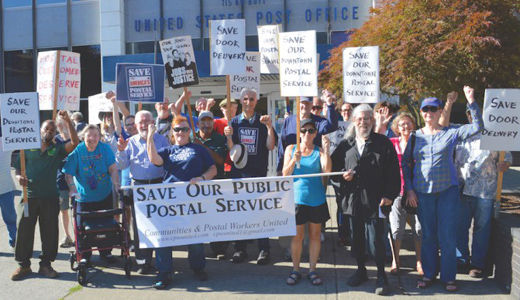 I walk by the house on Greenleaf every day that I carry my route. And when I say "carry" my route that is exactly what I do. In Royal Oak, Mich., we deliver mail the old-fashioned way. Bag stuffed with parcels over my shoulder, flats stacked on my left forearm, and a bundle of letters in my left hand. My right hand is free to rifle through the letters and magazines as I walk from house to house and to reach into my satchel for the packages, big and small. My free right hand also operates the scanning device that tracks my parcels and my movement along the route for the day. It is also the hand that reaches for the railing or the sidewalk when I trip on a crack in the sidewalk or slip on an icy stair.
This is called "door-to-door delivery" and it is sometimes a juggling act. But I must say that I love it, and I'm gonna tell ya why. I believe in the saying that the best part of any journey is the people that we meet along the way. Every day for a walking letter carrier is a journey. We walk five to six miles a day on an average route in my city, and I would certainly call that a journey.
Now let's get back to that house on Greenleaf. I can see this image as if it were yesterday. A little two-year-old girl is playing in the front yard of her house with Mom. She sees the mailman and starts jumping up and down. She hollers in the garbled tones of an enthusiastic child just learning the language something pretty close to "Mailman!" As the mailman walks up Mom laughs and says, "She hasn't even learned to say 'Daddy' yet!" The mailman responds, "We're fine as long as she doesn't put those two words together." That mailman was me. And that two-year-old is now nine. She still calls me her best friend. The best part of any journey.
Allie doesn't even live on Greenleaf any more. The family moved years ago but we still see each other at least once a year during the Christmas season when Santa visits the Royal Oak Post Office (that is a whole other story!). She writes me letters and even made me a beautiful knitted art piece last Christmas that I have hanging in my union office. I still have a crayon scribbling signed by her taped to my case at work. It says, "From your biggest fan, Allie." She made that for me when she was three years old.
Now, here is my point. Every letter carrier that does door-to-door delivery can tell you dozens of stories like this. That is the unique nature of our relationship with the American public. That is why we are voted year after year the most trusted employees in the Federal government workforce. But "door-to-door delivery" is now under serious attack.
For the time being we have staved off the forces that wanted to eliminate Saturday mail delivery. That was a hard-fought battle. Ironically, we are now delivering seven days a week (parcels on Sundays). We won that battle because the American public demanded Saturday mail delivery. But now we are facing postal "reform" bills before both the U.S. House and Senate. These bills include provisions to downgrade door-to-door delivery to curbside or so-called centralized delivery points. The House bill, H.R. 5714 is more extreme, but the Senate bill, S. 2051 also has some dangerous provisions in it.
Under the guise of helping the U.S. Postal Service save a buck, both bills would throw away what I consider the best advantage of our beloved Postal Service- the human connection between patron and letter carrier. Once that is gone, we will be just another faceless corporation.
I wonder what Allie will have to say when she hears about these plans. She probably won't be jumping up and down with excitement. And if this scheme to end door-to-door delivery succeeds, she will probably forget about her best friend. And more than one mailman will have his heart broken.
Please call and write your congressional representatives and tell them you want to preserve door-to-door delivery!                       
Photo: Northwest Labor Press.