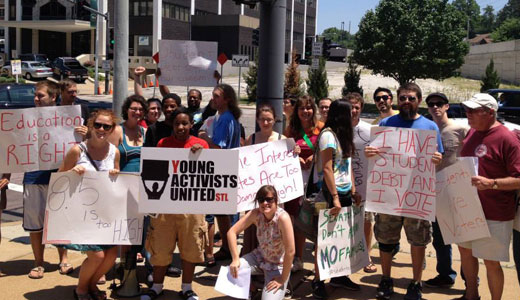 ST. LOUIS – In a society where the national student debt totals $1.1 trillion, it is more important than ever to lift young activists up and support them in their efforts to organize and create social change. Young Activists United St. Louis (YSTL), a St. Louis non-profit, does just that.
Periodically, YSTL recognizes a new young leader as director of the organization. The year 2014 marks a change in leadership from UMSL student Alice Floros to student and Show Me15 fast food Organizer, Rasheen Aldridge.
"What's so great about YSTL is that they help you develop into an organizer, whether you're already active or you're like me, and didn't even know what organizing was a year ago," Rasheen Alridge remarked in his speech at the organization's ceremoniously themed "New Year, New Organizer" fundraiser at Blank Space on January 11.
YSTL, which celebrated its second birthday in June, has named many accomplishments within the past year. Focusing on higher education issues, the organization launched its student debt campaign in the fall of 2012. The campaign began with a student debt conference in which Missourians of all generations gathered to talk about student debt, tuition hikes, and financial literacy in schools. Subsequently, YSTL organized several actions around student debt.
Another point of pride for the organization is the time and resources that it puts into young leaders. Over the past year members attended trainings that included the National Student Power Convergence, a direct action training by United Students Against Sweatshops (USAS), and the Midwest Student Debt Conference.
YSTL has also given students a platform to talk about their personal experiences with higher education issues. In 2013 member Emily Koehler, accompanied by members of the United States Student Association, attended a meeting with Sallie Mae CEOs and Executives to present demands about improving conditions for student borrowers.
Koehler has student loan debt from Sallie Mae, and has used her involvement with YSTL to become a part of a larger activist movement.
"Young Activists United makes it a priority to not only develop young leaders in St. Louis, but also presents them with opportunities to collaborate and advance across movements," she says.
The recent year also marks a growth in media coverage for the organization and its members. Both Koehler and member Derek Wetherell received national attention for their student debt stories in a recent Wall Street Journal article, while YSTL Campus Coordinator Courtney Hayes shared her experience in the Riverfront Times.
In the coming year, Aldridge plans to continue to expand YSTL's membership. "I'm excited for the new year and some big plans that we have in the works," he says. "I'll be focusing on recruiting more Community College based students from STLCC, Harris-Stowe, and UMSL."
YSTL will also be partnering with Missouri Jobs with Justice to gather signatures for an early voting ballot initiative, and will be working on voter registration at college campuses.
To find out more about YSTL you can follow them on Twitter, Facebook, or check out their website.
Photo: Elyse Vesser