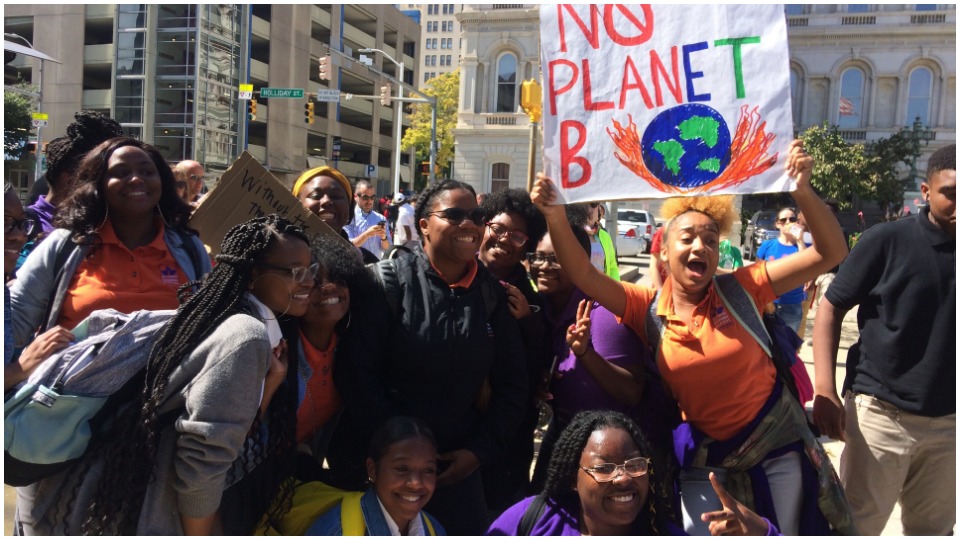 BALTIMORE—About 1,000 protesters, mostly high school and college youth, marched from the Inner Harbor to Baltimore City Hall Sept. 20 in the local edition of the Global Climate Strike, demanding action by the federal, state, and municipal governments to reverse global climate change.
The march here was part of a worldwide mass protest by millions of demonstrators, a majority youth, against the arrogant refusal of governments to reduce and eliminate global dependence on coal, oil, gas, and all other forms of carbon fuel blamed for the catastrophic rise in temperatures worldwide. The marchers were a majority white but many African-American youth from Baltimore city high schools joined the march and rally, chanting and cheering to protest government inaction on the climate crisis.
"The temperature is rising and so is my temper," said a sign carried by one young woman student at Roland Park Country School. Her classmate carried a hand-lettered placard that read, "I'm sure the dinosaurs thought they had time too."
Theresa Reuter and Jeanne Silverberg carried a banner handmade by Reuter that proclaimed "Eyes on the Prize" with the image of planet Earth. An art major from Haverford College in Pennsylvania held a sign she had painted, "VOTE! As if the earth is on fire."
Students from many public and private schools told this reporter they simply cut classes to attend the march and rally. At a rally in War Memorial Park in front of City Hall, a mic was handed from one speaker to the next with speakers blasting President Trump, Sen. Mitch McConnell, and other corporate Republicans for denying global climate change. "Some say there is nothing we can do. There is always something we can do," said a Johns Hopkins University student.
Most of the speakers were young, but one senior citizen, Witold Skwiercznski, drew loud sustained cheers and applause. Wearing a cap identifying himself as a member of the American Federation of Government Employees (AFGE), he said he has been a labor movement organizer for 46 years. He urged the crowd to throw all its support to the "Green New Deal" adding, "Let's get rid of the climate deniers in Congress in the 2020 elections and elect to Congress lawmakers who support the Green New Deal. Here in Maryland, the worst of the deniers is (Rep.) Andy Harris. Let's get rid of him."
The crowd erupted in cheers. Skwiercznski drew more applause when he added that the "Green New Deal" must protect coal miners, oil and gas workers, and their communities as the nation shifts from carbon fuels to wind, solar, and other forms of "green" energy so that these workers are not forced to bear the burden of reducing carbon emissions.
The action was sponsored by the Sunrise Movement. A flyer passed out by the marchers declared, "Sunrise is building an army of young people to stop climate change and create millions of good jobs in the process."