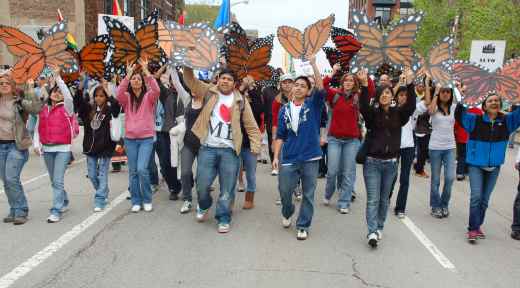 Passing the DREAM Act is about young people and their future, say labor and immigration reform advocates. Further, they add, it's about kids being able to serve their country in the military or go to college and give back to America, the only place they know as home.
The DREAM Act would enable young people who came to the U.S. as children, but lack the immigration status, to enlist in the U.S. military or attend college with a path toward citizenship.
During a Nov. 30 press call, labor leaders, immigrant youth activists and reform advocates announced the details of a six-figure Spanish and English radio and print ad campaign that will air throughout the rest of the week in five states. The spots target moderate Republican senators to vote yes on the bill.
Senate Majority Leader Harry Reid, D-Nev., said he plans to file a motion Tuesday for the Senate to take up the bipartisan measure.
"I didn't know I was undocumented until after I graduated high school," said Alina Cortes from San Antonio, Tex. "My goal is to one day be an interpreter for the U.S. military. I come from a politically conservative background but today I am disappointed in our Republican leaders. I urge them to let me serve my country."
Speakers on the call noted that the bill is supported by 66 percent of the American people and 75 percent of Latino voters say passing it is either extremely important or very important. More than 2.1 million undocumented students could be eligible, and about 55,000 young people yearly could benefit from the bill. Recently, military leaders called for its passage. Eight percent of servicemen and women in the military are immigrants.
Gaby Pacheco, 25, from Miami said she has lived in the U.S. for the last 18 years. She graduated high school at the top of her class with honors and was the first ever to be named chief in her school's junior ROTC program. She received a scholarship that would have paid 75 percent of her college tuition was unable to accept because she doesn't have a Social Security number.
"My dream was shattered when I was told I couldn't receive that funding. Today I have two associate and one bachelor's degree. I want to help people with disabilities," she said. "The DREAM Act will allow me to give back to this country that I love, the only place I call home."
Mitch Ackerman, executive vice-president of the Service Employees International Union said his union is proud to be supporting the ads and the DREAM Act. "We want real solutions and this bill is common sense legislation. Many of these kids don't realize they are undocumented until many years later. They're valedictorians, future doctors, lawyers and educators."
The ad aims to target moderate Republican senators such as Kay Bailey Hutchison, Tex., George Lemieux, Fla., Scott Brown, Mass., and others in Nevada and Maine.
"Are they going to respond to the majority of America's best interests?" asked Ackerman.
Marissa Graciosa, immigration campaign coordinator with Campaign for Community Change said there is a price to pay when it comes to lawmakers who stand against immigrants. "Attacks on immigrants won't go unnoticed. It would be ridiculous for Republicans to block this vote and we will certainly remember it in 2012." The country's fastest-growing electorate is watching them very closely, she said.
Frank Sharry, executive director of America's Voice, agrees, adding that the current lame-duck session in Washington is the the act's best opportunity. Voters, especially Latinos, are ready to reward lawmakers who will fight for them and punish those that continue to marginalize them. The key is a breakthrough with them, he said.
Democrats need five to seven Republicans to vote yes in order to get the 60 votes needed to overcome a filibuster.
President Obama, Education Secretary Arne Duncan and Labor Secretary Hilda Solis, along with hundreds of thousands of immigrant rights activists, faith leaders, unions and students have been lobbying Congress to pass the bill for months.
"We can't afford to waste the skills and talents of these youth any longer, said Ana Avendano, director of Immigration and Community Action with the AFL-CIO. "DREAM is at the core of who we are as a nation and the labor movement is ready to stand with this American promise."
Pacheco said if the bill fails again, "We're going to continue to fight. We're asking for an opportunity to be able to be legally recognized. It's about our education and our rights."
Image: Pepe Lozano/PW