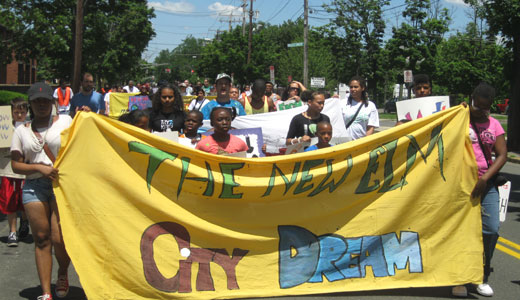 NEW HAVEN, Conn. — A spirited march of 150 youth and adult supporters stopped downtown traffic to honks of support on Saturday as they made their way from the closed Dixwell Q House youth center to New Haven City Hall. They called for jobs and an end to violence.
Rallying in front of the Amistad statue, youth speakers, union leaders, and elected officials urged the Jobs Pipeline Committee formed by the Board of Aldermen to continue working until opportunities are provided to New Haven's youth.
"I'm fighting for these kids. I'm fighting for myself," exclaimed Nollysha Canteen, a high school senior and the youth representative on the Committee. "My sisters and brothers are scared to walk out the door because they're scared they'll be shot," she said.
"Would it be different if there were jobs? " asked Latoya Agnew, a youth leader from the Newhallville neighborhood. "Yes," answered the crowd. "Give us youth centers. Give us jobs. So this doesn't have to happen," she added.
"I may be only 11," said Jackie Marks, of New Elm City Dream, who chaired the rally, "but the youth here today are our future leaders."
Montell Wright, 16, led the crowd chanting, "United we stand, Divided we fall; Jobs for youth, Jobs for All!"
New Elm City Dream members have surveyed over 500 teens about jobs, violence, education, and neighborhood needs. It was announced at the rally that the youth who filled out surveys overwhelmingly state that having good jobs available for young people and adults will improve the quality of life in New Haven.
State Sen. Marty Looney reminded the crowd that this year is an important presidential election year and urged everyone to make sure they are registered to vote.
High school student Gerald Scott Campbell addressed the rally on behalf of the New Haven Young Communist League to announce that similar actions for jobs took place during Juneteenth weekend in a half dozen cities around the country.
"Once we have jobs, peace will come to our communities," he said. "Black, white, Hispanic; we all need jobs."
The New Haven Peoples Center, where the New Elm City Dream has been organizing since its inception in September, brought many adult marchers to support the youth. Peoples Center president Alfred Marder congratulated the young people for taking their destiny into their own hands.
"The lesson is to organize. Our common ground today is jobs," he said. "The People's Center is under attack because it provides support for the fights for jobs, immigrant rights, and for all the people of the city!"
Several came to march with the Peoples Center banner in solidarity after Governor Dannel Malloy withdrew funds to restore the 1851 brick structure from the state bonding budget, in reaction to anti-communist protests from a group of extremist Republicans, despite many letters of support from the state's largest unions and a number of community organizations.
Rev. Scott Marks concluded the rally by invoking the youth who were in the forefront of the Civil Rights and anti-Vietnam war movement. He praised the leadership being shown by New Haven youth today, and emphasized their unifying message: "They never say 'jobs for youth' without adding 'jobs for all,'" Marks said.
Referring to last year's labor-community victories in city elections, he pointed out that the youth demands — stop the violence, jobs for all — are now at the top of the agenda of the Board of Aldermen.
The weekend event was organized by New Elm City Dream along with several other youth groups to kick off a three weekend series of activities around the theme Youth ACTION – All Coming Together In Organizing New Haven. Following the rally, school buses took the youth to nearby Criscuolo Park for food, music, and performances.
Photo: New Elm City Dream youth group leads march for jobs and against violence through downtown New Haven on Juneteenth weekend. Art Perlo/PW