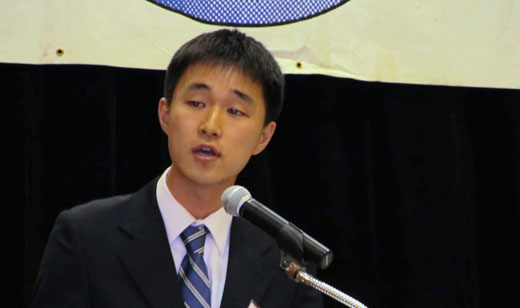 OAKLAND, Calif. – The largest convention ever of the Asian Pacific American Labor Alliance, held here last weekend, celebrated outstanding achievements in the fight to stop wage theft and to uphold the rights of immigrant and low-wage workers. The convention also looked ahead to APALA's role in the continuing struggle for good jobs and labor rights for all workers and for a just immigration policy.
The July 21-24 gathering, with the theme, "Generations United: Our Jobs, Our Rights, Our Future!" brought together some 725 participants, including many young people, both APALA members and guests – among them many students who actively support the labor movement.
Addressing the opening session, U.S. Secretary of Labor Hilda Solis recounted the Obama administration's role in combating the economic crisis, noting that since Barack Obama became president, some 2.2 million private sector jobs have been created and millions more saved.
"One thing the president won't negotiate is the livelihood and wellbeing of middle class and working class families," Solis told the audience, adding, "If students and seniors are going to sacrifice, oil companies should, too."
Solis drew a standing ovation and thunderous applause as she pledged the administration's continuing support for the DREAM Act, which would provide a path to citizenship for young undocumented immigrants who earn a four-year college degree or serve in the military. Republican opposition has stalled the bill in Congress.
AFL-CIO Secretary-Treasurer Liz Shuler stressed the challenges faced by workers experiencing sharp attacks on labor rights in the midst of profound economic crisis. "The bedrock right even to form a union is under attack in state after state," she said. "It's our job to bring the rights we fight for to every working man and woman."
Shuler praised APALA's outreach work, and called for educating the broad community that creating jobs, and the resulting consumer spending and tax revenue, benefit the entire community.
A surprise appearance by undocumented, prize-winning journalist Jose Antonio Vargas drew a warm welcome from the crowd.
A spirited noontime march sent some 1,700 convention attendees, area union and community members surging through the heart of downtown Oakland to a City Hall rally, where union and community speakers pledged their solidarity in upcoming struggles for jobs, workers' and immigrant rights.
Alameda Labor Council vice president Gary Jimenez told the crowd, "There's a moral bankruptcy on Wall St., and a moral bankruptcy in Corporate America and we need to change that!"
Jimenez called on fellow unionists to "right the balance of power and make our economy fair for all, to rebuild a strong labor movement that leads the fight for change. Are you ready to fight?" he challenged the rally-goers. "Damn right!" they chorused back.
Alameda Building Trades Council head Andreas Cluver pledged his council's solidarity with "organized and unorganized workers, public workers, immigrant workers, of all ethnic backgrounds who are fighting greedy corporate interests and right wing politicians and ideologues."
But the loudest applause was reserved for UC Berkeley DREAM Act student Ju Hong, who told why he has joined other students around the country in proclaiming himself "undocumented and unafraid."
Born in South Korea, Hong came to the U.S. with his family a decade ago. When he graduated from high school he learned their tourist visa had expired. After a time in the shadows, he revealed his secret.
"This is a human rights issue and we must all stand together," Hong told the crowd. "Today we are calling on President Obama to stop all deportations of young undocumented students. This is our home, our country, and we want to be part of society to make this nation a better place."
During the weekend, convention panels addressed the urgent need for fair immigration reform, the impact of the economic crisis on Asian Americans and Pacific Islanders, the need for strong united organizing campaigns, and the fight-back against wage theft.
Photo: DREAM Act student Ju Hong addressing the convention. Marilyn Bechtel/PW