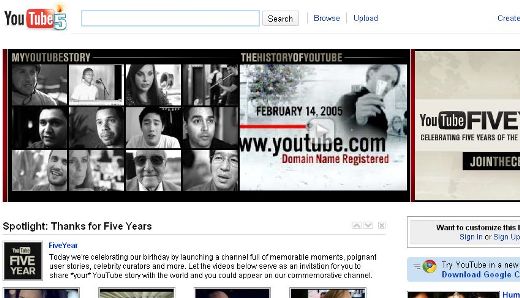 Remember the good old days when the entire family used to get together in front of the television and watch America's Funniest Home Videos? They would make us laugh out loud because the videos usually featured moments of regular people in original, homemade footage.
Well, a lot has changed since those days. As the digital world continues to revolutionize modern communication, one of its major game changers is none other than YouTube.
Whether its thousands filmed marching in the streets for immigrant rights on May Day or a Lady Gaga and Beyonce music video, or a guy named "Dancing Matt" showing off his moves around the world, YouTube has become one of the most popular Web sites in the world.
YouTube, in just five years, has rocketed to global stardom and has become a key stakeholder in the ever-expanding online revolution. Today, the site gets more than one billion views each day.
Founded in 2005, YouTube dubs itself the "world's most popular online video community, allowing millions of people to discover, watch and share originally-created videos."
YouTube says it "provides a forum for people to connect, inform, and inspire others across the globe and acts as a distribution platform for original content creators and advertisers large and small."
The leader in online video, YouTube has become the premier destination to watch and share original videos and allows people to upload them across the Internet through websites, mobile devices, blogs and email.
First-hand accounts of current events are featured on YouTube including videos about personal hobbies or interests like cooking, learning about math and science or how to tie a tie, and much more.
YouTube says it is "empowering people to become the broadcasters of tomorrow."
One of YouTube's founders and CEO Chad Hurley told ABC News that the site "makes the tools but the human race provides the content."
Hurley adds, "We didn't know what was going to happen. We just knew that we wanted to create a site that we would enjoy and others would enjoy and the fact that people have the chance to do that kind of tells us something."
Google bought YouTube in a $1.65 billion deal about 19 months after it was founded. An average of 24 hours of video are uploaded to YouTube each minute in an amount of content equal to 150,000 full length films over the course of a week. Currently, there is 1,700 year's worth of video on the site.
YouTube, next to Facebook and Google, is part of the online revolution that connects millions of users worldwide every day.
Twelve-year-old Greyson Michael Chance is the latest biggest thing on YouTube. His rendition of Lady Gaga's "Paparazzi" during a middle school talent show has jumped from 40,000 hits to over 1 million in one night.
Consider AFL-CIO President Richard Trumka's speech against racism and the labor movement's overwhelming support of President Obama's historic election. The speech was praised by unions and progressives and seen as a growing testament for change, hope and unity as the country celebrated its first black president. The speech went viral.
The world of YouTube helped bring fame to a young rising star, now teen idol, Justin Bieber, after his mom posted footage of him singing.
YouTube viewers also witnessed a cell-phone video of a 26-year-old woman, Neda Agha-Soltan, shot dead at an Iranian protest, whose dying body became the face of a turbulent uprising there.
Sometimes YouTube even exposes the down-right dirty. Take for example Republican Sen. George Allen who was caught on camera making an alleged racial slur. His 2006 reelection campaign never quite recovered.
Other most memorable YouTube clips include:
Lady Gaga's "Bad Romance" music video with more than 187 million hits.
"Charlie bit my finger," with an astounding 181 million hits.
"Susan Boyle impresses on Britain's Got Talent" and because of YouTube, launched her career with 91 million hits.
Then there is "David after the dentist" that totaled some 57 million hits.
We can't forget "The Wedding Dance," which received 48 million hits and was even parodied in the American sitcom, "The Office."
Like it or not, understand it or not, YouTube has revolutionized how we live. Videos whether they're original or scripted on YouTube are everyday becoming part of an online phenomenon taking the world by storm.