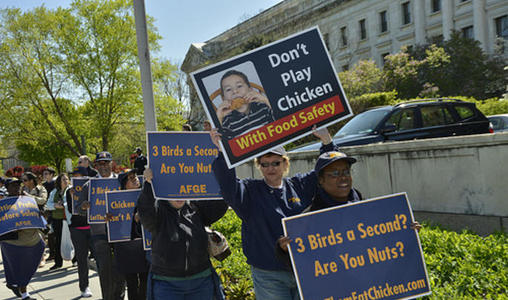 The American Federation of Government Employees filed suit Monday to stop the U.S. Department of Agriculture's (USDA's) new poultry inspection rule that replaces 25 bpercent of the current USDA-trained food safety inspectors with poultry company employees and speeds up the processing lines by 400 percent. AFGE President J. David Cox said: "The USDA's new inspection process flies in the face of reality and will allow potentially contaminated and diseased poultry to be sold to American consumers. It's ridiculous, dangerous and against the law, and it must be stopped.
The rule went into effect Monday and because it gives the poultry processer an increased role and authority in the food safety inspections AFGE says it "puts the fox in charge of the henhouse."
A review of the pilot program by the group Food & Water Watch found company employees charged with inspecting the birds were missing many defects and allowing birds contaminated with feathers, bile and feces to pass down the line.
The new rule simultaneously reduces the number of federal inspectors on the production line from as many as four to one and authorizes a 400% increase in the maximum line speed per inspector from 35 birds per minute to 140 birds per minute. The sole federal inspector will be required to "inspect" some 2.3 chicken carcasses per second.
Charles Stanley "Stan" Painter, a poultry inspector who serves as president of AFGE's National Joint Council of Food Inspection Locals and a plaintiff in the suit, said: "USDA's plan will reduce the federal inspection process to a mere rubber stamp. USDA has pushed through its dirty chicken rule over the objections of employee advocates, the public and lawmakers. We are asking the court to step in and stop this insane rule from taking effect for the safety of federal inspectors, plant workers and consumers."
The above article and photo appeared on the AFL-CIO Now Blog.