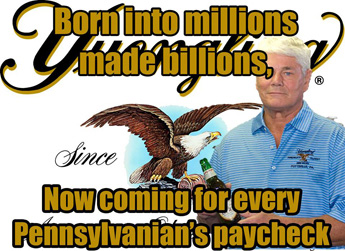 Schuylkill County, Pennsylvania, where I grew up, is famous for two things: anthracite coal and union organizing. Ever since the 19th century, the county has been a hotbed of activity for the working class and the labor movement. It started when mineworkers like the Molly Maguires and others began to organize themselves into groups to advocate for changes in their workplaces.
Fast forward to today. Although coal is no longer king, Schuylkill County remains very much a unionized area. Unions are found not only in the remaining mines but in textile mills, factories, iron works, and transportation. Schuylkill County is also famous for a third reason: it is home to the "nation's oldest brewery."
Yuengling Brewery, based in Pottsville, advertises itself that way. The owner of the brewery, Dick Yuengling, made Forbes magazine's list of 400 Wealthiest Americans. Last year at a press lunch in Harrisburg, Yuengling announced that he supports "right to work" laws which lower wages and harm unions.
Later in the year, in November, labor activists marched in Pottsville to protest Yuengling's views and advocacy for such a law in Pennsylvania. Speakers at the event included the mayor of Allentown, Ed Pawlowski.
According to a news release from the International Brotherhood of Electrical Workers, Yuengling's wealth is valued at $1 billion.
One union business manager, Scott Heitzman said if this money were spread out in $100 bills it would cover 1,250 miles. Summing it up, Heitzman asked, "How many more miles does he need?"
What can the labor movement and the working class do to fight back? Boycott Yuengling and find an alternative beer. The AFL-CIO website has a list of "Made in America" beers.
Two "right to work" bills have been introduced in the Pennsylvania General Assembly, the state legislature and Republican Gov. Tom Corbett indicated he would sign such a bill if it came to his desk.
If you are a resident of the Commonwealth of Pennsylvania, you can write your local state representative or senator asking them to oppose any right-to-work bill that is introduced. A social media campaign on Facebook, "Boycott Yuengling," seeks to raise awareness and support for a movement to oppose any right-to-work law in Pennsylvania.
As someone who has recently joined a union, I find the situation sickening and disheartening. Schuylkill County is a rural area that is heavily dependent on the benefits and protections that unions offer their workers and members.
Over the years, union members in the county have benefited from improvements in wages, benefits, and working conditions that have been brought through collective bargaining agreements. Right-to-work laws have been shown to lower wages and cause more poverty along with a host of other problems.
Growing up in Schuylkill County has taught me that people here band together to help each other and provide assistance when things get tough. Labor unions, along with churches have been a part of this equation since the late 19th century.
An anti-union right-to-work law advocated for by the county's richest man does not improve things for workers. The gains and protections won by unions in this county will be lost if a "right to work" law advocated by Dick Yuengling is passed. Those of us who are workers and union members cannot let this happen.
Photo: ibew.org