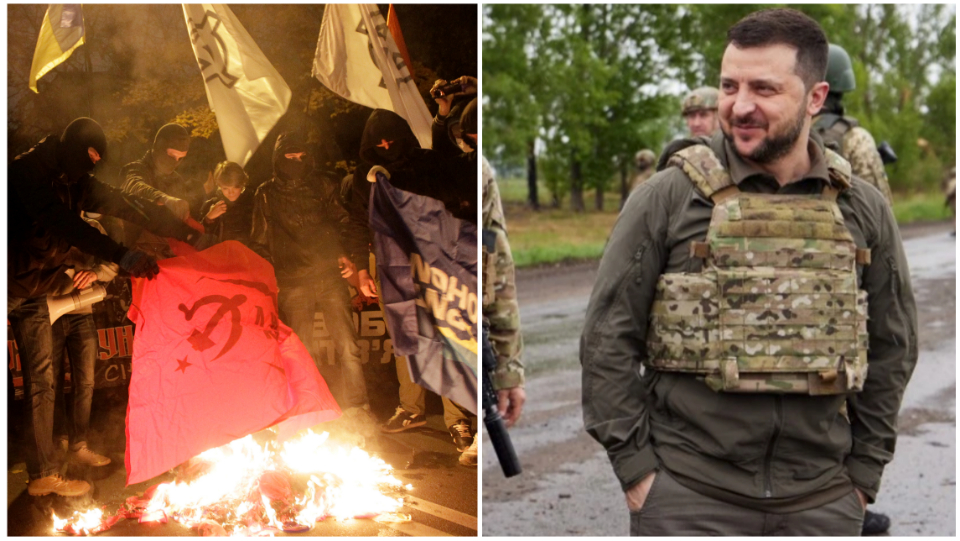 The Communist Party of Ukraine (KPU) was permanently banned Tuesday after a Lviv court ruling which turned over all its assets, including party buildings and funds, to the state.
In a statement, the Eighth Administrative Appeal Court said that it had satisfied the claims of the Ministry of Justice of Ukraine and ordered the party's closure.
"The activity of the Communist Party of Ukraine is prohibited; the property, funds, and other assets of the party, its regional, city, district organizations, primary centers, and other structural entities have been transferred to the state," the court reported.
The KPU is the latest opposition party to be banned by the Ukrainian authorities.
A list of others including the Opposition Platform-For Life party, Left Opposition, Union of Left Forces, Socialist Party of Ukraine, and other left-wing organizations have also been prohibited.
This followed a decree signed by Ukrainian President Volodymyr Zelensky outlawing all political parties deemed to be "pro-Russian" on May 14.
No far-right or neo-Nazi organizations have been placed under similar restrictions, despite responsibility for a string of atrocities and alleged war crimes in eastern Ukraine.
Authorities have been seeking to close the KPU for more than seven years, using "de-communization" laws banning communist symbols to block party activities, including barring it from standing in elections and shutting down its newspaper.
In the last general election in which it was allowed to stand, in 2012, the KPU won 2.6 million votes or 13% of the total.
Kiev views the party's call since 2014 for a peaceful negotiated solution to the civil war in the Donbas that began that year as treasonous. Moves had already been made to ban the KPU, but it had been subject to a number of court cases and appeals.
The Lviv court made the final decision Tuesday.
Two communist youth leaders, Aleksander and Mikhail Kononovich, face life in prison on charges of spying for Russia and Belarus after being hauled in on March 3. Their trial continued Tuesday, but they remain banned from the courtroom in a case they insist was "fabricated from start to finish."
They are accused of "actions aimed at forcibly changing the political system or seizing state power" under Article 109 of the Criminal Code of Ukraine.
According to prosecutors, the brothers belonged to an "organized group," consisting only of themselves.
Intelligence services claims that the Kononovich brothers planned to seize one of the country's district administrations, although they have not identified which one or when the capture was to happen.
It cited statements on their social media platforms as evidence and says they pose a risk to the state if they are released.
Last week, the brothers appealed for international support and called on Members of the European Parliament and European media organizations to attend their hearings "so the whole world can see the true face of the Zelensky regime."
The trial continues.
Morning Star