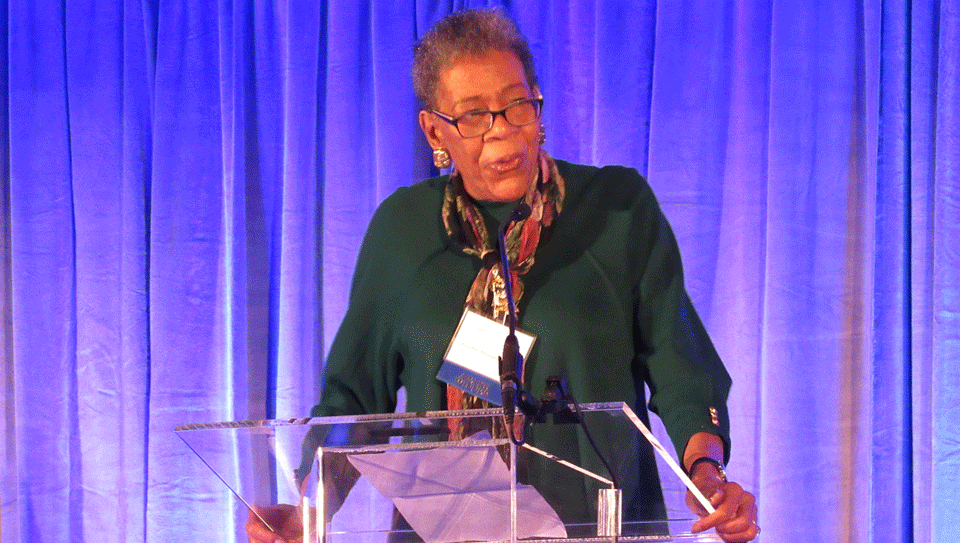 ST. LOUIS—"I see you're not the only one running late at our table," said the dapper, elderly gentleman as I quickly took my seat inside the Frontenac Hilton Hotel's opulent banquet hall. "Who are you here for?
The jazz tune "Take Five" by Dave Brubeck started up as I answered: "I'm here for Zenobia Thompson."
"Me too," he whispered excitedly, "I've known Zenobia since 1981. We lived in the same community, and she's the one who got me started in community activism—of course, I had already known about her, and her role in fighting to save the Homer G. Phillips Hospital (the only African American hospital in St. Louis from 1937 to 1955)."
That short conversation with Gerald, whose last name I missed hearing, courtesy of overhead loudspeakers by table 34, embodies a great legacy of activism and underscores what an impact a life dedicated to community service can have.
Standing before a room filled with healthcare professionals—from nurses and doctors to CEOs, vice presidents, and everything in between—Zenobia Thompson, RN (Ret.), received the St. Louis American Foundation's "Lifetime Achiever in Health Care" award, Friday, April 26, in recognition for her lifelong dedication to activism and her passion for providing care to others.
"I always say that nursing is my passion, but activism is my calling," said Thompson when receiving the award.
Thompson graduated from the Homer G. Phillips School of Nursing in 1965, and after ten years working at Barnes Hospital, returned to her alma mater in 1977, doing what she loved as a head nurse at Homer G. Philips Hospital.
Shortly after returning, Thompson learned that St. Louis city officials planned to close the historic African-American teaching hospital.
After being invited to and attending a meeting of community members organizing to save the hospital, Thompson joined the fight that same day and became one of its key leaders.
"Once I became involved with the struggle to save Homer G. Phillips Hospital, that was the gateway to getting involved in the struggle for equality, the struggle against discrimination, the struggle against racism," said Thompson. "It made me aware of what was going on around me, and what can be done. You don't have to roll over. Don't agonize, organize."
Despite all the community's efforts, the hospital was shuttered in 1979, but Thompson's activism and fearless leadership were far from over.
In recognition for leading the struggle to save Homer G. Phillips, Thompson was recognized with the Martin Luther King Award. She went on to serve as a board member of Missourians for Alternatives to the Death Penalty and as a founding board member of the St. Louis Workers Educational Society, which educates young people in building progressive coalitions, including the campaign to raise the minimum wage.
She also served as the co-chair of the St. Louis Free Angela Davis Committee in the 1970s and is a seasoned veteran of dozens of campaigns focused on electing African-American trade unionists to local office.
Even in retirement, Thompson continues to volunteer and walk the picket lines. She can also be seen darting in and out of people's homes every so often ensuring medical aid is available to those who can't afford it. She also remains active with Jobs with Justice, the Coalition of Black Trade Unionists, and the Organization for Black Struggle.
As she stood at the podium, rising above the audience, Thompson's commitment to organizing was shown in full force as she ended her acceptance speech:
"And I would like to close by reminding you all that…health care is a human right, and I ask you to call your elected officials and tell them to support H.R 676, the Medicare for All Act. Thank you."
Congratulations, Zenobia. You are an inspiration to us all.