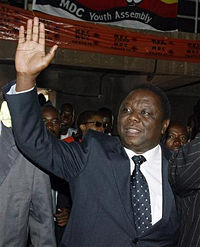 Five weeks after casting their votes on March 29, Zimbabweans learned this month that their liberation leader and president for nearly 30 years, Robert Mugabe, lost the popular vote to opposition candidate Morgan Tsvangirai.
Confirming projections by independent observers, however, the Zimbabwe Election Commission on May 2 declared that Tsvangirai did not win the required 50-percent-plus-one necessary to avoid a runoff with Mugabe.
The announcement sent officials from Tsvangirai's party, the Movement for Democratic Change (MDC), scrambling to come up with a consistent response. While repeatedly rejecting a runoff, insisting their candidate had won outright in the first round, they have been lobbying regional leaders to demand foreign supervision of a second round.
It is clear the MDC has been caught off guard by the government's verification of their success in the parliamentary and presidential elections. As even the pro-MDC Financial Times of London reported, "the MDC is wavering over its previous refusal to take part in a second round. Tsvangirai risks looking as if he is unwilling to compete if he shies away from a runoff, and could hand victory to his rival by default."
Instead of planning for the widely-anticipated runoff, Tsvangirai, from his base outside the country in neighboring Botswana, has been traveling around southern Africa meeting with governmental and civic leaders, urging them to pressure Mugabe to step aside.
But, according to the official results, Tsvangirai missed winning an outright majority in the first round, capturing 47.9 percent compared to Mugabe's 43.2 percent of the vote. The remainder was split among other candidates.
The elections have highlighted the deep divide in Zimbabwe between Mugabe's loyalists, including the majority in the ruling Zimbabwe African National Union-Patriotic Front (ZANU-PF), and those seeking his ouster, who blame his government for spiraling inflation and food scarcity. Mugabe's support is especially pronounced among veterans of the country's liberation struggle who back his program of redistributing land occupied by European settlers during the heyday of British colonialism.
Divisions between and within southern African nations also have been revealed. While the governments of Angola, Nambia and Tanzania remain staunchly allied with Mugabe, a few leaders in the region, most notably Zambia's Levy Mwanawasa, have been more critical of Mugabe's handling of the elections.
In South Africa, President Thabo Mbeki, who serves as an African Union-appointed mediator between ZANU-PF and the MDC, has been accused of being "soft" on Mugabe. Jakob Zuma, head of South Africa's ruling-African National Congress, criticized the delay in announcing elections results, but refused to blame Mugabe's government for any post-election violence.
Outside the region, the United Nations Security Council in late April rejected U.S. and British demands for the dispatch of a fact-finding mission or special envoy to Zimbabwe to investigate alleged human rights violations. The MDC claims that in the weeks since the elections, Mugabe's government has waged a campaign of persecution against its supporters, especially in rural areas. But, South Africa's UN ambassador Dumisani Kumalo said the situation in Zimbabwe did not merit Security Council intervention, arguing, "Different countries hold elections; some do it very well, some do it not so well."
At April 18 independence day celebrations, Mugabe pointed to the hypocrisy of capitalist nations judging Zimbabwe's elections. He said: 'We, and not the British, established democracy on the basis of one man, one vote. We are the ones who brought democracy in this country."
Meanwhile, Zimbabweans wait for the government to announce a date for the runoff. While the MDC has predicted holding a second round would spark more violence, a ZANU-PF official was quoted in Zimbabwe's Herald newspaper as saying, "We are urging our people to go and campaign peacefully. We are also urging the opposition to avoid violence and respect people's lives."
It remains unclear whether the MDC will participate in the runoff despite its strong showing in the first round as well as the extensive assistance it is receiving from Washington and London. If it boycotts the runoff, Mugabe automatically wins re-election.
Many observers and Zimbabweans themselves place hope in the possibility ZANU-PF and the MDC will negotiate to form a national unity government. The MDC has ruled out accepting a role for Mugabe in a power-sharing deal, but most officials in ZANU-PF remain loyal to the "old man" as he is called by Zimbabweans.
There is a recent model in Africa for a negotiated end to an electoral stalemate: in March the opposition party in Kenya agreed to a national unity government despite universal allegations of fraud by the ruling party in that country's December elections. After weeks of negotiations spearheaded by former UN Secretary-General Kofi Annan, Raila Odinga of the Orange Democratic Movement, setting aside demands for a new election, agreed to serve as prime minister in incumbent President Mwai Kibaki's administration.
It is worth noting that, in the case of the Kenyan elections, the corporate media obediently failed to condemn the U.S.-backed Kibaki as he stole the election, censored the media and violently suppressed mass protests. Their response to the Zimbabwean elections, declared free and fair by the African Union and which Mugabe's government concedes it lost, speaks volumes to the double standards of the capitalist powers.