Bangladesh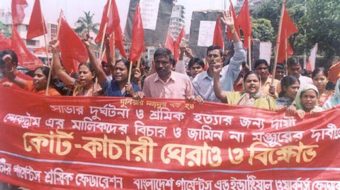 October 5, 2010
Ghosh, a well-respected labor leader, lawyer and member of the Communist Party of Bangladesh, has now been in jail for over 70 days.
Read more
March 25, 2008
The Communist Party of India started its congress (convention) March 23. International guests are arriving now. Some 25 countries are expected to be represented. Besides the U.S., Brazil, Bangladesh, Spain Vietnam, Nepal, Australia, Greece, Czech Republic,...
Read more
July 12, 2002
When I lived in the Bronx, one of those traveling carnivals came into our neighborhood. They set up their equipment in a public park, tearing up the grass and knocking down a stone gate.
Read more