BP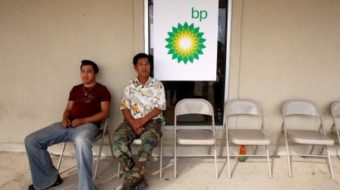 May 11, 2010
Why should we, the people, continue to have to shell out for these private-profit-driven corporations? It's disaster capitalism! It's time for the people to run things.
Read more
May 11, 2010
Oil gushing from the BP well off the coast of Louisiana could surge to 60,000 barrels a day if the company's plan to cap it with a four-story metal container fails, Rep. Edward Markey, D-Mass., said...
Read more
April 30, 2010
Those of us who live along the Gulf Coast have been shocked by the callous disregard for safety, worker's lives and destruction of our environment exhibited by BP in Texas and Louisiana.
Read more